Ithaca Superintendent's Answer: Policy Makers Value Prisons Over Schools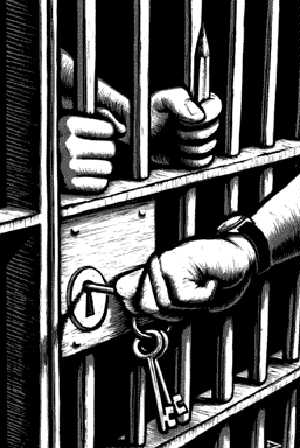 Are prisons as important as public schools?
Kids or inmates?
What's our priority in Michigan?
Paul Kersey, the director of labor policy at the Mackinac Center for Public Policy, said Ithaca Schools Superintendent Nathan Bootz has it wrong when he says prisoners get more support than students.
"Important as education might be, public schools are not the only things that matter," Mr. Kersey said. "We have police and prisons to apprehend and isolate criminals. We have fire and EMS units to respond to emergencies. These are every bit as important as public schools.
"Mr. Bootz needs to realize that there are people outside of the school system and even outside of government who do valuable work, and who need resources to do their jobs," Kersey added.
The Bay City Times asked: "What do you think? Do prisoners receive better funding than students in Michigan? Or are schools winning out compared to prisons?"
How do you think the public has answered that question so far?
Prisoners: 83 percent; Students, 14 percent. Undecided, 2 percent.


The public obviously has analyzed the response by one of the leading policy makers in Michigan, Mr. Kersey. What does he mean when he said "public schools are not the only things that matter?" Reading between the lines the public hears Mr. Kersey saying: "schools matter very little; keeping society safe is vastly more important."
Thus illustrates the dilemma Michigan has fallen into regarding education. Those in comfortable worlds with high incomes, insulated from the nitty gritty of the working class and the need to foster achievement by young people, don't have the motivation to support schools. Their main interest is in preserving their own safety and comfort today, not in looking to the future.
Underneath the radar the "dirty little secret" is that most school children come from poor families. More than a third of Michigan's children live in low-income families. In Detroit, nearly three in four children are low income.
Children by family income, 2005:
There are approximately 2.5 million children living in Michigan.
37%, or 926,000 live in low-income families.

17%, or 419,000 live in poor families.


Even more telling is the demographic fact that 40-50 years ago about 65 percent of all families had children in school. Today, that percentage is about 30 percent, according to Bettie Buss of the Citizens Research Council of Michigan.
In other words, in the post-war 1950s and 1960s, about twice as many families had a stake in the condition of schools than is the case today. Kids have a shrunken constituency in our society today compared to the world most of us older people experienced.
That fact puts us at risk of accelerating society's decline and unfortunately is lost on most policymakers, obviously, given the comments by the Mackinac Center guru, Mr. Kersey, and the reduction in school aid by Gov. Rick Snyder rubber-stamped by the legislature.
Unless we make education our priority we in Michigan will slide farther down the scale of thriving societies. This continued decline will cost us all more in the long run. We need better educated young people and we need to entice them to stay here and reinvent Michigan.
Otherwise, most of our resources will go toward making us safe for now, but facing a dreadful future with half-educated populace in need of continued financial support just to survive. ###
---
Columns Article 5975
---

Dave Rogers




Dave Rogers is a former editorial writer for the Bay City Times and a widely read,
respected journalist/writer in and around Bay City.
(Contact Dave Via Email at carraroe@aol.com)

More from Dave Rogers
---
Send This Story to a Friend!
Letter to the editor
Link to this Story
Printer-Friendly Story View
---
--- Advertisments ---