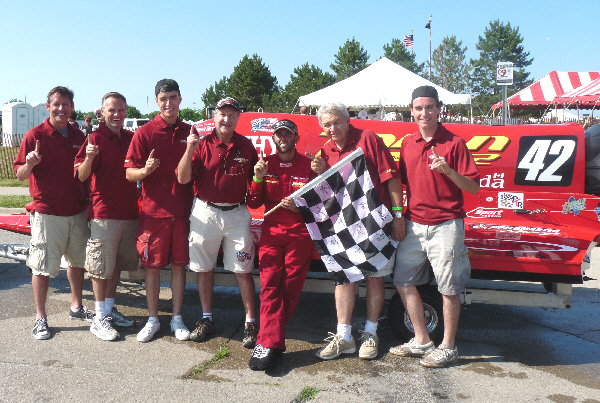 (Above) Shaun Torrente with his Team after taking checked flag on Sunday's Finals
(MyBayCity photos By Julie Munger-McCallum, Entertainment Editor)
---
Dow River Roar's High Speeds, Sharp Turns Make for Thrilling Weekend in BC
Shaun Torrente Takes Checked Flag - Formula One Class
June 26, 2011 Leave a Comment
By: Julie McCallum, Entertainment Editor
Race Fans had a great weekend of weather for the 24th annual Dow River Roar in Bay City. Not a cloud in the Sky on Sunday morning for Race Day Finals!
It was an exciting weekend of high speeds, sharp turns and constant action. These champ boat's "G" forces are faster than any other racing boats, and the 380-horsepower engines enable them to reach speeds of 140 miles per hour. Which make for a top thrill for audiences from both sides of the Saginaw River in Bay City.
Florida's Shaun Torrente Tore it Up BOTH days in the Formula One Class good for taking home the checkered flag for the finals on Sunday. Terry Rinker took 2nd both days.
Kris Shephard of Illinois also dominated both days in the F2, SST-120 Class.
Lauris Vidal from Lagacy Powerboat Ministry led the drivers in a prayer at the drivers meeting, before they hit the water. Vidal said, "This is our (and his wife Jan) 17th year in Bay City. "We love it here, Bay City is one of the best courses in the country!" Vidal then said, "It's kind of a 'love-hate', with Bay City being infamous for the rough waters due to the sea-wall."
Saturday was also a beautiful day on the Saginaw River despite the wind, it was a great day for testing, time trials and heat races. Several drivers did have mechanical issues but all drivers were safe, and no collisions.
Donations of bottle water, snacks and more were donated to all the drivers and their crews from local businesses.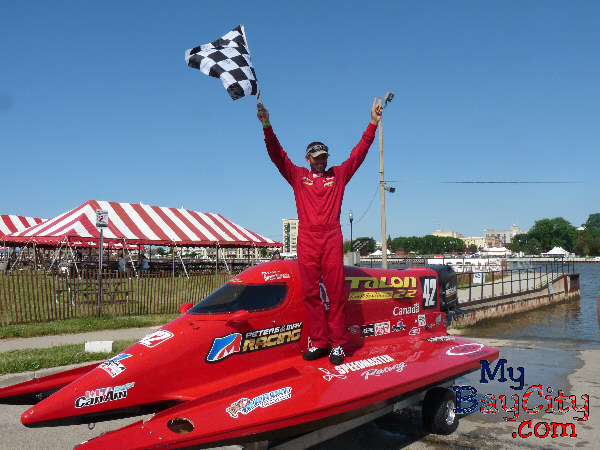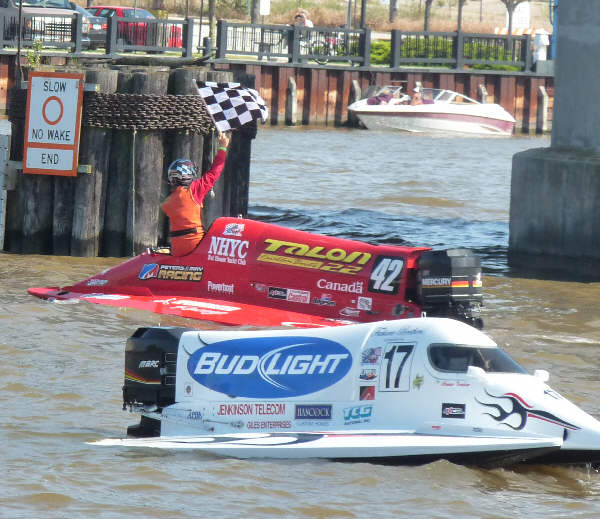 (Above) Shaun Torrente dominates the weekend in the Formula One class (Also Pictured Below)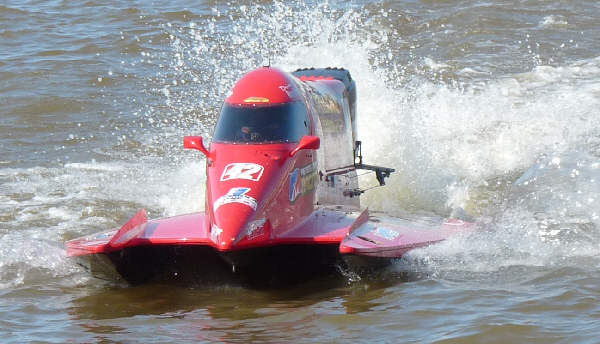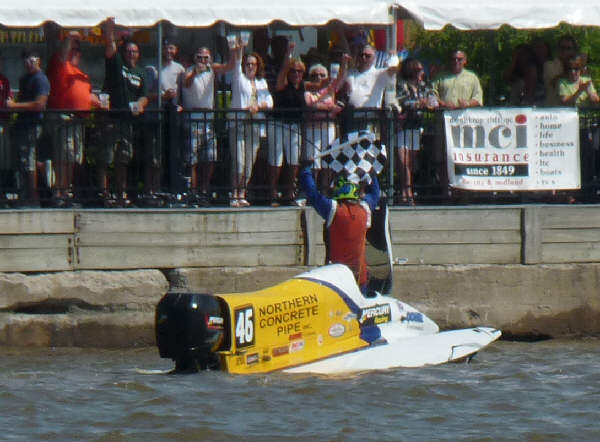 (Above & Below) Kris Shephard of Illinois Victory Lap in the Formula Two, SST-120 Class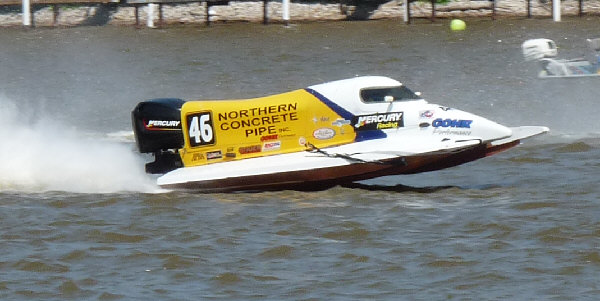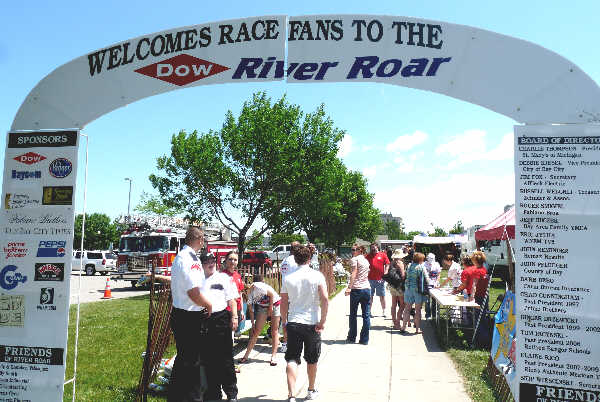 (Above) A fabulous weekend of weather for the Dow River Roar Power Boat Races in Bay City held June 24th through the 26th, 2011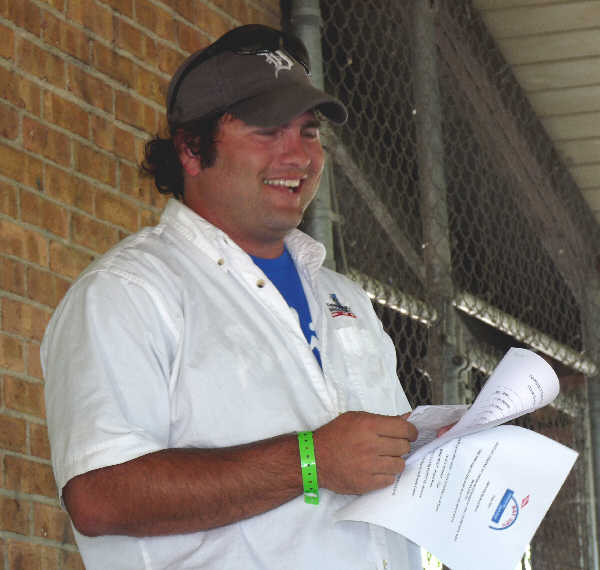 (Above) Race Director Adam Allen has drivers gathered noon on Saturday for Driver and Crew Meeting.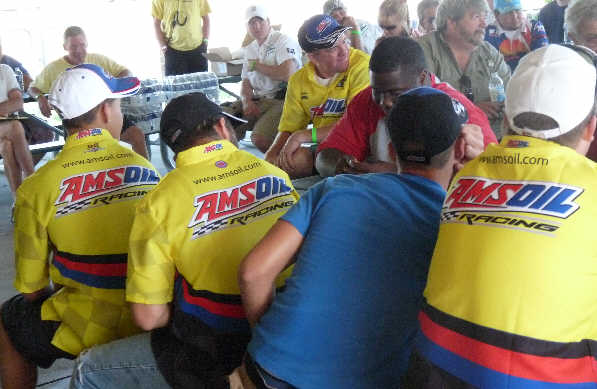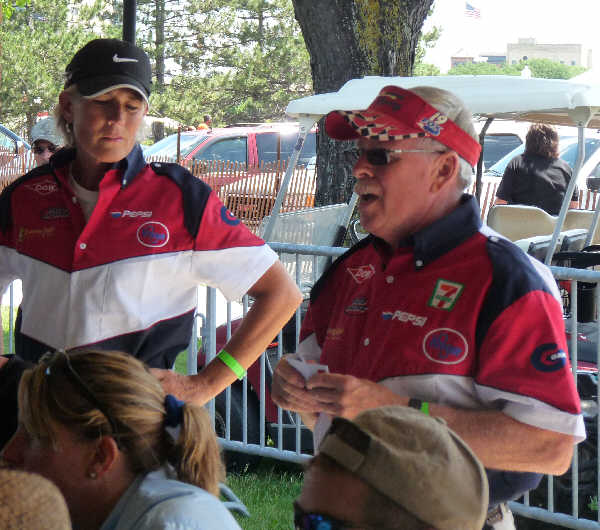 (Above) Jim Fox during drivers meeting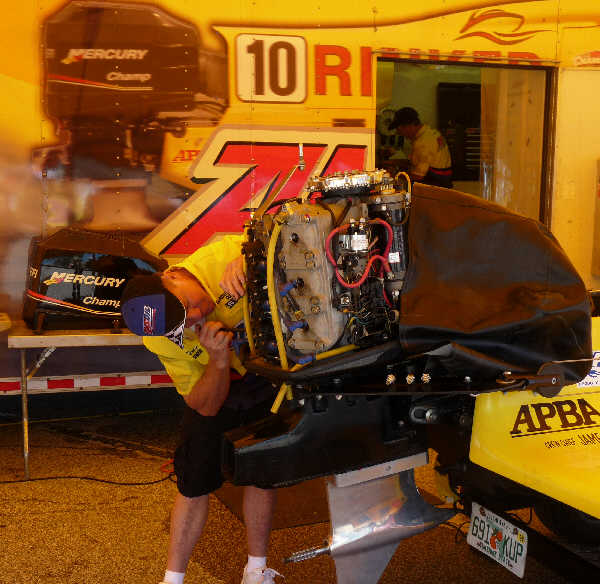 (Above) Terry Rinker
(Formula One) takes a break from fine tuning his engine to sign autographs for Houghton, 7, and Trenton, 8, Christee
(Pictured Below)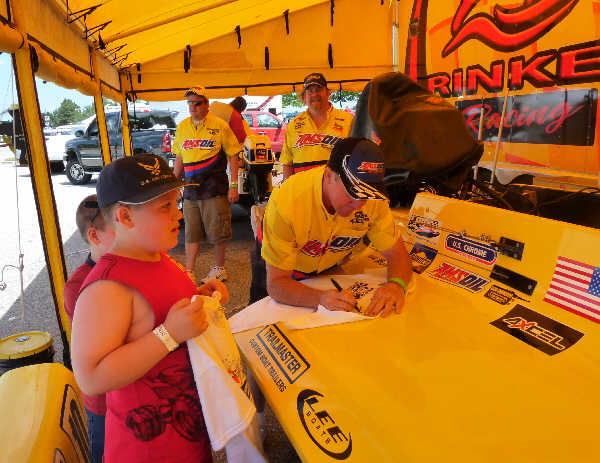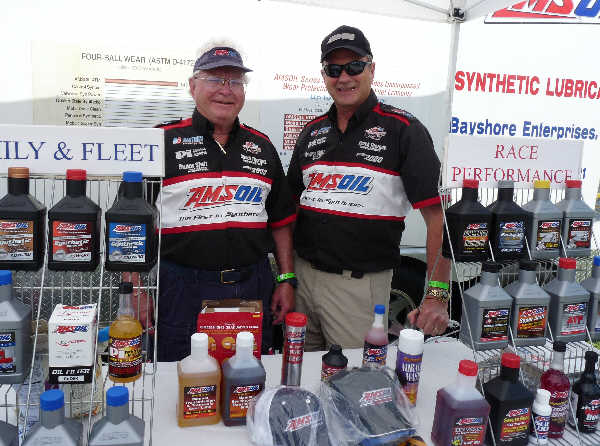 (Above) A stop into AMSOIL corner, Amsoil Representatives Dick Dell of Sterling and Bill Bernethy of Linwood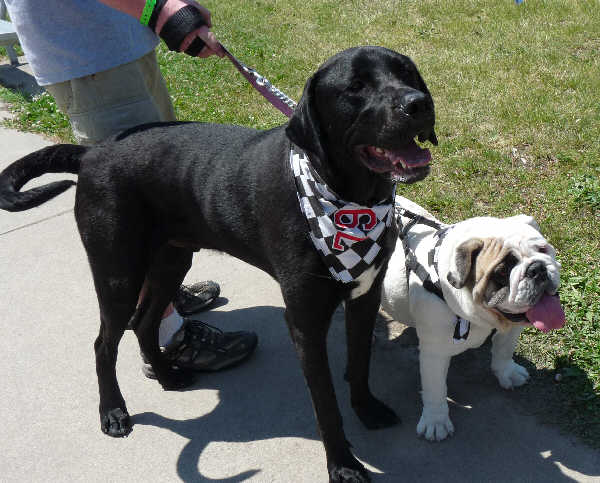 (Above) Even Dogs sported their Race apparel, modeled by Luke (McGuire), and Khole (Maciag). Luke belongs to driver Jim McGuire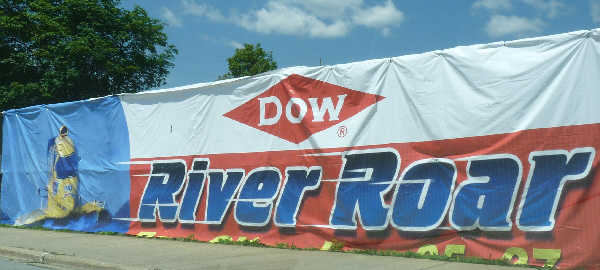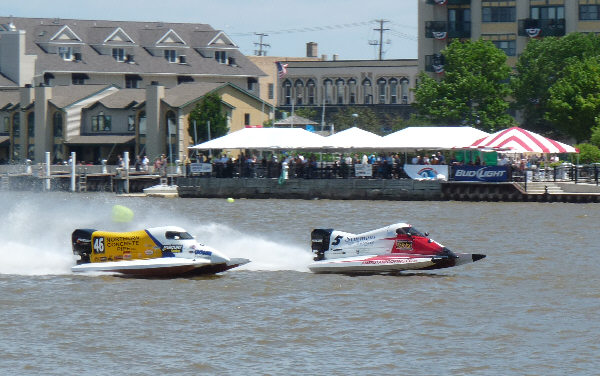 (Above) In the Formula Two heat races, (5) Reuben Stafford and (46) Kris Shepard battle it out but not for long as Shepard wraps it up both days (SHEPARD PICTURED BELOW)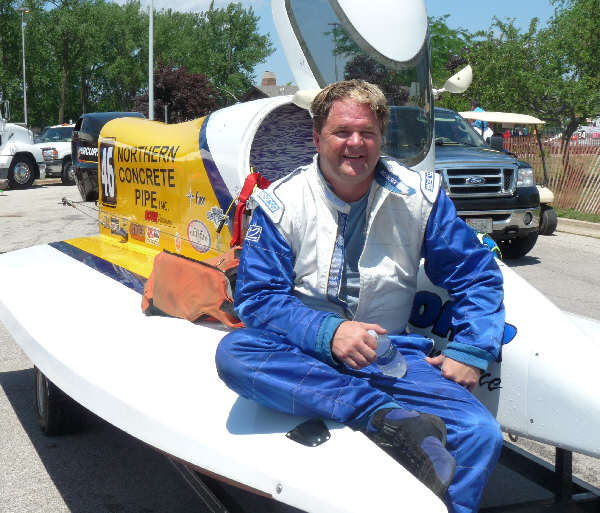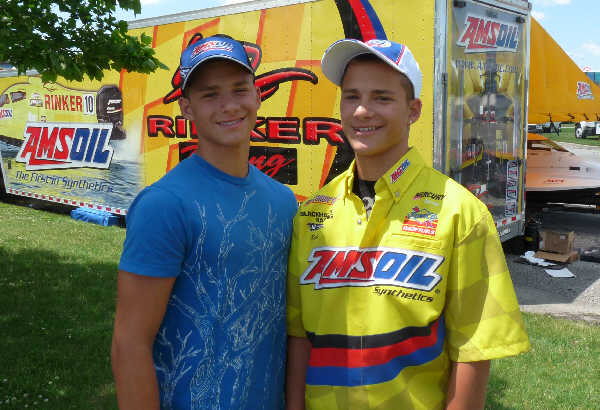 (Above) - TEAM RINKER - 'Seeing Double' - Supporting their brother Robert Rinker, are 'twins' Lex and John Rio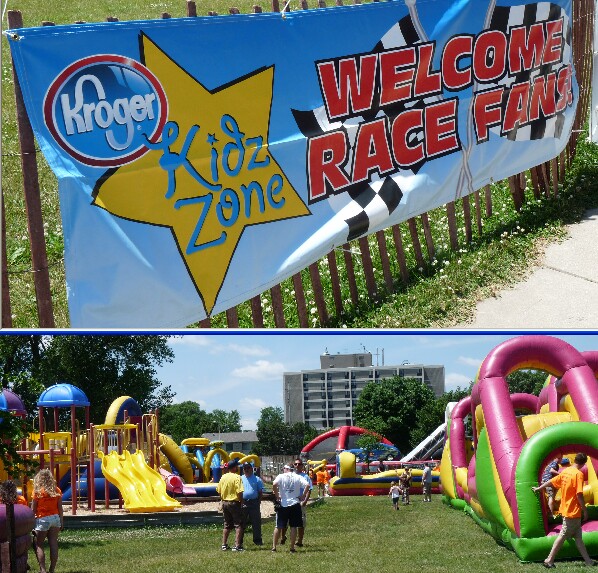 (Above) Lots to do in Vet's Park included a kid's zone many food and merchandise vendors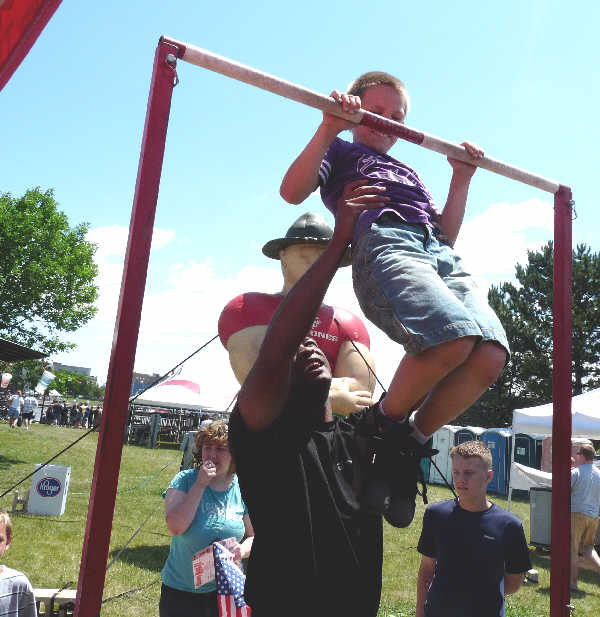 (Above) Marine Sargent Wayne Greer gives 8 year old Allen Imm, a lift up to the chin-up bar.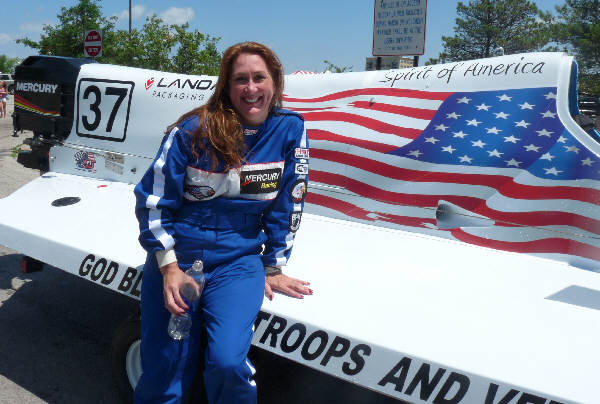 (Above) Stace Funk, (Formula Two - Norwich, Ohio) smiles for MBC cameras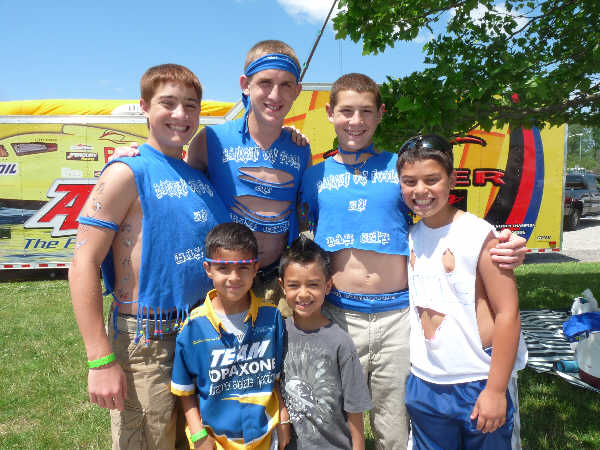 (Above) Team Copaxone, include (front center left) Ruben Ascencio, son of Driver Ruben Ascencio from Euless, Texas. According to Ascencio's wife Rina, they are originally from Detroit Michigan.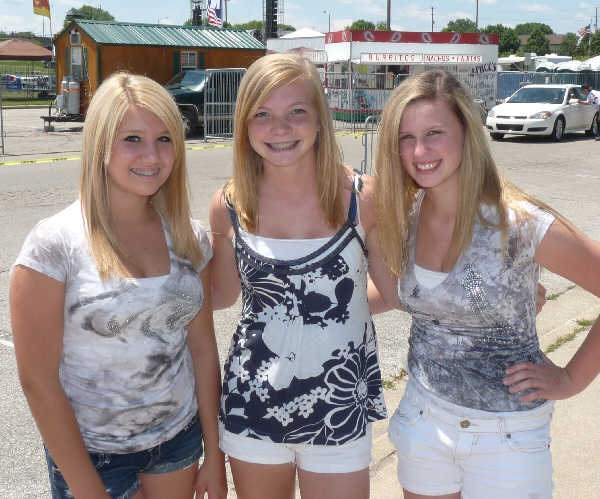 (Above) Enjoying all the festivities in Vet's park are Katie Bedell, Kylie Koenig and Becca Steffey all sophomores at Western High School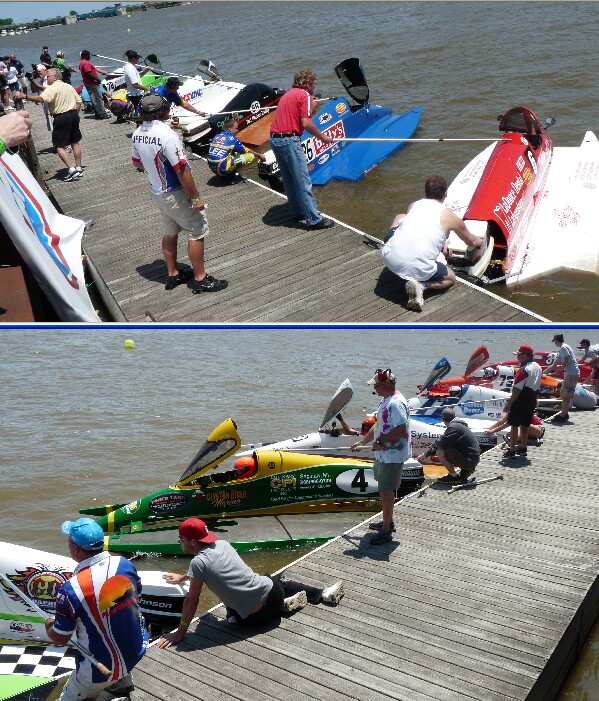 (Above & Below) At the start line for the SST-45 Finals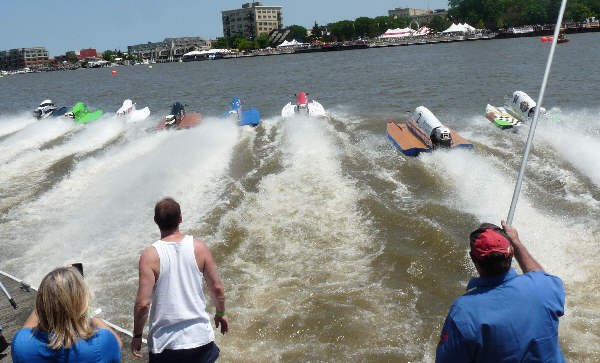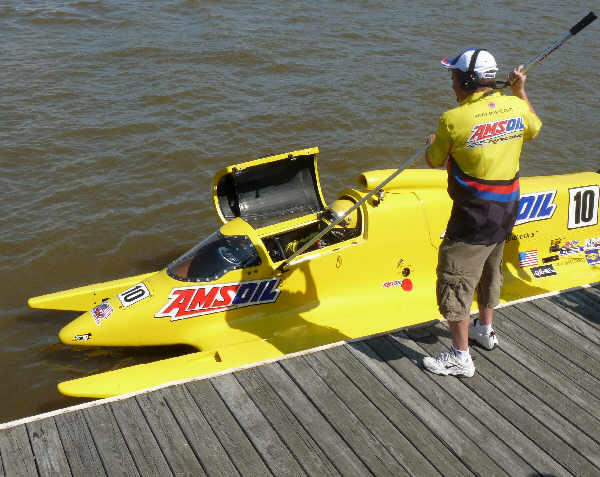 (Above) Terry Rinker on mark
---
---
---
Send This Story to a Friend!
Letter to the editor
Link to this Story
Printer-Friendly Story View
---
--- Advertisments ---