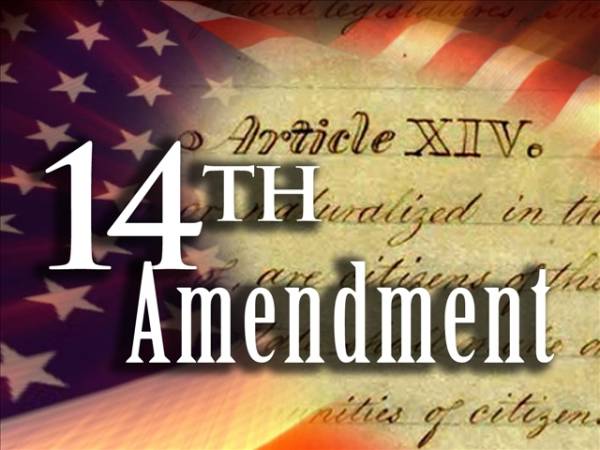 Even more devastating to us as taxpayers is the fact that debt default, or even the near-term threat of it, will cause interest rates to rise dramatically, according to most economists.
---
Faced with Anarchy, the President Must Use 14th Amendment on Debt Impasse
Failure of Congress to Act, Imperiling We Taxpayers, is "Domestic Violence"
July 24, 2011 3 Comments
By: Dave Rogers
Few Americans pay any attention to the 14th Amendment to the U.S. Constitution.
But obviously we should as the nation heads toward financial disaster because of the inability, or unwillingness, of politicians to agree on meeting financial obligations.
In the immortal words of Rhett Butler, some in Congress are saying about the national fiscal integrity: "Frankly, I don't give a damn."
By any definition, that kind of attitude is anarchy (anti-laws) and domestic violence since it attacks the foundation of our social structure.
It is nullification of the structure of legislation that has protected us for 235 years. Nullification, you will recall, was employed by the South to "nullify" or ignore federal laws that ideologues considered against their system of human slavery.
Columnist Nicholas Kristof of The New York Times sums up the situation like this:
"Republican zeal to lower debts could result in increased interest expenses and higher debts. Their mania to save taxpayers could cost taxpayers. That suggests not governance so much as fanaticism."
If we are in fact being "governed" by fanatics, and it appears increasingly that this is true, the President must take action to bring order out of chaos.
In this case, the 14th Amendment gives a solution. It would be unprecedented, of course, but we are in unprecedented times.
What does the 14th amendment say that offers a possible way out?
"Section 4. The validity of the public debt of the United States, authorized by law, including debts incurred for payment of pensions and bounties for services in suppressing insurrection or rebellion,
shall not be questioned
."
Why would the President be reluctant to use this provision?
Well, section 5 states very clearly: "The Congress shall have the power to enforce, by appropriate legislation, the provisions of this article."
Aye, there's the rub, to paraphrase Shakespeare.
The Congress is the problem!
Right and left, red and blue, Republican and Democrat -- many members of Congress are intransigently holding to ideological positions that put the needs of the country after their own twisted visions of what is right.
Mr. Kristof provides more analysis of the situation: "While one danger to national security comes from the risk of default, another comes from overzealous budget cuts -- especially in education, at the local, state and national levels. When we cut to the education bone, we're not preserving our future but undermining it."
Even more devastating to us as taxpayers is the fact that debt default, or even the near-term threat of it, will cause interest rates to rise dramatically, according to most economists.
Such an outcome would take billions out of the pockets of Americans who have home mortgages, car loans, pensions, Social Security income support, and other financial instruments dependent on the nation's fiscal integrity.
That is "domestic violence" the Constitution pledges that we should be protected against. The document says further: "The United States shall guarantee to every State in this Union a Republican form of Government, and shall protect each of them against Invasion; and on Application of the Legislature,
or of the Executive (when the Legislature cannot be convened) against domestic violence
."
If the President was to invoke the 14th Amendment to resolve the debt crisis, as it appears increasingly he may have to, the matter would have to be settled by the Supreme Court.
A logical person would think that the Supreme Court would be prudent in putting the critical needs of the country ahead of ideological positions.
What do you think?
---
Columns Article 6115
---

Dave Rogers




Dave Rogers is a former editorial writer for the Bay City Times and a widely read,
respected journalist/writer in and around Bay City.
(Contact Dave Via Email at carraroe@aol.com)

More from Dave Rogers
---
Send This Story to a Friend!
Letter to the editor
Link to this Story
Printer-Friendly Story View
---
--- Advertisments ---