Michigan's Billionaire "Kitty Litter King" Foundation Creating Jobs
August 7, 2011 Leave A Comment
By: Dave Rogers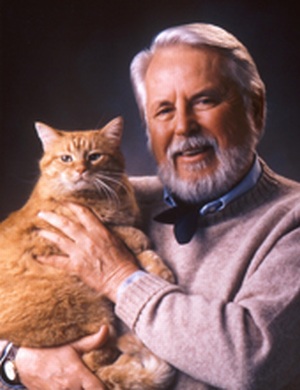 The late Ed Lowe and the source of his wealth, cats.
The Michigan guy who invented Kitty Litter is helping states create jobs.
The New York Times reported that states are passing laws by the hundreds to jump start sagging job markets.
And help is coming from sources like the Edward Lowe Foundation, of Cassopolis, Michigan.
Lowe, who died at age 75 in 1995, built his business from the ground up, so to speak.
Now the Edward Lowe Foundation is partnering with The NASDAQ OMX Educational Foundation to establish a new research and education institute focusing on job growth and capital access for developing companies in the United States.
NASDAQ has made a $730,000 grant to the Lowe Foundation to launch the program.
Mr. Lowe was a classic entrepreneur who made millions and passed on his skills, and money.
The basis of the Lowe Foundation program is called "economic gardening," a concept Michigan itself needs in spades (no pun intended).
The foundation Mr. Lowe established explains his success.
"After Navy duty, Ed Lowe returned to Cassopolis, Michigan and joined his father's company, which sold industrial absorbents, including sawdust and an absorbent clay called fuller's earth.
"In 1947 Ed was approached by a neighbor who was tired of using ashes in her cat's litter box and the resulting sooty paw prints. She asked for some sand, but Ed suggested clay instead. Soon the neighbor would use nothing else, noting that the clay was much more absorbent than sand and didn't track all over the house.
"Ed had a hunch that other cat owners also would love his new cat-box filler, so he filled 10 brown bags with clay, wrote the name "Kitty Litter" on them and called on the local pet store. With sand available for next to nothing, the shop owner doubted anyone would pay 65 cents for a five-pound bag of Kitty Litter. "So give it away," Ed told him. Soon customers were asking for more -- and they were willing to pay for it."
The rest, as the saying goes, is history.
Except that the legacy left by Ed Lowe isn't finished making history.
"Quality was always a priority with Ed, and his products set the standards for the industry," says the foundation. "Edward Lowe Industries was the only company of its kind with complete innovation and product-development centers. This included a "cattery" at Big Rock Valley, which was home to 120 felines who "worked" to assist in the development of new products. The cattery also boasted a fully staffed cat-care clinic, as well as an animal-behavior facility that permitted 24-hour television monitoring of resident cats. In the late 1980s, this operation relocated to Cape Girardeau, Missouri, where company scientists at a modern research and development center continually worked to upgrade existing products and develop new ones.
"After creating a billion-dollar industry that established the cat as the nation's most popular pet, Edward Lowe set his creative sights on another goal -- fostering and nurturing the American entrepreneur. As a result, Ed committed a good part of his fortune to create "... a whole campus for entrepreneurs" at a private 2,500-acre complex outside his boyhood hometown of Cassopolis, Michigan. In 1991 he donated this estate for the headquarters of the Edward Lowe Foundation."
Economic gardening is a philosophy that embraces strategies to grow existing businesses in a community, region or state. That concept is the basis for the entrepreneurship programs at the Edward Lowe Foundation.
By supporting second-stage companies and the entrepreneurial organizations that assist them, the foundation is planting the seeds for a stronger economy.
Communities are the economic gardens that cultivate these companies and organizations and create supportive environments where they can thrive. Economic gardening is an innovative entrepreneur-centered economic growth strategy that offers balance to the traditional economic practice of business recruitment, often referred to as "economic hunting." It was pioneered by Chris Gibbons in 1989 in the City of Littleton, Colorado, in conjunction with the Center for the New West.
Economic gardening was introduced as a demonstration program to deal with relocation of the largest employer in the city. The idea has emerged as a prototype for economic developers looking for additional methods to generate sustainable economic growth for their communities, regions or states.
The three basic elements of gardening are:
1.Providing critical information needed by businesses to survive and thrive.
2.Developing and cultivating an infrastructure that goes beyond basic physical infrastructure and includes quality of life, a culture that embraces growth and change, and access to intellectual resources, including qualified and talented employees.
3.Developing connections between businesses and the people and organizations that can help take them to the next level -- business associations, universities, round table groups, service providers and more.
This process seems so logical that it is amazing that Rust Belt cities like those in Michigan have not turned to something similar long before this. But perhaps a few jobs can be scratched up with new ideas, if politicians and the business community have a mind to make it happen. ###
---
Columns Article 6163
---

Dave Rogers




Dave Rogers is a former editorial writer for the Bay City Times and a widely read,
respected journalist/writer in and around Bay City.
(Contact Dave Via Email at carraroe@aol.com)

More from Dave Rogers
---
Send This Story to a Friend!
Letter to the editor
Link to this Story
Printer-Friendly Story View
---
--- Advertisments ---