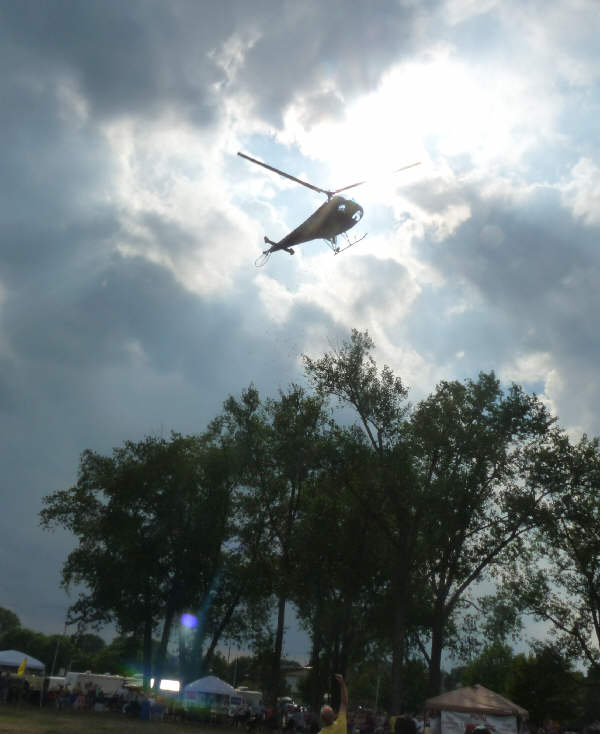 A Beacon of Light shines through the clouds as Wendy Dore drops "When Pigs Fly' Pigs Over Concert Area
(MyBayCity Photos by Julie Munger-McCallum)
---
Wet Sunday Never So Much Fun at the Labadie Pig Gig Presented by State Farm
Georgia Satellites Close the Night's Festivities
August 7, 2011 Leave a Comment
By: Julie McCallum, Entertainment Editor
On Sunday, August 7, 2011 Veterans Park was Sunny and comfortable, then the first downpour came at exactly 5:50 PM. And then on and off downpours continued through-out the night.
It was a wet Sunday, at the Labadie Pig Gig Presented by State Farm. "Man the ship!" shouted, Colleen Dore in the VIP tent as everyone scrambled for overhead coverage and high ground.
Kind of made the moment as event attendees laughed in the rain. Who ever heard of a clean pig?
The Sinclair band delayed a bit, but decided to go for it and began the concert in a downpour. By 7:11pm, the sun came back out just in time for headlining act Georgia Satellite, who almost made it to concert end, before the rain splashed down again.
A little bit of everything made for a successful and memorable
Labadie Pig Gig 2011!
RIB FESTIVAL - Midwest Champion Rib Cook-off Results:
BEST RIBS:
1st Place - Aussom Aussie - Sydney, Australia
2nd Place - Smokin Joe's Hog Wild BBQ - Mansfield, MI
3rd Place - BIG Show BBQ - Kansas, City, MO
BEST BEANS:
1ST Place - Famous Dave's - Saginaw, MI
2nd Place - Great Lakes BBQ - Cedar Springs, MI
3rd Place - Big Boned BBQ - Hixon, TN
BEST SAUCE: 1st Place - Great Lakes BBQ - Cedar Springs, MI 2nd Place - Famous Dave's - Saginaw, MI 3rd Place - 2 Fat Guys - Massillon, OH
Celebrity Judges included: Jim Barcia, Mark & Gary Labadie, Former Bay City Mayor Mike Buda, Jeff Mayes and Speed Connect.
PEOPLE'S CHOICE:
1st Place - Meats & Moore - Bay City, MI
2nd Place - Famous Dave's - Saginaw, MI
3rd Place - Aussom Aussie - Sydney, Australia
On behalf of Labadie, Wendy Dore, Doreable Entertainment, thanked all the
Sponsors
, and volunteers that make the
Labadie Pig Gig
possible.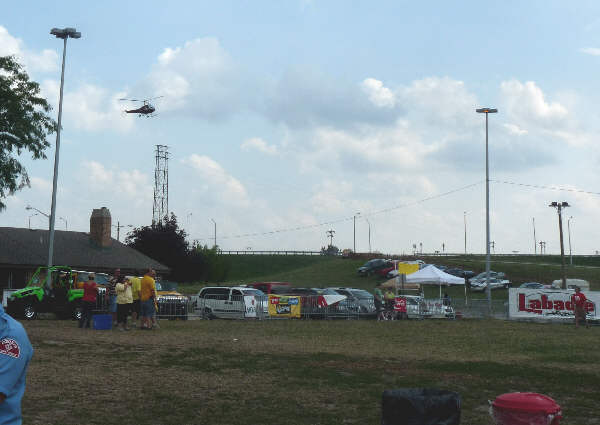 (Above) Editors note, one of the most exciting moments of the Labadie Pig Gig weekend is when Wendy Dore flies over head in a helicopter for the annual 'When Pigs Fly'. First sound of the helicopter was heard at 5:00pm on Sunday afternoon.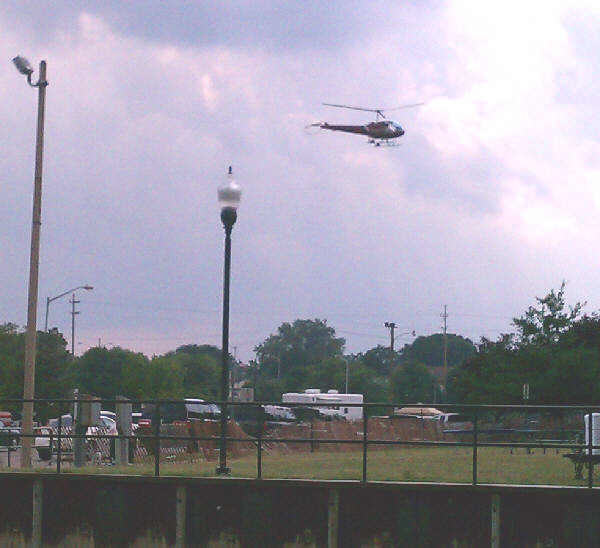 (Above) Helicopter flies over Vet's Park
(MyBayCity photo by Josh Sharrow)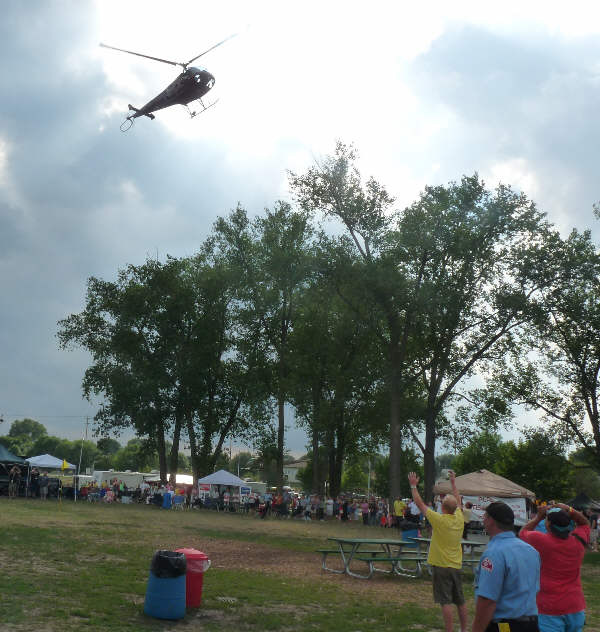 (Above) State Farm's Jim Kruszynski directs the helicopter from the ground toward the flagged area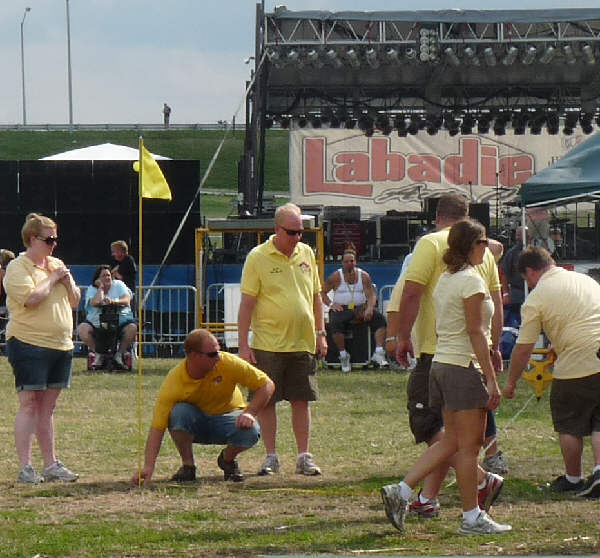 (Above) Pig Gig Volunteers measure who's closest to Pig Pen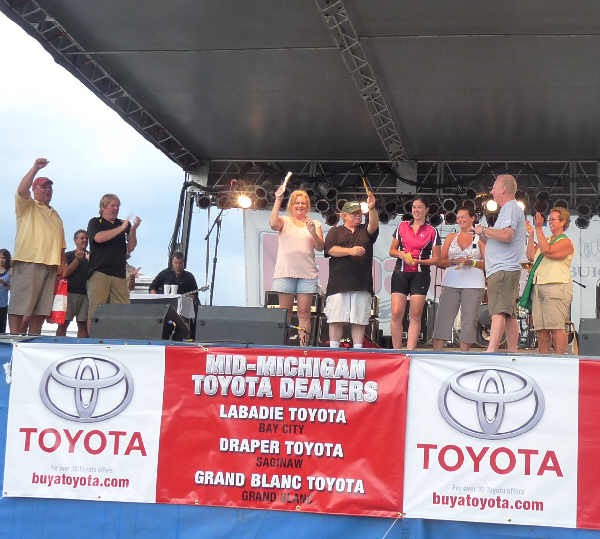 (Above) Winners announced for 'When Pigs Fly'. Closest to wins big pot and furthest away also wins money prize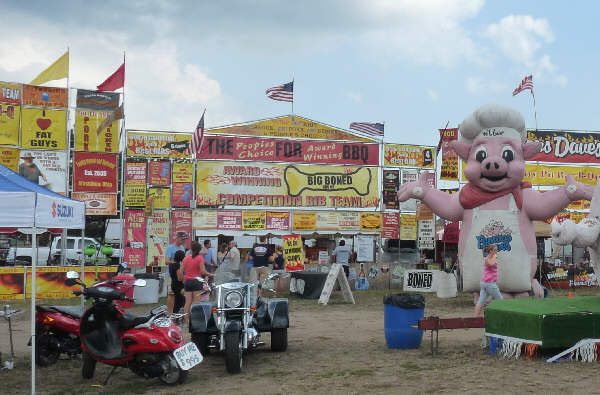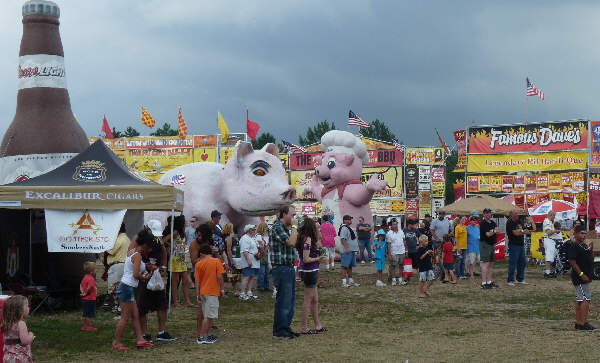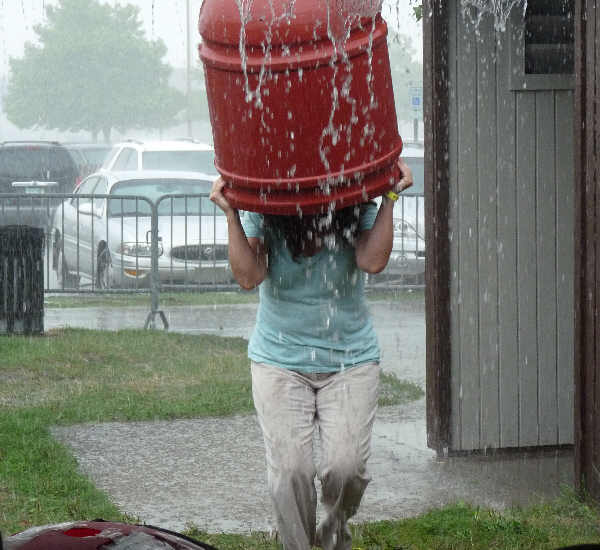 (Above) An unknown comic who wants to remain unknown covers up for shelter trying to make it back in to VIP tent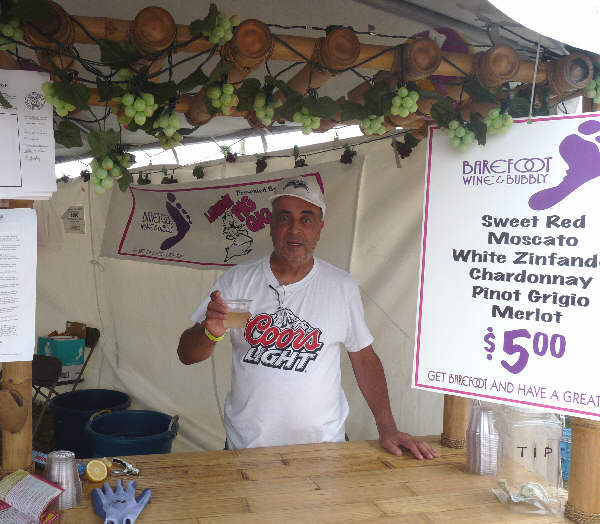 (Above) Joe White mans the Barefoot wine tent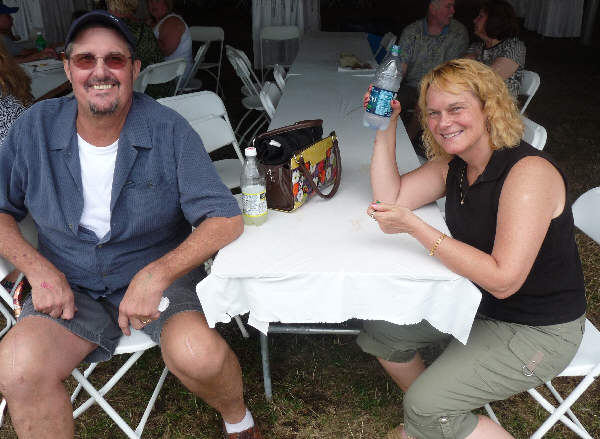 (Above) Craig & Sue Werner take in the Labadie Pig Gig atmosphere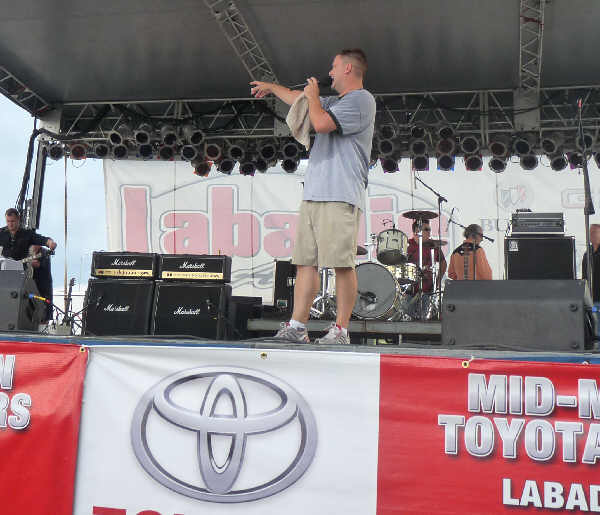 (Above) Dennis Beson from the Sinclairs band. The Sinclairs band was the opening act for the Georgia Satellites which gave a lift to the the park during the downpour. http://www.sinclairsband.com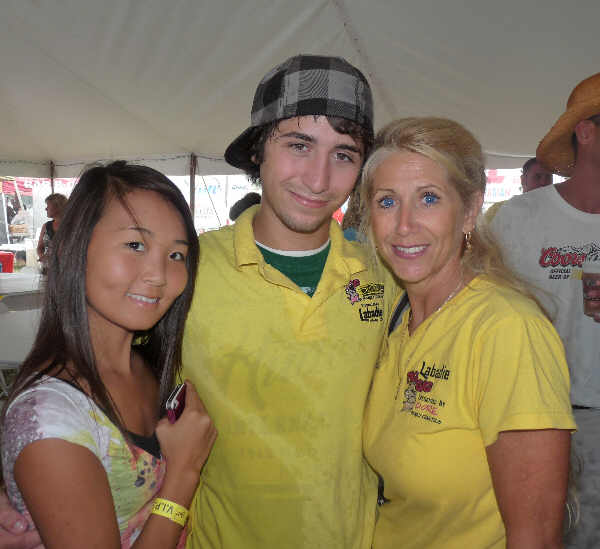 (Above) Lori Nichols, Chase Dore and Colleen Dore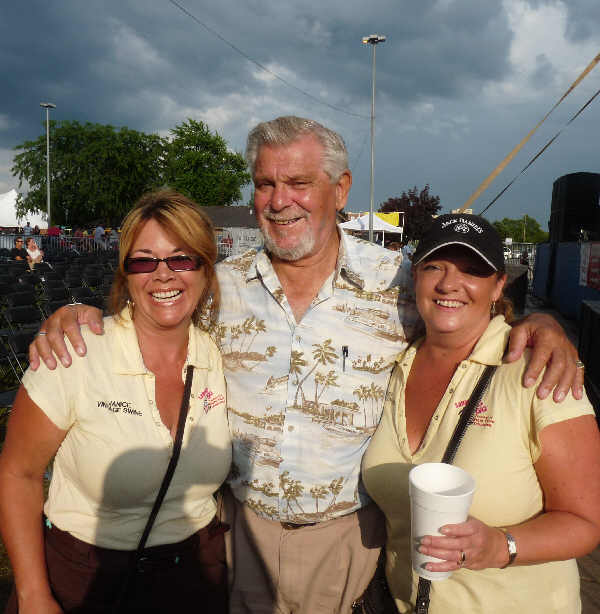 (Above) Janice Sater, Arthur Dore and Cheri Fischer take a quick 'Kodak moment'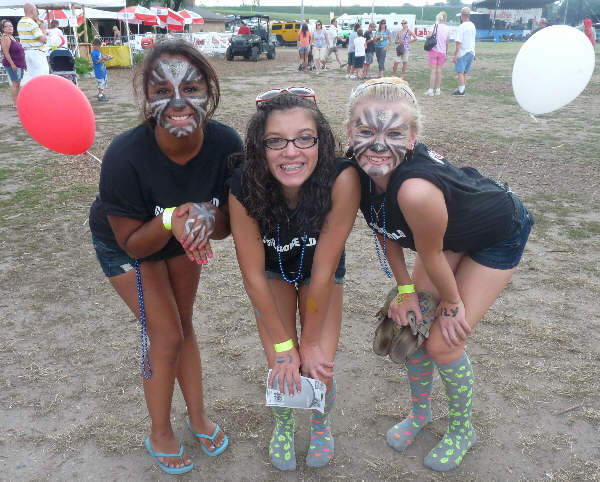 (Above L/R) Face painting from the Boys & Girls Club tent Kayla Snyder, Emily Gomez and McKenzie Allen smile for MyBayCity.com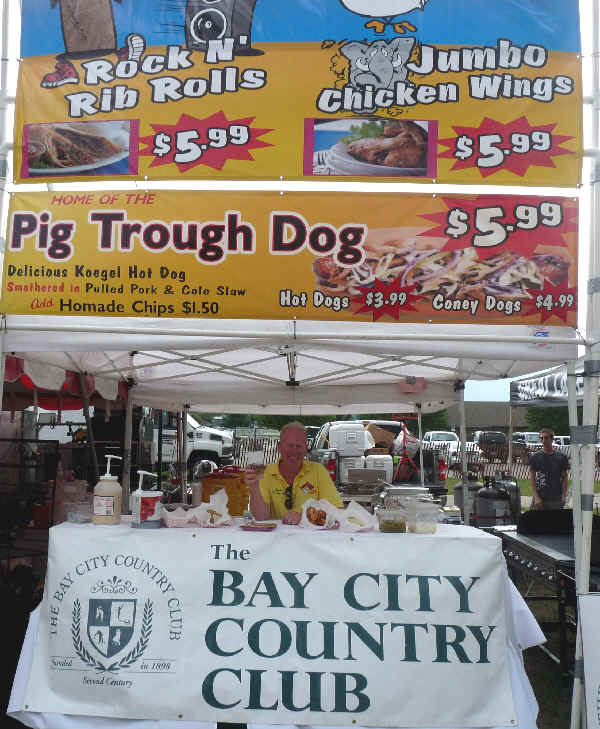 (Above) Bay City Country Club serves up the famous 'Rockin Rib Rolls and more. Visit the BC Country Club's Stadium Pub located at 7255 S Three Mile Rd, Bay City (Open to Public)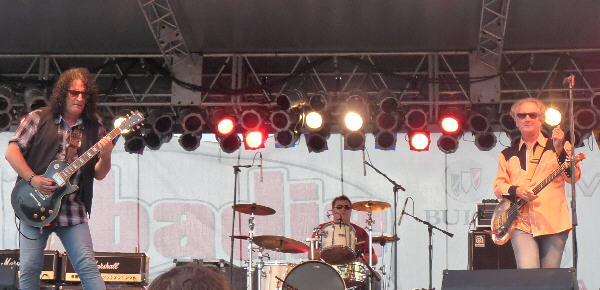 (Above) The Georgia Satellites take to Stage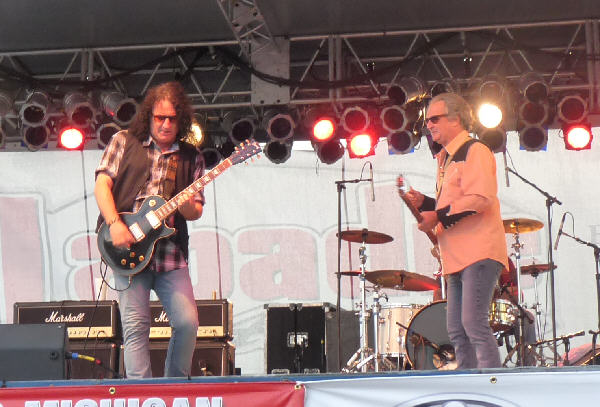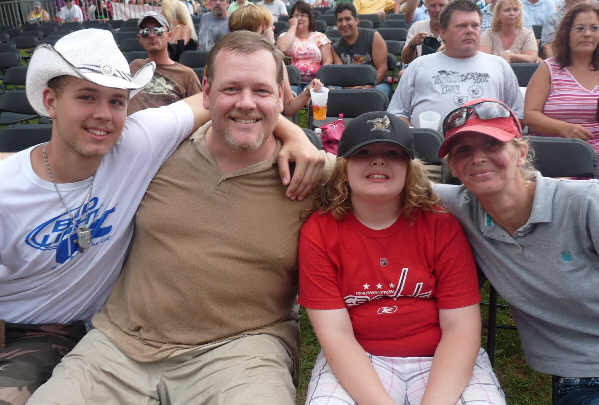 (Above) Enjoying the night's entertainment Tri City Icehawks Head Coach, Stirling Wright with family -- Stirling Anthony, Rachel and Petra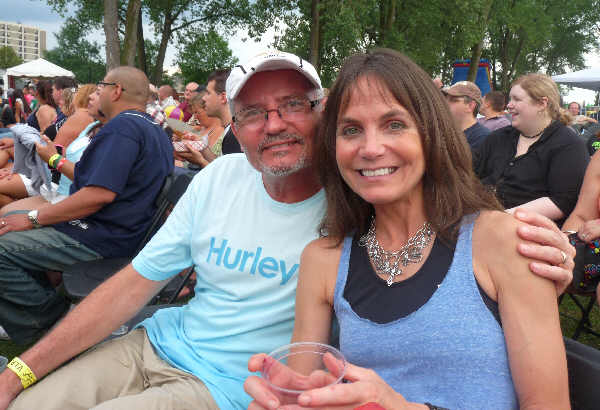 (Above) Dr. Don Buday and Bridget Looby enjoy the Georgia Satellites concert in VIP area.
---
---
---
Send This Story to a Friend!
Letter to the editor
Link to this Story
Printer-Friendly Story View
---
--- Advertisments ---