Dr. John S. Lore Moves From Bay Future to Key Detroit Medical Center Post
Native Bay Cityan Called "All Star" of Philanthropic Field
November 21, 2004 Leave a Comment
By: Dave Rogers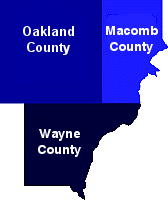 Dr. John S. Lore, called a fundraising "all star," charges out of retirement for key Detroit Medical Center development post.
      John Lore's legacy in a brief tenure as interim executive director of Bay Future is an intangible one of instilling the seeds of a "can do" attitude involving collaboration and vision.
     He moves on Jan. 1 to a major post in Detroit, aiming to infuse spirit, as well as donated dollars, into the Motor City's largest health care system.
      Dr. Lore will be raising funds for the Detroit Medical Center (DMC), a Wayne State University affiliate of 10 hospitals and research centers that includes Children's Hospital of Michigan, Detroit Receiving Hospital and University Health Center, DMC University Laboratories, Harper University Hospital, Huron Valley-Sinai Hospital, Hutzel Women's Hospital, International Center, Karmanos Cancer Institute, Kresge Eye Institute, Michigan Orthopaedic Specialty Hospital, Oakland Virtual Medical Center, Rehabilitation Institute of Michigan, Sinai-GraceHospital and Wayne State University School of Medicine.
      DMC chief executive Mike Duggan, former Wayne County prosecutor, hopes that Dr. Lore will help build the base of the Detroit center to rival the Midwest pace-setting Cleveland Clinic.After years of red ink, Duggan has DMC in the black and growing.
      Besides fundraising, Dr. Lore's job will include attracting private investment for commercial and residential developments on DMC properties.
      He will join a growing health center springing back from a decline that saw cuts of 7,000 jobs in five years. It's the kind of challenge that John Lore enjoys.
      Dr. Lore skyrocketed out of the Banks area, Visitation School and Handy High to Western Michigan University, Kalamazoo, where he earned a bachelor of science degree in 1965. An appointment as director of alumni relations at WMU in 1966 jump-started his career and he soon earned masters and doctoral degrees as well at WMU. Dr. Lore became one of the youngest college presidents in the nation at Nazareth College, Kalamazoo, in 1975 at age 33.
      In 1980 he was chosen by his peers to lead the Michigan Colleges Foundation. Six years later he was named senior vice president of St. John Health Corporation, an eight-hospital Detroit area health organization. That led to a post as CEO of St. Joseph Mercy Health System, a three-hospital group in Ann Arbor, and in 1999 to a key role in organizing Ascension Health, a 20-state group of Catholic hospitals headquartered in St. Louis, Missouri, that included Saginaw St. Mary and two Detroit hospitals, St. John and Providence.
      A certified fundraising executive with extensive ties among organizations and funding sources alike, Dr. Lore has been recognized as a national spokesperson for philanthropy.
      Recently Dr. Lore headed the $10 million fundraising effort to establish the ConnectMichigan Alliance (CMA), securing a $20 million endowment by virtue of a $10 million state challenge grant initiated by former Gov. John Engler. The Alliance welds together four partnership groups: the Michigan Nonprofit Association, the Michigan Community Service Commission, Volunteer Centers of Michigan and the Michigan Campus Compact.
      CMA focuses on youth volunteerism, community volunteerism, higher education and training and technical assistance.
      "Building on former Gov. George Romney's vision that volunteers can change our world, the Alliance provides opportunities for every individual to give back to their community, now and in the future," says Michelle Engler, tri-chair of the the Alliance.
      Although he moved on from Detroit many years ago, Dr. Lore solidified and maintained his Detroit roots as a lifetime member of Leadership Detroit of the Detroit Regional Chamber of Commerce. Those longterm connections will certainly come in handy in his new post back in the Motor City.
      A few years ago Bay City was lucky that John and his wife, Judy, decided that his hometown of Bay City and the riverfront Jennison Place fitted their retirement dreams. They brought a much-needed sense of community pride to the downtown and to the growing core of development-oriented Bay City advocates.
      The couple will continue to lend their experience and vision to their "home town" while dividing development efforts and living time with Bay City and the Motor City. Local economic development officials hope to call regularly on Dr. Lore for advice during his weekends here.
      Dr. Lore is confident that his recently announced successor at Bay Future, a talented executive with high tech industrial experience, Eileen Curtis, will help weld local leaders into a smoothly meshing team torevitalize the local economic base through the spirit of cooperation and dedication for which he laid the foundation.###
---
---

Dave Rogers




Dave Rogers is a former editorial writer for the Bay City Times and a widely read,
respected journalist/writer in and around Bay City.
(Contact Dave Via Email at carraroe@aol.com)

More from Dave Rogers
---
Send This Story to a Friend!
Letter to the editor
Link to this Story
Printer-Friendly Story View
---
--- Advertisments ---