Rapacious Cormorants Decimating Perch, Smelt in Lake Huron
Charter Boats in Outer Lake Said Leaving for Lake Michigan
November 25, 2004 Leave A Comment
By: Dave Rogers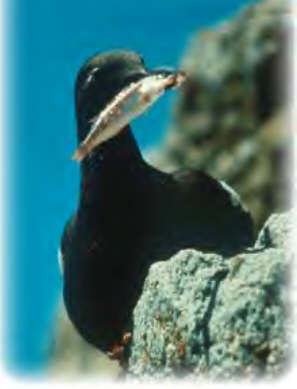 A plague of cormorants like these black pirates apparently are decimating the perch and smelt populations in Lake Huron and destroying the ecology of the Charity Islands.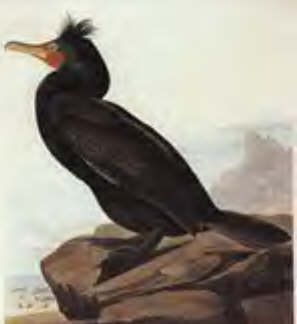 A closer look at a Michigan cormorant
      Fishers no longer are catching perch like they used to in Lake Huron.
      And forget about trying to dip smelt in the lake and connecting waters. Your chances are a slim as a cat getting a bite to eat at a bulldog convention.
      The reason many sportsman give for this change is the increase in cormorants.
      The huge, ugly black bird, (cormorant means "sea crow"), reportedly eats three times its 15 pound average weight in fish a day. That means that a 15-pound cormorant devours about 45 pounds of fish a day.
      The predator dives up to 60 feet into the lake to boil up schools of perch or smelt to be snapped up by hordes of hovering black pirates.
      With protection by state game policy andofficials, the cormorant population has grown from a few dozen nesting pairs to a reported 115,000 birds in the past decade.
      Infuriated fishers have protested to the Michigan Department of Natural Resources. Some have tried to take mattersinto their own hands with illegal kills of cormorants. One irate sportsman reportedly shotgunned about 100 nesting pairs on Charity Island recently. The DNR has offered a $10,000 reward for information leading to apprehension of the culprit.
      Sportsmen know how to take out the cormorants: spray their eggs with oil.
They feel the DNR may be getting enough pressure from sportsmen to start the process of reducing the cormorant population. But a policy decision is still awaited.
      Sportsmen who have viewed the Charity Islands up close lately said much of Little Charity island is "dead" because of vegetation lost because it is covered with cormorant guano. "There is no green left," the observer said. And now, Big Charity is partially affected, according to the observer. Nothing will live in such a toxic environment. Another island is partially decimated and may soon be dead itself. They feel these effects are evidence the protection of cormorants has gone way too far and over-population of the birds is damaging the ecology.
      Although the family cormorant consists of about 38 species worldwide, Michigan is home to the double-crested cormorant, found in both freshwater and saltwater. They breed mostly in northern Michigan.
      A recent DNR survey of charter boat operators showed a 24 percent decline in yellow perch taken on the Great Lakes and major tributaries in one year. Figures from April to October, 2003, showed 65,715 chinook salmon, 50,148 perch and 44,666 walleye. However, Lake Michigan had almost half the catch (49%), followed by Lake Erie with nearly a third (31%) and only 11% on Lake Huron.
      More alarming is the fact that the total number of fish of all varieties showed a decrease from 2002 to 2003 compared with an 18 percent increase the year before.
      Charter boats are virtually gone in the outer Lake Huron (Tawas to the Straits) and Sebewaing to Harbor Beach. Charters remain in the inner lakes, thriving on Chinook salmon and lake trout catches and some walleye.
      Catches of Coho salmon, Rainbow and Brown trout and yellow perch are all at much lower levels in Lake Huron and tributary waters, charter boat captains report.
      These changes underlay the reasons why most charter boat action has moved to Lake Michigan. The number of charter excursions in 2003 confirms this: Lake Michigan, 12,094; Huron, 2,771; Erie, 1,695; Superior, 505; St. Clair, 466.
---
Outdoors Article 621
---

Dave Rogers




Dave Rogers is a former editorial writer for the Bay City Times and a widely read,
respected journalist/writer in and around Bay City.
(Contact Dave Via Email at carraroe@aol.com)

More from Dave Rogers
---
Send This Story to a Friend!
Letter to the editor
Link to this Story
Printer-Friendly Story View
---
--- Advertisments ---