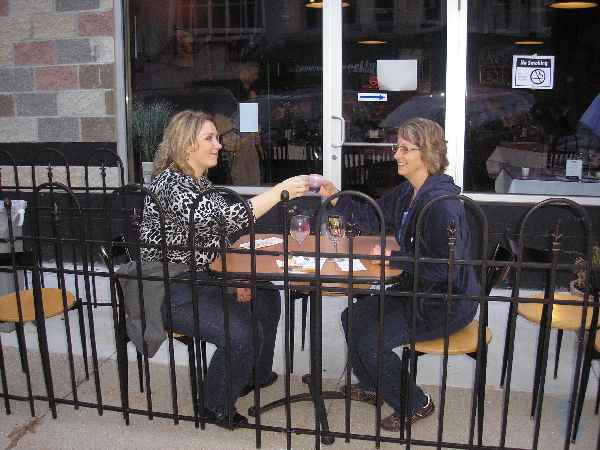 Toasting to a perfect night in Downtown Bay City, Dawn Reszke (l) and Alma Simpkins (r)
---
Downtown Bay City Wine Walk 2011
Cheers! To Another Successful Wine Walk Event!
September 23, 2011 2 Comments
By: Diane Szczepanski
Local vintner,
David Schmidt
, said it best when he astutely remarked, "Wine making is a tradition at least as old as our civilization, and an undeniably pleasurable part of its celebrations".
Thanks to the care and traditions of wine makers around the world, who provide the reason to gather, Downtown Bay City enjoyed an evening of its own undeniably pleasurable celebration, at the 13th Annual Wine Walk, Thursday, September 22, 2011.
Friends, family, and co-workers gathered at the sold-out event to sample a multitude of wines and a variety of appetizers at 15 Downtown establishments.
Candace Bales
, Executive Director of the Bay City Downtown Management Board and Downtown Development Authority commented her phone "never stopped ringing" regarding purchasing tickets, which sold out completely as of Tuesday.
The event again this year, was graced with pleasant skies and comfortable temperatures. As the brightness of day acquiesced to the victory of nightfall, a spectacular changing lightscape on the horizon awed revelers, as the sun offered it's final farewell of the day in a fiery salute.
Music from many talented local musicians, was abundant in several establishments and on street corners, providing festive accompaniment to the melody of laughter and conversations taking place everywhere.
When asked what makes a great wine, or a great vineyard,
Schmidt
responded, "The forces of persistence, nature and alcohol that combine in the finished product of wine, are very much like vintner and vineyard, both get better with time".
As we bid "Adieu" to another successful Downtown event and the 13th sold out Wine Walk, his remark rings true for the nature of the city of Bay City, as well.
With events like this and so many others hosted around our fine town, we persist in showcasing the great things happening in Bay City. In doing so we prove that we too, as a community, only get better with time.
---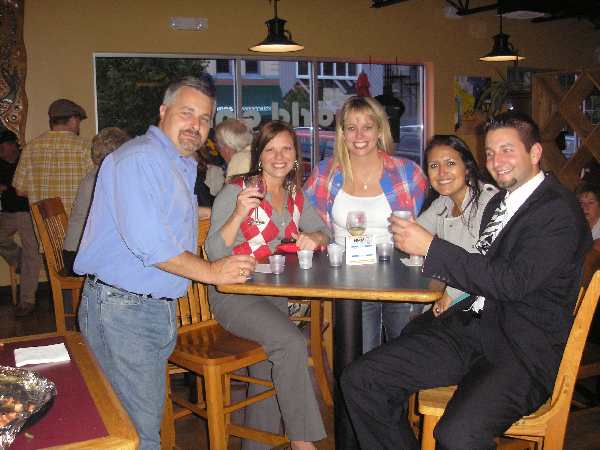 From Left, Dan Couveau, Tara Beauregard, Trisha Lathrom, Cathy Koebke and Eric Finnigan,
catching up on wine and conversation at World Cafe
---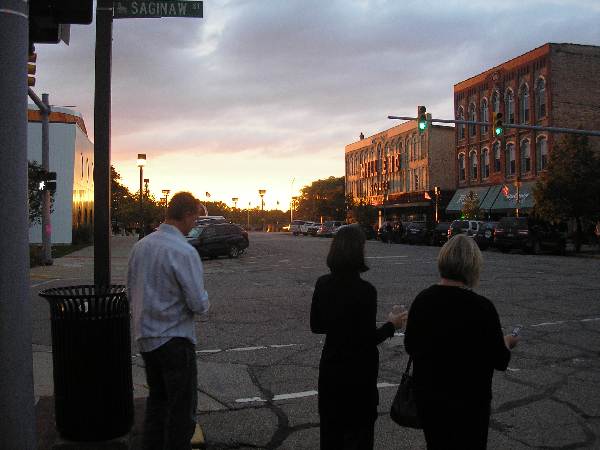 Picture perfect skies held through-out the evening's event
---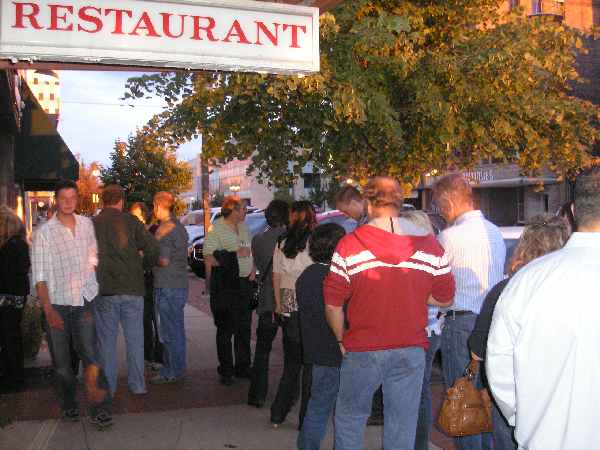 Anxious wine tasters wait in the setting sun to get their samples at Gatsby's
---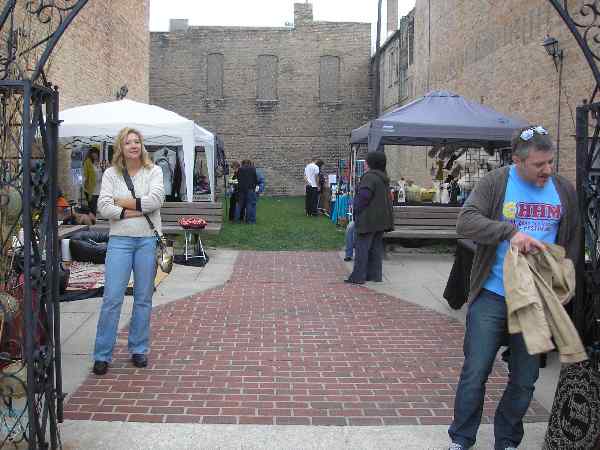 Vendors set up shop at East Bank Market at Unity Park
---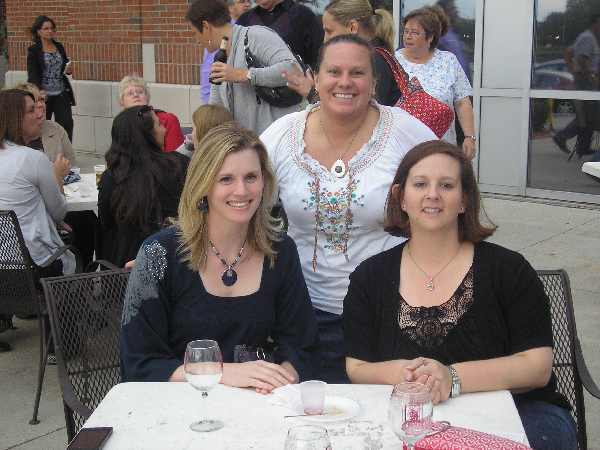 Enjoying the patio at Doubletree,
from left, Carrie Briggs, Karie Easterling and Leslie Hahn
---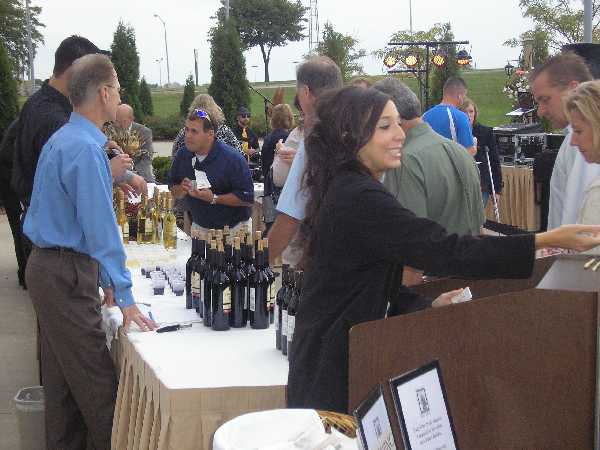 Appetizers, wine and music awaited those at Doubletree.
Providing the music was the band, Element of Funk
---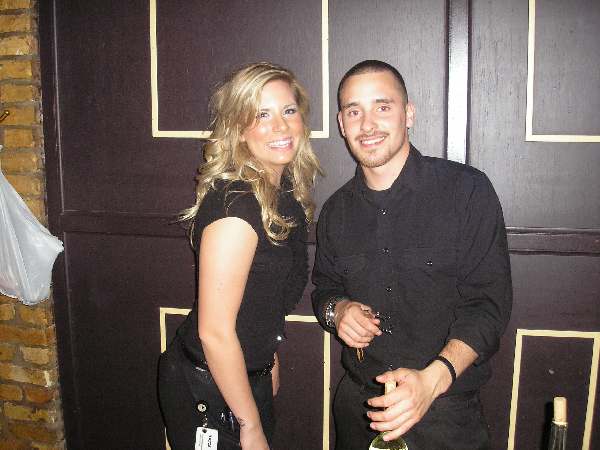 Tuesday Govitz (l) and Aaron Martinez (r), pause to pose for the camera.
They kept busy pouring plenty of wine at Old City Hall
---
The Chamber's appetizer buffet was a popular spot
---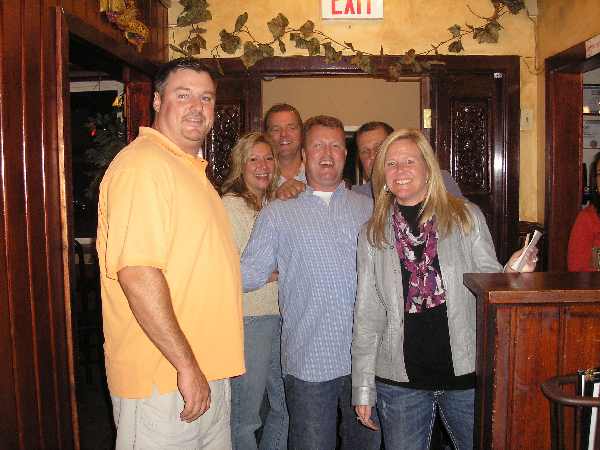 A FUN group of folks who waited patiently in line
at G's Pizzeria to get in and sample the goods
---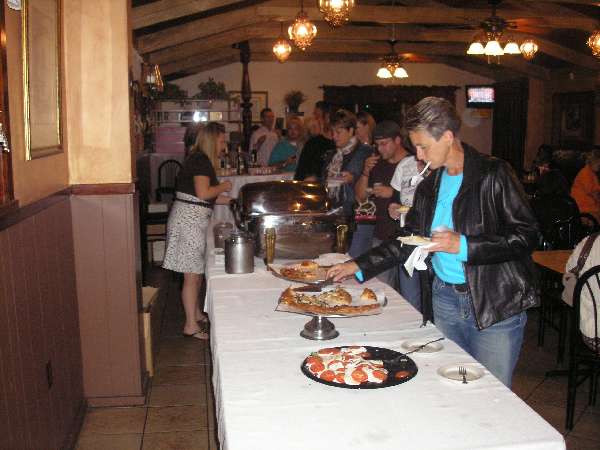 The food was delicious at G's and guests
enjoyed great wine to accompany it
---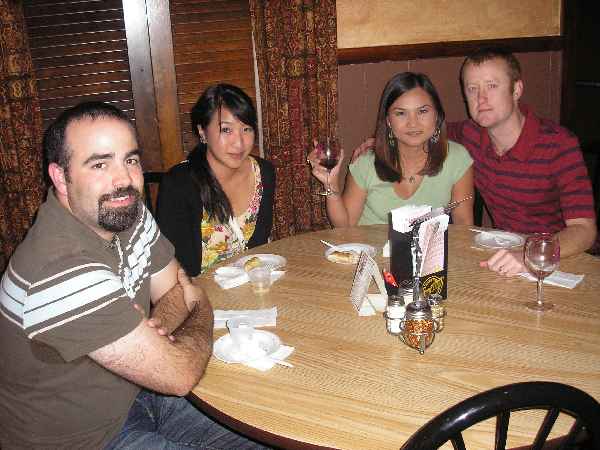 At G's, from left, Phil Irish, Tiffany Chan, Sweden Yocum and Luke Yocum
---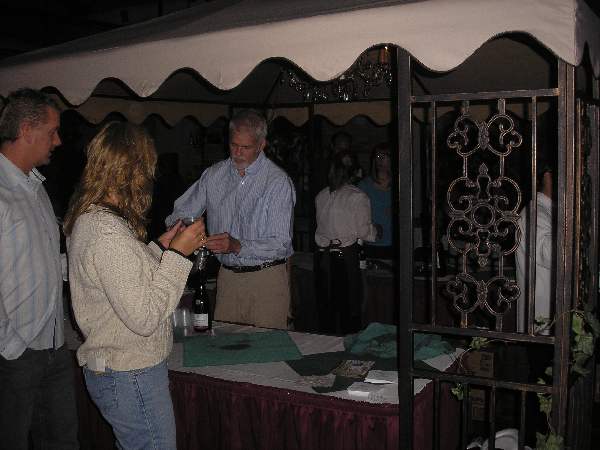 > The Atrium serves wine under the indoor gazebos
---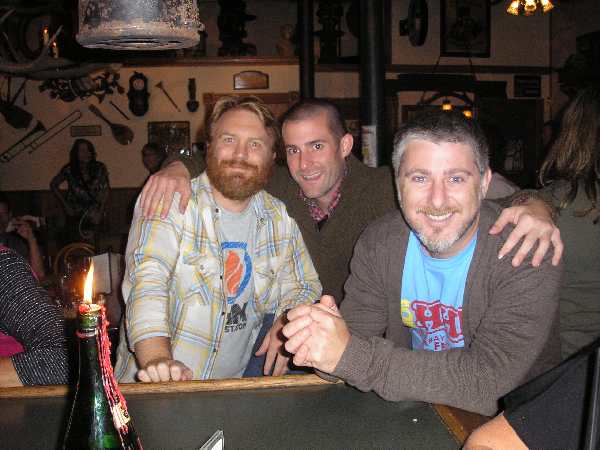 From left, Shawn McDonald, Nic Dubbs and Alan LaFave at The Stein Haus
---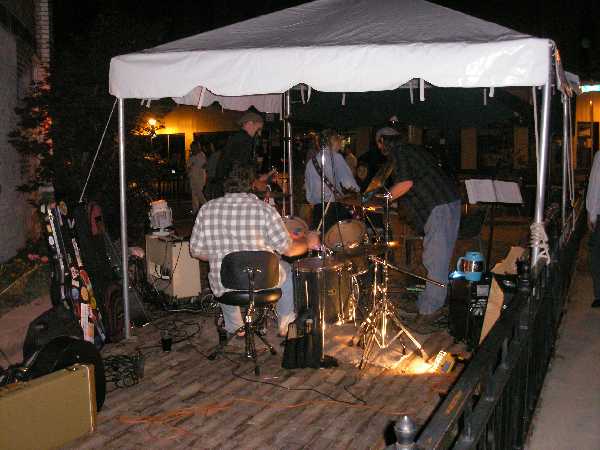 Scott Baker and the Universal Expressions outside The Atrium, with guest
'jammer' on guitar. Check out Scott's music at www.scottbakermusic.com
---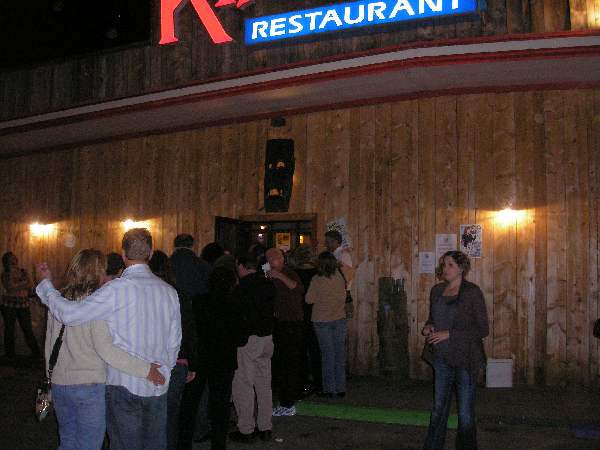 Waiting to get into The Kingfish
---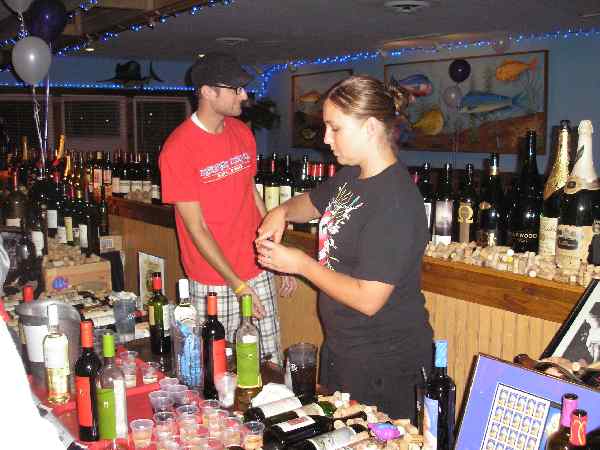 Kelly Whalen and co-worker keeping the wine flowing at The Kingfish
---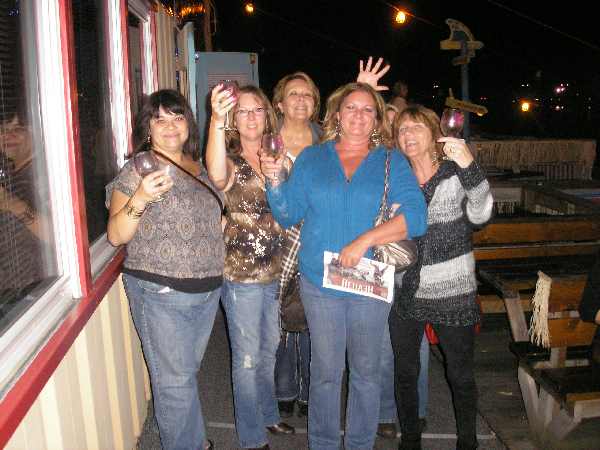 Wine Walks are meant for making memories with friends,
like this cheerful group of ladies were doing
---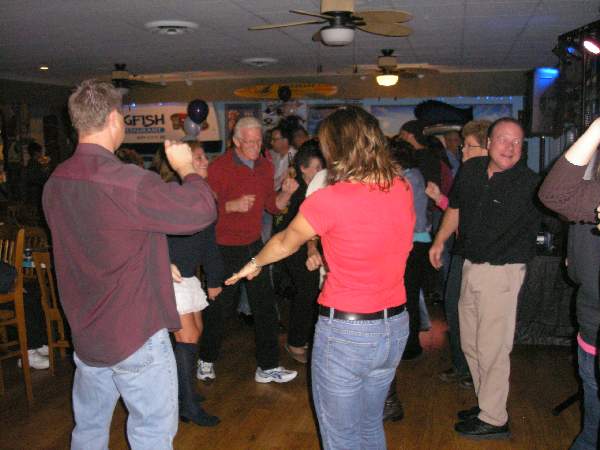 Dancing at The Kingfish or one of the other establishments was the way
to end a perfect night of wine tasting
---
Downtown Article 6293
"The BUZZ" - Read Feedback From Readers!
julie says: On September 24, 2011 at 07:16 PM

if this had a like button... I would click on it and then post Like, like, like..
maybe something for the programmers at mbc to consider....
reader says: On September 24, 2011 at 07:17 PM

as someone who has made every winewalk forever and had to miss this year... it was GREAT to experience it thru you eyes, and comments THANK YOU !!!! ;)
---

Diane Szczepanski




Business-woman by day, confessed boot addict by night and 'wanna-be' writer, music lover and proud Mom of an awesome guitar playing, teen son.

More from Diane Szczepanski
---
Send This Story to a Friend!
Letter to the editor
Link to this Story
Printer-Friendly Story View
---
--- Advertisments ---