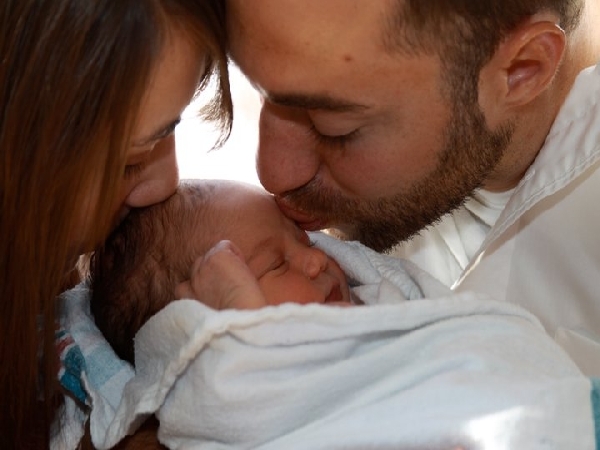 Amber, Charlotte Joanna and Dan Dickenson (photo credit Doug Szczepanski)
---
Thinking Out Loud Again Chronicles
They Earn Their Wings Awfully Fast
October 23, 2011 6 Comments
By: Diane Szczepanski
"There are two lasting bequests we can give our children. One is roots. The other is wings". ~ Hodding Carter, Jr.
My son is a musician. This I know.
I can hear him as I write this, in our basement music room, composing something melodic and haunting on his keyboard.
Will he be a "famous" musician someday?
Perhaps.
I just know he makes some darn beautiful music...
My son likes eating healthy, the Red Wings, playing cards with his Grandparents, jamming with his Uncle Dan, playing 'shoot em up' video games and debating with me, his Mother.
About everything.
He hates the sound of the blender, food containing beans, being rushed in the morning, cleaning his room and me bragging about him.
He's proud of his Cousin Douglas' service to our country, his guitars, his school grades and the music collection he has amassed.
I used to know a lot more. When he was a little boy, he told me everything.
I knew what he wanted to be when he grew up, which stuffed animal was his favorite, that he loved Jesus, hated it when I combed his hair and that he thought I only looked "about 30 years old". (I was 39 at the time...he got a new toy that day).
He liked his back rubbed, hated car rides and would never eat peanut butter and jelly sandwiches like all kids have been eating through the centuries.
He loved it when I read to him and enacted each of the characters in very animated voices. I knew the books that tugged at his heart and the ones that made him laugh.
I knew this because I read them a LOT. It was our favorite pasttime.
At a point during the "...but Mom, read 'Billy the Dozer' again" era, I was sure if I had to reenact Billy's gravelly bulldozer voice on his make-believe construction job, ONE MORE TIME, I would permanently damage my tender vocal chords.
In addition, I was getting severely concerned of my mental state that was hanging by a literary thread.
Fortunately, we moved on to 'Thomas the Train' in the nick of time and 'Billy' went to bulldozer heaven. (May he FOREVER rest in peace).
I was certain of what time he'd want a nap, how much trouble he'd give me going to bed, what clothes he'd wear and the exact amount of minutes I would have to argue with him that yes indeed, he DID have to take a shower.
I used to be able to hold his hand crossing streets and I knew when I volunteered at his school he would have that proud "she's my Mom" look on his face.
But, I've lost all that.
Because I have a teen now. A young man on the verge of becoming an adult.
Most would agree that a teens' strongest attribute does not involve letting their parent in on their heart, hopes and dreams like they used to as little children.
The candor is gone. The proud looks are gone. The hand-holding is gone.
They've been replaced with an often defiant, silent, sulky mask known as adolescent angst.
Yet, it's still an odd, admittedly exhilarating feeling to know that all the years of example setting, teaching, reminding, yelling, nagging, talking, time-outs, forgiving, worrying and loving, are closing in on actually sending a full grown human being into the world.
We pray we have done our parental best as we get ready to launch them out into what we know can be a cold, cruel place at times.
We hope that we have armed them with enough of a common sense and intellectual arsenal, to not only survive, but THRIVE in this funny, unpredictable thing we call "life".
We cross our fingers they'll be safe and sound for all the experiences that are yet around their corners, when we WON'T have a hold of their hand.
In the meantime though, until that day arrives, I'll look for the glimpses of my 'little boy' that I can still see a trace of now and then. In spite of the fact he towers over me.
I'll stop and cherish the moments when I recognize my son is communicating with me in his own hormone-induced way.
I'll put down the phone or turn off the TV and just listen.
Because that's what he needs from me right now.
Just tiny bits of time, of my full attention, to be listened to.
The moment will disappear as fleetingly as it came, but I will be grateful for those brief exchanges. They are rare and precious and are not to be missed.
By this point in their lives, we've laid all the basic groundwork and have built what we hope is a solid foundation under our children's feet, so now isn't the time to constantly question, second guess or engage in futile debates.
It's just time to listen.
I've realized it's time to give him his wings to soar and to assure him, by my actions, that I'll stop everything to be there for him WHEN he needs me.
I miss my little boy. But I love the man he's growing up to be.
My son is a musician. This I know.
I can still hear him and his laughter now as I write this, as he talks on the phone and plays along with a song on his IPod on his keyboard. There's a lot of teen harmony in that basement going on.
Will he a "famous" musician someday?
Perhaps.
I just know someday I'm going to miss the awesome melodies of the boy he was and the man he's becoming, that he brings into this house...It's some darn beautiful music....
---
Columns Article 6369
"The BUZZ" - Read Feedback From Readers!
sandyscha Says: On October 23, 2011 at 05:10 PM

Very well written. With my daughters grown up with children and with them being the focus for now, I'd forgotten what they were like at that same stage of life. This was a great reminder! Thanks Diane.
d.peil Says: On October 23, 2011 at 09:09 PM

Diane, What a wonderful tribute to your son. One day he will look back on this and know how much you really loved him. As we get on in years, we forget some of the little things we have shared with our children. Your story released memories of my own children that may have remained forgotten. Thanks for sharing.
dianeboutier Says: On October 25, 2011 at 02:03 PM

This is beautiful music in itself. No wonder the son is a musician. His mother sings her own song quite well. Obviously a talented family lives in Bay City...
gregory3 Says: On October 27, 2011 at 03:57 PM

mDi6se Current blog, fresh information, I read it from time to time!!...
---

Diane Szczepanski




Business-woman by day, confessed boot addict by night and 'wanna-be' writer, music lover and proud Mom of an awesome guitar playing, teen son.

More from Diane Szczepanski
---
Send This Story to a Friend!
Letter to the editor
Link to this Story
Printer-Friendly Story View
---
--- Advertisments ---