Central High Student Jessica La Berge Reports on School Facilities Needs
School Committee to Report Findings, Make Recommendations to Board Dec. 13
December 11, 2004 Leave a Comment
By: Dave Rogers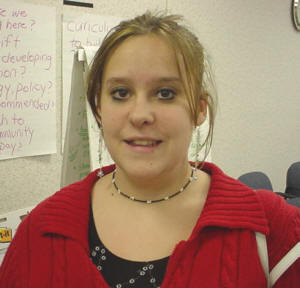 Jessica La Berge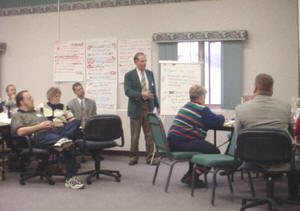 School facilities planners will present their findings and recommendations to the Board of Education on Dec. 13.
(EDITOR'S NOTE: Jessica La Berge was a student member of a recent day and a half school facilities planning committee meeting. Here is her view of the proceedings.)
From a Student Prospective by Jessica La Berge
      Most high school students would have been lounging at home on the night of Monday, November 29. The next day, they would be scurrying around school, class to class.
However, the story is different for me. I was at an important meeting that could determine the future of some of our Bay City Public Schools.
      When I first recieved the news that I had been invited to take part in the F.A.C.T.S. Committee, I knew it was something I really wanted to do, and immediately jumped at the opportunity to attend these meetings.
      But something came to mind that would have an effect on my experience at F.A.C.T.S. What exactly would I be doing on this committee? I soon found out exactly what I was there to do. F.A.C.T.S is a Facilities Advisory Committee...it's Time for our Students. Some of the topics we would be discussing included finances, facility conditions, and demographics of our surrounding areas, and I would be playing a huge role in this committee as a student at Bay City Central High School.
      Looking over all the material, I realized just how much is wrong with our school buildings, how much money maintaining our schools costs, and how the overcrowding is really affecting learning capability in our public schools.
      The very first night of these meetings was held at T.L. Handy Middle School in Bay City's west side. A lovely meal was prepared by the BCPS food service, and many introductions were made during dinner. Afterward, we moved into the cramped classrooms of Handy for sessions on what we would be discussing the next day.
      This experience sitting in the stuffy classrooms was a real eye-opener for many in the F.A.C.T.S. group. Many realized that night that our BCPS facilites are quite inadequate as a learning environment for our students.
      When all sessions were over, all were quite relieved to get out of the cramped rooms. I was relieved not only because of that, but because it felt like I had been in school basically all day long. Even though all sessions were very intersting, I was really looking forward to the next day, when we could start making steps towards a plan that would be brought to the Board of Education.
      The next day started with breakfast and a warm welcome from Mr. Joe Liefbroer, the site manager at SC Johnson. As stated by Mr. Liefbroer, "Better education equals better jobs", which I believe is extremely true in today's society.
      Next, we talked about strengths and weaknesses in our school system. Some strengths throughout the district included acreage, safety, and Central High's Elmer Engel Stadium, which is rated one of the top five in the state of Michigan.
      But with every strength, there comesa weakness. Some of these weaknesses were budget cuts, limited funding, and the conjoined Western High School/ Western Middle School complex.
      One of the other issues that came about was the fact that many of our elementary schools are notequal, and some are beyond help of being impoved in a way in which they can be of any use. The leaky roofs and bad lighting, as well as the ever changing weather inside the schools created problems as well.
      "Students don't really know whatto expect in certain classrooms", says the principal of Central High, Mr. George C. Charles. "You can walk into one room and the temperature will be extremely high and you see students peeling away layers of sweaters, yet walk into the room next door andsee students that are freezing cold. They really can't predict the temperature of their classrooms to know what they should wear to be comfortable."
      After a day full of rigorous thinking skills and hard work, the group shared some commonthreads they found within the district. To me, it was a very interesting experience, and it was something that I learned alot from. It really makes you open your eyes and appreciate all the decision-making that goes into our schools. It was a wonderful experience.###
---
---

Dave Rogers




Dave Rogers is a former editorial writer for the Bay City Times and a widely read,
respected journalist/writer in and around Bay City.
(Contact Dave Via Email at carraroe@aol.com)

More from Dave Rogers
---
Send This Story to a Friend!
Letter to the editor
Link to this Story
Printer-Friendly Story View
---
--- Advertisments ---