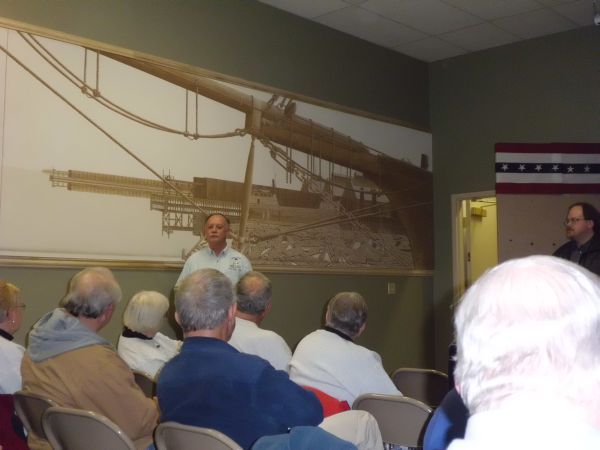 Don Morin, of the Saginaw River Marine Historical Society, and Ron Bloomfield, right, of the Bay County Historical Society, speak in front of a mural of Bay City's maritime heritage donated by PNC Bank.
---
Local Sailors Who Perished on the Great Lakes are Honored by Group
Pewabic Sinking Featured in Brig. Gen. Richard D. DeMara Gallery at Museum
November 20, 2011 Leave A Comment
By: Dave Rogers
These days of mid-November strike fear into the hearts of Great Lakes sailors and shuddering recollections even by those who never sailed.
"The bravery and the reckless daring of the average nineteenth-century lake sailor was proverbial and many a thrilling tale could be told of his exploits," wrote Richard F. Palmer, an upstate New York writer, further observing:
"He laughed at danger, and so fascinating was the life he led it was rarely he could be induced to forsake sailing for a less adventurous vocation on dry land."
November brings many observances of sailors who gave their lives pursuing the dangerous profession that is inherent in maritime life, especially on the Great Lakes.
The Saginaw River Marine Historical Society honored Bay County area sailors lost on the Great Lakes in their annual service Saturday (Nov. 19) at the Waterfall Park in downtown Bay City.
The group adjourned to the Kingfish Restaurant and then Bay County Historical Museum to watch video from dives on the ill-fated 588 foot freighter Cedarville, cleft in half by a surging, sharp-prowed Norwegian vessel in heavy fog in the Straits of Mackinac on May 7, 1965.
The Cedarville-Topdalsfjord collision, while tragic enough in that it cost ten lives, nonetheless is dwarfed by the monumental Great Lakes storm of Veterans Day 1940 that still draws shivering recollections by sailors and maritime buffs.
Gene Mierzejewski, a Grand Blanc book reviewer and former book editor of The Flint Journal, writes: "Almost forgotten today, the storm that brought death and destruction from Minnesota to Michigan is given its due by Tom Powers in "In the Grip of the Whirlwind" (Thunder Bay Press, $14.95), a masterful recounting of the calamity that took 154 lives.
"Powers, whose previous books explored Michigan history and natural attractions, gives the first complete report of the surprise storm of Nov. 11, 1940, that doomed freighters, other ships on Lake Michigan and dozens of hunters ill-prepared for an unseasonal blast of wintry hell that plunged temperatures by 40 degrees or more on the 22nd anniversary of the end of World War I."
Examining an earlier era, the Bay County Historical Museum is partnering with The Great Lakes Maritime Heritage Center and NOAA to bring "Pewabic: Treasure and Tragedy!"
This traveling exhibit shares the ill-fated voyage of the passenger steamer Pewabic that sank in Thunder Bay at Alpena, Michigan on August 9, 1865. The efforts to salvage the ship's valuable cargo are legendary and spanned several decades. Many men lost their lives in search of its elusive treasure.
The exhibit will be on display until April.
---
Local News Article 6491
---

Dave Rogers




Dave Rogers is a former editorial writer for the Bay City Times and a widely read,
respected journalist/writer in and around Bay City.
(Contact Dave Via Email at carraroe@aol.com)

More from Dave Rogers
---
Send This Story to a Friend!
Letter to the editor
Link to this Story
Printer-Friendly Story View
---
--- Advertisments ---