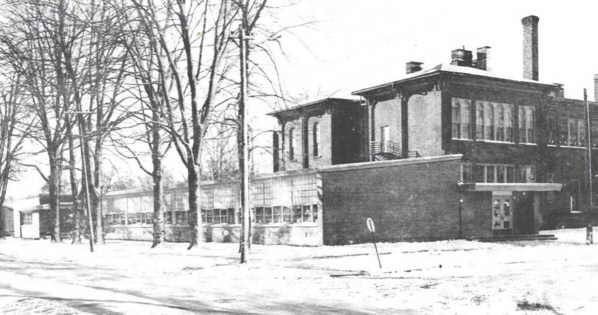 Old Trombley School, a turn of the last century building, looms over the 1954 incarnation built under the 1949 "pay-as-you-go" millage that ultimately constructed 19 schools.
---
Michigan High School Dropouts 30%, College 82%, Cherry Commission Reports
Community Commitment to Education Seen Critical to Michigan's Future
December 18, 2004 Leave a Comment
By: Dave Rogers
      "Michigan is at a moment of decision," summarizes the report of the Lieutenant Governor's Commission on Higher Education.
      We can move forward with knowledge and skills or backward to less economic opportunity, decaying cities and population flight, the report concludes.
      For readers tempted to say: "We knew that," and move on to other more interesting material, please read on. Or better yet, access
www.cherrycommission.org
and spend a little time with the report. We guarantee it will alarm you and hopefully galvanize you to action.
      It is probably not startling that the high school dropout rate in Michigan, 1997-2001, was 30 percent.
      It may be news that the college dropout rate is 82 percent, calculated by the proportion of students who don't complete a degree within six years of matriculating.
      The real shocker may be that only 30 percent of high school graduates have taken a course of study adequately preparing them for college.
      "The quality of life we enjoy today is imperiled by a changing economy in which knowledge is the key to economic growth and opportunity," states another foregone conclusion of the report, concluding:
      "Michigan can meet this challenge only if it has the courage to set and achieve within the next ten years a new expectation for learning: postsecondary education for all."
      These are wonderfully brave words and thankfully they are accompanied by a roadmap for success in the future.
      The report recommends a community focus on improving completion rates at high school as well as college levels: "Proven models include small high schools,blended high school and postsecondary institutions and career and other themed and contextualized learning environments."
      However, neither government, business nor education leaders so far have reacted positively to the report or showed any indication of following its recommendations.
      For 40 years in Bay County education has not been a priority for leadership or the populace. The one bond issue ever passed in the history of the community for school facilities was in 1992 when leaders were expecting a highly-educated worker influx to a proposed Environmental Protection Agency (EPA) research center on the old Industrial BrownHoist site along the river.
      Bay City's 1949 pay-as-you-go millage built most of the district's current school buildings, most now approaching the ripe old age of 50.
      A school facilities committee has handed off the ball to the Bay City Board of Education with few strong recommendations. The Bay Area Chamber of Commerce and S.C. Johnson & Son, Inc., seem to want to create some momentum but it remains to be seen how many in the public will follow the flag if an attractive plan for school improvement arises.
      There is talk that a merger of at least three school districts, maybe a countywide district, would find some favor with voters, if not with partisan boosters. But change comes extremely hard in the K-12 education arena. People are comfortable with their districts, which achieved present configurations only fiveor six decades ago.
      It seems hard to believe that it wasn't that long ago that there were only three public high schools in the county, Central, Handy and Pinconning. And that there were seven Roman Catholic high schools in the county, St.James, St. John Essexville, St. Joseph, St. Mary, St. Stanislaus, Visitation along with St. Michael's in Pinconning.
      The fact that the Bay Area is probably no better than the rest of the state in educational levels is not surprising since this area was a thriving manufacturing center.
      States the Cherry Commission report: "The decades when manufacturing workers with little formal education enjoyed high wages may have created a high standard of living in Michigan, but they also produced a dangerous side effect: an education achievement gap between Michigan and its competitors."
      Educators and policy-makers have been in denial for years about problems like these stated by the Cherry Commission:"Credible national studies suggest that only 65 to 73 percent of 9th graders graduate from high school in four years."
"Only 30 percent of students who graduate from high school take a course of study rigorous enough to prepare them for postsecondary education."
      The time has come to slay the sacred cows that keep even talk of educational reform and improvement from the public agenda. It's time to read this critical report and ask leaders to begin working to implement its recommendations.
      The Cherry report lays it out: "Michigan local government leaders (from mayors to county commissioners) must join with business, labor and education leaders to organize 'community compacts' that increase local postsecondary participation rates by 5 percent each year for the next ten years. Each community should establish baselines for postsecondary participation and set targets for annual improvement, focusing efforts on students who are unlikely to attend college."
      Michigan's factory economy has proven to be a cruel trap. The easy prosperity of the auto industry has vaporized. We have been lulled into complacency about education. The Cherry Commission has the hard facts and the days of denial, hedging and temporizing aregone, swept away by the cold winds of the global economy. Bay County can either jump into action as the Cherry commission outlines or be totally blown away economically. That's the tough and unyielding message, if anyone cares to read it.###
---
---

Dave Rogers




Dave Rogers is a former editorial writer for the Bay City Times and a widely read,
respected journalist/writer in and around Bay City.
(Contact Dave Via Email at carraroe@aol.com)

More from Dave Rogers
---
Send This Story to a Friend!
Letter to the editor
Link to this Story
Printer-Friendly Story View
---
--- Advertisments ---