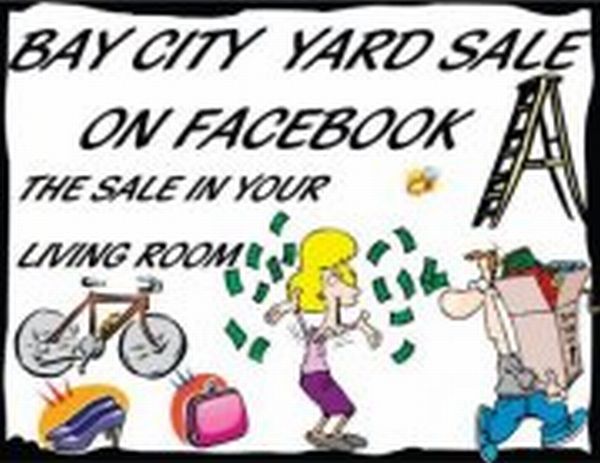 Bay City Yard Sale Facebook Group
It's a Year Long Yard Sale!
December 4, 2011 8 Comments
By: Josh Sharrow
Anyone who knows me, knows how much I love garage sales.All winter long I suffer from GSWS.(Garage Sale Withdrawal Syndrome)
I may or may not have made that syndrome up.
About a month ago I noticed someone added me to the group "Bay City Yard Sale". Thinking it was a site that advertised local yard sales and more, I almost deleted it.
Thank God I didn't remove myself from this group.It's like crack for people with GSWS!(Refer to above definition)
I recently purchased a Wonderwall Sharper Image projector for $25!! That's a $64 Savings from brand new!
But wait! There's more!
This column's feeling a little infomercial isn't it?
I posted a Breakfast Nook for sale on there for a friend.
Go ahead look it up . . . I didn't know what a Breakfast Nook was either.
I received over 15 comments in less then an hour of people wanting to buy it!
Take that Craigslist!
Whoever invented Craigslist, I'm assuming someone named Craig, should be concerned about The Bay City Yard Sale Group!
Click here to check it out today!
---
Columns Article 6517
"The BUZZ" - Read Feedback From Readers!
boomer1_21_1999 Says: On December 04, 2011 at 05:26 PM

Josh I love this article! Isn't that site amazing?! I have met some very nice people here and made friends with them. I have also have purchased some good bargains!! I am not sure if you saw the news broadcast with Bill Walsh but that was awesome coverage as well....you should come out on our next meeting!!
Enigma says: On December 05, 2011 at 01:52 PM

IM ADDICTED TO BAY CITY YARD SALE ...... new group you may be interested in
jolie1st Says: On December 09, 2011 at 06:33 PM

Im am so happy that you like the site, I never thought it would get so big in so short of a time. BCYS has only been around since September when I realized I had too much stuff in my house! Whoever would have thought that it would bring so many people together.
mkochalka58 Says: On October 15, 2012 at 04:46 PM

love doing shoping and selling.what a great idea.....
cafebabe123 Says: On December 03, 2012 at 05:26 PM

I would like to become part of this group. I currently live in North Carolina, but my family is in Bay City, MI. I would love to look at the items, and let my family members be aware if I find something I think they would be interested in. Or I could purchase it from the site, and send it to one of my sisters home.
keewee807 Says: On October 23, 2013 at 04:16 PM

Hello. I have been trying to get bay city yard sale can you please ad me to it or tell me how to get it ty
---

Josh Sharrow




Sharrow is Co- Owner of Last Choice Country, GLB Media Group & Impact Sound Entertainment. You can reach him at (989) 892-8501

More from Josh Sharrow
---
Send This Story to a Friend!
Letter to the editor
Link to this Story
Printer-Friendly Story View
---
--- Advertisments ---