Lawsuit by Jim Thorpe's Sons Underway in Pennsylvania Federal Court
Ancient Bay City Connection to Thorpe's Sauk Tribe Recalled
December 4, 2011 Leave a Comment
By: Dave Rogers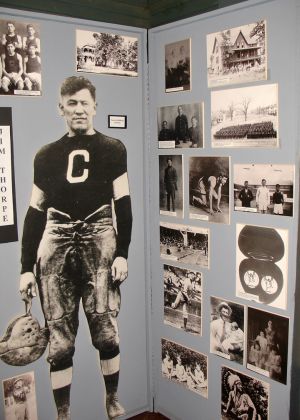 Images of Thorpe from the Jim Thorpe Home in Yale, Oklahoma.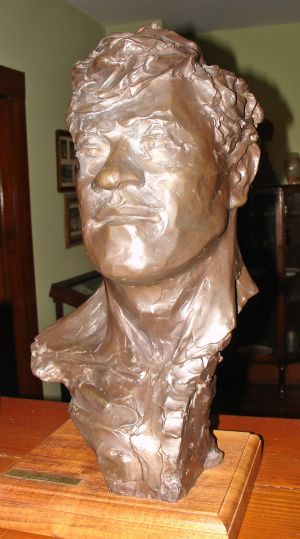 Huge Thorpe bust at his birthplace in Oklahoma.
(EDITOR'S NOTE: Jack Thorpe was interviewed by this writer in 1980 in Oklahoma and an extensive report of the Sauk (now Sac and Fox) tribe that originally had its main village in Bay City was published by The Bay City Times.)


Federal District Judge Richard Caputo in Philadelphia has rejected the motion of the borough of Jim Thorpe, Pennsylvania, to dismiss a suit seeking return of the remains of sports great Jim Thorpe.
Judge Caputo rejected the town's contention it was not a museum and said the issue of ownership of the remains will be a subject of future argument.
In this bizzare case, Thorpe's body allegedly was sold by his widow to the town of Mauch Chunk, PA, upon his death in 1953 and was buried there as a tourist attraction.
Last year John "Jack" Thorpe, 72, son of Jim Thorpe, sued the Pennsylvania town that bears his father's name, demanding that it return his remains to Oklahoma under the Native American Graves Protection and Repatriation Act (NAGPRA) a federal law to protect Native American artifacts.
John Thorpe, of Shawnee, Oklahoma, sued in federal court in Scranton, after waiting until all of his half-sisters, Grace, Gale and Charlotte, died to avoid a family conflict over the lawsuit. He died in February.
Surviving sons Richard and William Thorpe and the Sac and Fox Tribe of Oklahoma have joined the suit and are continuing to pursue a judgment.
"All three newly added Plaintiffs have a legitimate claim to the remains of Jim Thorpe," ruled the judge. "Thus, these newly added Plaintiffs are not interlopers, and their joinder was proper."
"NAGPRA dictates that upon request, a museum must repatriate human remains to the lineal descendant or Indian nation that is affiliated with the remains," added the judge.
"The bones of my father do not make or break your town," Jack Thorpe, a past chief of the Sac and Fox tribe, said of the defendants, mainly town officials.
"I resent using my father as a tourist attraction." His father, a native Oklahoman with Kickapoo as well as Sauk heritage, was said to be a grandson of famed Sauk chief Black Hawk.
Jim Thorpe starred on the national scene in football for the Carlisle (PA) Indian School and went on to win the decathlon and pentathlon in the 1912 Olympics.
His Olympic medals were confiscated by officials of the international body on grounds he was a professional, having played baseball for money. The medals were finally returned on family request in 1982.
Jim Thorpe later became an actor, depicting Indians in B-list Hollywood movies, but turned to drink and struggled financially before his March 1953 death in California at age 64.
"In a bizarre deal to draw tourists, the merging towns of Mauch Chunk and East Mauch Chunk, PA, brokered a deal with Thorpe's ambitious third wife, (Patricia Askew) that renamed the community Jim Thorpe in 1954 and brought his remains to a corner of the Pocono Mountains that he likely never saw," the Associated Press reported when the suit was filed last year.
Thorpe's three daughters had approved of the deal made by their stepmother and location of remains, and daughter Grace, a Native American activist, sometimes visited for the town's annual Jim Thorpe celebration. But Jack and his three brothers were opposed, contending their father's remains should be in sacred tribal burial land in Shawnee.
"Yes, I know that he was the greatest all-around athlete this country's ever produced," Jack Thorpe said at the time. "He was also Native American, and he had his tribe and his family. ... So you've always had two different cultures butting heads."
Defendant John McGuire, the town council's vice president, favors keeping Thorpe's remains at the roadside memorial overlooking the Lehigh River. He believes a majority of the town's residents do, too. "The townspeople are proud of it. We have an association that takes care of the monument and the grounds, and the statues that were placed in his honor," McGuire said. "We try to honor Jim Thorpe as much as possible."
Even if the lawsuit is successful, McGuire considers it unlikely that the town would change its name again.
"It's been that way for 60 years. I don't see a reason to change it. We're well known for what we now are," he said.
Thorpe became well-known during the 1912 Olympics in Sweden, when his track titles led King Gustav V to declare, "Sir, you are the greatest athlete in the world." The 24-year-old Thorpe reportedly replied: "Thanks, King."
Jack Thorpe, a former employee of Hollywood movie studios, recalled the Sauk tribe's heritage from Bay City in the 1980 interview. Oral history of the tribe includes the massacre here by rival tribes in the pre-historical mid-1600s, he reported.
Exile of the survivors of the massacre led to a merger with the Fox tribe in Wisconsin and to the virtual extinction of the tribe in the Black Hawk War in 1832. The survivors of the tribe wound up in Oklahoma along with other tribes banished from their southern lands and driven on foot by the U.S. Army in the infamous "Trail of Tears."
---
---

Dave Rogers




Dave Rogers is a former editorial writer for the Bay City Times and a widely read,
respected journalist/writer in and around Bay City.
(Contact Dave Via Email at carraroe@aol.com)

More from Dave Rogers
---
Send This Story to a Friend!
Letter to the editor
Link to this Story
Printer-Friendly Story View
---
--- Advertisments ---