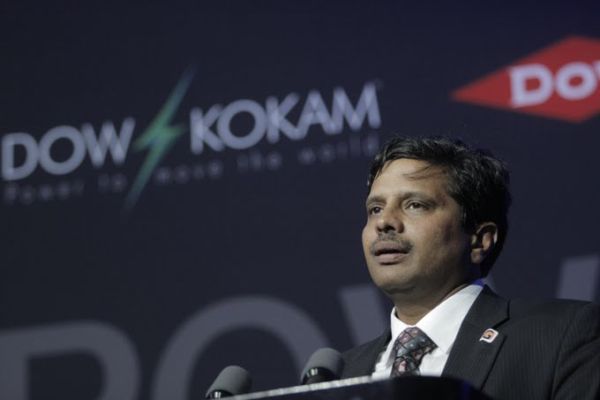 Dr. Ravi Shanker, president of Dow Kokam, speaks at announcement of the Midland vehicle battery project.
---
Uptown at RiversEdge May Be Site of New Lab for Dow Kokam Battery Project
Dr. Sam Shaheen In Position to Spur Bay City Development at Riverfront Site
December 4, 2011 Leave a Comment
By: Dave Rogers
Strong rumors persist, some from inside sources, that a Dow Chemical connected high tech operation may be first to locate at Bay City's historic Uptown at RiversEdge site.
Often mentioned is Dow Kokam, the firm that has built an 800,000 square foot building in Midland and is working with the federal Oak Ridge National Laboratory to develop and commercialize advanced lithium ion batteries for vehicles.
Insiders say a 100,000 square foot building, perhaps a specialized technical and research laboratory named a Process R&D Lab, may be slated for a portion of the uptown site.
Even though the initial announcement by Saginaw developer Dr. Sam Shaheen indicated the intended use of the 48-acre riverfront site would be focused on retail, housing, office and other community oriented attractions, the Dow lab may occupy a small section without inhibiting other development, sources say.
Dr. Shaheen reportedly was involved in financing the construction of the first Dow Kokam plant in Midland, giving him connections that might logically lead to any expansion elsewhere -- such as Bay City.
The Midland Dow Kokam America plant is projected to be a $664 million investment. Dow and the U.S. Department of Energy have recently signed a $5.5 million six year collaboration agreement to do research. One aspect is a Wet Chemistry Lab, recently announced, that is said to accelerate next generation lithium-ion battery technology while reducing material costs.
Uptown development was initiated several years ago when 20 local investors each contributed $1,000 each to spur city growth on the brownfield site occupied by the Industrial Brownhoist Company and other heavy industry for a century and a half.
MyBayCity.com has previously reported the following: "SSP Associates, a Saginaw development firm headed by Dr. Samuel Shaheen, wants to purchase the 40-acre riverfront property known as Uptown at RiversEdge and turn it into a walkable riverfront community, city officials said. The project would include housing, office spaces, retail shops, entertainment, parks, and civic facilities all within easy walking distance.
"SSP plans to invest about $25 million to develop at least 100,000 square feet of building space on the property and it expects the development to bring 440 permanent full-time jobs new to Bay City.
"This development will be absolutely transformational for the city," said Karl Schwartz, vice president of the RiversEdge Development Corporation, which was created in 2007 to streamline the development of the property. The nonprofit, public-private corporation is a partnership between the city and local business leaders who made private contributions toward the revitalization of the property. "We've spent a lot of time trying to find the right developer who has a vision for the property and I think our patience has paid off. SSP has a fantastic track record in the region and we look forward to working with them to bring this project to reality," said Schwartz.
"SSP Associates, based in Saginaw, has been responsible for several prominent Great Lakes Bay Region projects, including Saginaw Riverfront Development which includes the Michigan Cardiovascular Institute, Garber Management Group, St. Mary's of Michigan and a variety of other office space. They were also responsible for the Horizons Conference Center in Saginaw and the Dow BPSC Building in Midland. SSP also helped revitalize the Temple Theatre building, which is now a wholly owned by the not-for-profit Temple Theatre Foundation."
Dr. Shaheen is said to have been interested in developments in Bay City since the DoubleTree Hotel idea was initially projected. The hotel project went to another firm under leadership of former City Manager Jim Palenick.
"Over the next five to ten years, Uptown at RiversEdge will enhance riverfront activity in Bay City, which will continue to bring statewide attention to the Great Lakes Bay Region," said Dr. Samuel Shaheen, president of SSP Associates. "This will be a development the entire community can take pride in."
Visions of a new city center on the river there have danced in the heads of local folk and officials for years. A massive federal research hub that was projected two decades ago raised hopes for a high tech spawned revival of the city.
The Environmental Protection Agency even acquired the former I-B office building and installed one of the world's most advanced computers, said capable of making mathematical calculations at millions of gigabytes per second.
Those plans eventually went to naught because of political shifts in Washington, and the federal research labs planned here wound up at Research Triangle Park North Carolina.
The huge computers were moved out, leaving the building vacant except for abandoned networks of wires and rooms full of disconnected cooling equipment.
Last year the last of the iconic old I-B factory buildings were razed. Hope soared even higher with formation of a local development group that acquired rights to proceed and began to cast about for investors and appropriate projects.
Recently Dr. Sam Shaheen, who has already completed a spanking new children's medical clinic across Washington Avenue from City Hall, bought the Uptown site from the city for $3.5 million. He first had to pay a reported $2.5 million to the local developers for transfer of an option to buy the property.
According to sources, the facility that may end up here would employ perhaps up to 500 -- giving Bay City its biggest employment boost in many years.
IB began in 1872 when railroad man George Kimball, Ann Arbor engineer James Clements Sr. and partners acquired the former John McDowell and Sons foundry and machine shop at Eleventh and Water streets. Industries on that site date to 1856 when John Burton began to make steam engines and brass and iron castings. The MacKinnon boiler factory and the Smalley Brothers machine shop were among industries spawned by the original factories there.
Kimball, Clements, and associates began casting parts for ship engines and lumbering mill equipment.
In 1879 the firm made a railroad steam shovel, followed by a steam wrecking crane. As the firm grew and prospered, the world's largest cranes were built here and sold worldwide.
Thus, the site was established as a center of industrial innovation more than a century and a half ago. The city of Bay City has had high hopes for redevelopment of the site, that last saw job-producing activity under Stress-Con, a firm that made huge concrete girders for construction projects like stadiums, bridges and buildings.
The city spent millions over the past decade to acquire and clear the site, officials laboring mightily to have huge piles of sand, gravel and other building materials removed.
A deal was made to move the Bay Aggregates firm from the I-B site. Trucks that caused clouds of dust and dirt to sully downtown buildings ceased to ply the riverfront site.
With city and township assistance, the firm established a state-of-the-art concrete mixing facility on 200 acres of land, with 5,000 feet of riverfront, with a 4,000 foot dock, at 411 Tiernan Road. The Bangor Township site, at the mouth of the Saginaw River, is handy for receiving shipments by water via the Great Lakes.
The firm's website states: "Bay Aggregate is an integral part of the Fisher Group of companies which supply construction aggregates, ready mix concrete, asphalt, trucking, general and civil contracting throughout Mid-Michigan. The Fisher family first entered the construction materials business in the mid 1920's and based on the founding principles of providing quality, service and integrity, have grown to become Mid-Michigan's premier supplier/construction group."
The hoped for high tech city hub that died years ago under federal auspices may yet return by another route and under another developer -- Dr. Sam Shaheen. Any booster of Bay City will surely wish him good luck. ###
---
---

Dave Rogers




Dave Rogers is a former editorial writer for the Bay City Times and a widely read,
respected journalist/writer in and around Bay City.
(Contact Dave Via Email at carraroe@aol.com)

More from Dave Rogers
---
Send This Story to a Friend!
Letter to the editor
Link to this Story
Printer-Friendly Story View
---
--- Advertisments ---