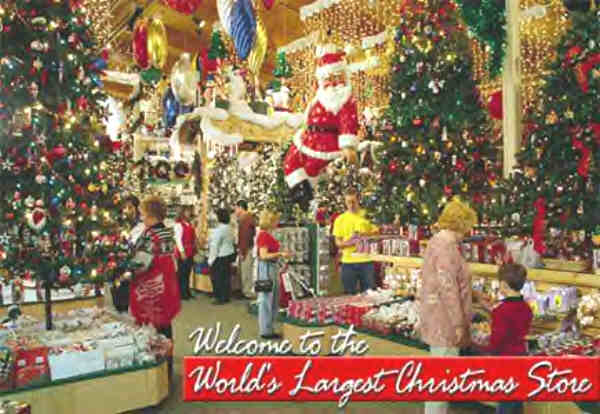 Bronner's world famous Christmas store in Frankenmuth had its roots in Bay City.
---
Idea for Bronner's World Famous Christmas Store Hatched in Bay City in 1951
Wally Bronner was Designing Jennison Hardware Windows When Concept Struck
December 24, 2004 Leave a Comment
By: Dave Rogers
      For Bay Cityans constantly amazed at the innovations that originated here, another can be added to the list -- Bronner's.
      In 1951, while designing window displays for the Jennison Hardware Company in Bay City, Wally Bronner met some merchants from Clare who were searching for Christmas decorations for their city lampposts.
      Wally and staff member Eddie Beyerlein designed and produced Christmas panels for the city of Clare, Michigan. That marked the beginning of selling Christmas decorations to communities, shopping centers, and stores.
      Now, 54 years later, visitors to Bronner's in Frankenmuth shop in the largest Christmas store in the world, surrounded by decorations and gifts from 70 nations.
      More than 350 decorated Christmas trees and 700 animated figurines are displayed in Bronner's salesroom.
      A sign outside the store brags that it is open 364 days a year. It closes on Christmas eve and is shut on Christmas day.
      A visit to Bronner's in Frankenmuth is not only a trip opening ones eyes to the wonderment of modern marketing, it also can be a religious experience.
      Amid the myriad baubles of the holiday season, in 50,000 variations to boggle themind, is an octagonal-shaped inspirational landmark.
      "Silent Night, Holy Night, all is calm, all is bright..."
      We all know the words to one of the world's most famous Christmas hymns.
      In a time when wishing anyone a "Merry Christmas" can be challenged by dissenters as a violation of political correctness, we need to revisit our cultural roots. A good reminder is not so far away.
            Silent Night Memorial Chapel is "an expression of gratitudeto God and a tribute to the famous Christmas hymn, "Silent Night."
      The chapel was built in 1992 by Wally and Irene Bronner. It replicates the original memorial chapel on the site of St. Nicholas Church, Oberndorf, Austria, where "Silent Night" was first sung in 1818.
Wallace "Wally" Bronner ------->>>>>>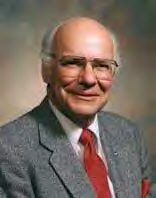 "Wally passionately promotes the story of "Silent Night," the world's favorite Christmas carol, and the centrality of the Nativity to the Christmas celebration," states the company.
      Wallace "Wally" Bronner was born on March 9, 1927, to Herman and Ella Bronner in Frankenmuth.He took an interest in art, and in 1943 at the age of 16, started an after-school sign-painting business in his parents' basement.
      Wally's sign-painting business expanded to include decorating parade floats and fair booths, and designing window displays.
      His high school graduation year of 1954 also marked the marriage of Wally to sweetheart Irene Pretzer of Hemlock. Wally had landed the Jennison account with the help of Irene, who boarded with the Jennisons in Bay City. Irene was a real asset to Wally's business in other ways, too. Since she was the same size as the standard mannequin, Wally at times dressed the window display mannequins in Irene's clothing.
      Wally soon discovered that other cities in Michigan, Ohio, Indiana, and Ontario were also interested in commercial decorations. He held his first Christmas decorations exhibit in the spring of 1952 in Frankenmuth Township Hall. The showing was so successful that a second was scheduled later the same year. In 1953 Wally rented a vacant one-room school so his exhibit would not have to be stored between showings.
      In 1954 Wally and Irene constructed their first permanent building in Frankenmuth. Wally's father, a skilled stone mason and contractor for the original building, did much of the construction work. Half of the building was used for the sign painting business and the other half displayed Christmas decorations.
      As the Bronner business grew, so did the family. Wayne was born to Wally and Irene in 1952. Carla arrived in 1955, followed by Randy in 1957 and Maria in 1966.
      In 1963, the original building was expanded. Wally and Irene purchased the Frankenmuth Bank Building in 1966 and the former Hubinger Grocery store in 1971, providing space for Bronner's Tannenbaum Shop and Bronner's Bavarian Corner.
      In 1977 Bronner's was consolidated into one location on a 45-acre tract of land on the south side of Frankenmuth. Memtron Technologies (formerly the sign-painting business) was sold in 1984. A building addition in 1991 nearly doubled the size of BRONNER'S CHRISTmas WONDERLAND and the shipping department was expanded in 2000. Another major expansion in 2002 brought Bronner's total building size to the equivalent of five and a half football fields.
      In January of 1998, Wally and Irene transferred leadership to the second generation. Wayne was named president and chief executive officer, and Carla and Maria were named vice presidents. Wayne, who studied wildlife biology at Michigan State University, has a master's in business administration from MSU and another BA in Spanish from Saginaw Valley State University. He worked for the Michigan Department of Natural Resources before joining the family business.
      Both Wally and Irene continue to be very active in the business and serve on the board, with Wally serving as board chairman.
      "My hobby of signs, displays, and decorations developed into a full-time business, and I never went to work," Wally said. "Since I never went to work, I don't have to think of retirement, and I'll continue the hobby, God-willing, but only on days that end in 'y'."###
---
---

Dave Rogers




Dave Rogers is a former editorial writer for the Bay City Times and a widely read,
respected journalist/writer in and around Bay City.
(Contact Dave Via Email at carraroe@aol.com)

More from Dave Rogers
---
Send This Story to a Friend!
Letter to the editor
Link to this Story
Printer-Friendly Story View
---
--- Advertisments ---