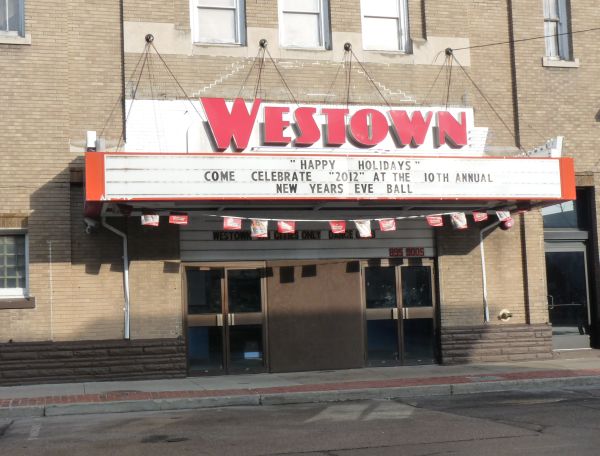 The Rock Band FINDING CLYDE will be performing at The Westown on Midland Street, Bay City, for two great shows on January 7 & 8.
---
The Westown Kicks Off 2012 With A Double Night of Live Entertainment
Rock Band Finding Clyde Performs January 7th and 8th
December 26, 2011 Leave a Comment
By: Julie McCallum, Entertainment Editor
The Rock Band FINDING CLYDE will be performing at The Westown on Midland Street, Bay City, for two great shows.
Saturday, January 7, 2012 at 8 pm, Finding Clyde will be giving back to the area and performing a special FREE show. (This is a 21 and over show)
Sunday, January 8, 2012, at 4 pm, Finding Clyde will be doing a family ALL AGES show. This show is only $5.00 per person and makes a great family day to spend together.
FREE tickets for the Saturday, January 7, 2012 show are available by stopping by Lucky's Pub in advance only. Tickets are limited in quantity and admittance is on a first come, first serve basis with free ticket day of show. Free Tickets in Advance Only.
$5.00 Advance Tickets for the Sunday, January 8, 2012. All ages show are on sale now at Lucky's Pub call 684-0772 to reserve your tickets today (payable at door day of show).
Hailing from Essexville, Finding Clyde is poised to deliver a knockout punch with its new CD. Like the water they drink from a limitless musical valley, there is nothing in the way of the quartet's creativity and it flows. Ahead of the curve with 'Let Me Be,' a lead off single from the group's upcoming album, the track is climbing on Active Rock Radio charts from Idaho, to Texas, Oklahoma, ... With the band having spent the winter of 2010/2011 writing with luminary musicians ranging from Chris Henderson of Three Doors Down and Ryan Newell from Sister Hazel, the band has struck the perfect blend of melodic vocals with rocking guitars, not to mention memorable tone sewn soloing. The heart of the group lies in its fantastically tight rhythm section, which glues it all together perfectly.
Joe Rivard's vocal skills have been weathered into a perfect storm. Catchy, phrased and subtly personal all at the same time, he leaves his mark as an original vocalist. Jack Neymeiyer's guitars rock and groove as he nails new tones into the band's sonic sculpture. Without a doubt, the strength of the group is best displayed by the rhythm section of Tony Rivard on bass and Marc Scott on drums -a sonic percussion and groove that moves with Joe Rivard's every vocal angle.
Having pinned their sound and image into the charts, the band has honed their skills over the past few years to earn them the honors the new CD will put forth. 'I Hate That I Love You' is another song from the new platter that exemplifies the internal heartbeat of the band.
In March 2010, when the band signed to Bullfrog Records the band was introduced to main stages across the mid-west region. They toured the summer of 2010 and 2011 along with Buckcherry, Slash, 3 Doors Down, Billy Idol, Alice Cooper, Tesla, Great White, Need To Breath, Bret Michaels, and Saving Abel, Stone Temple Pilots, Pop Evil, Sick Puppies, Lynyrd Skynyrd, and a return stint with Alice Cooper.
Home for the Holidays and putting finishing touches on the new album, FINDING CLYDE will play these two shows in their hometown before heading out on a new tour to kick off 2012. Check out more about the band and listen to their music at www.findingclyde.com
THE WESTOWN THEATRE
has been the central spot leading the Midland Street Entertainment District for decades. Through the years such acts as Brett Michaels, Skid Row, Jake Owen, 38 Special, Confederate Railroad, REO Speedwagon, Alice Cooper, Rodney Adkins, Steve Holy, Vince Neil, Jackyl and many more have performed.
Now the Westown is getting back to LIVE music concerts as one of the main attractions of the revitalization of Midland Street kicking off 2012 with FINDING CLYDE with many more great artists to come! Stay tuned to www.MyBayCity.com
---
---
---
Send This Story to a Friend!
Letter to the editor
Link to this Story
Printer-Friendly Story View
---
--- Advertisments ---