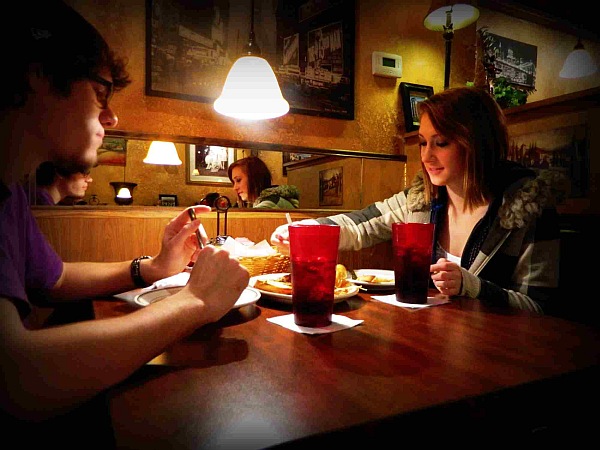 Cooper Craddock 19 and Mackenzie Rupp 18 both from Bay City are enjoying their favorite Garlic Knots and Spaghetti with meat balls. They visit the restaurant at least once a week.
---
Novellinos Expand Italian Restaurant Cuisine on Midland Street
Brooklyn Boyz Moves to New Location & BB'z Deli Offers New Menu/Variety
January 8, 2012 Leave a Comment
By: Brandon Woodbury
Midland Street's Historical West Side Business District's restaurant reputation was recently bolstered by the re-location/expansion and re-structuring of well-known and loved, BB'z Deli (formerly Brooklyn Boyz Pizzeria).
Novellino posted a question last summer on the popular social media site Facebook as to what his customers wanted to see that would improve customer satisfaction and the answer clearly, was to expand his seating capacity and provide a greater complement of delectable Italian family recipes.
Owners, Kevin & Jennifer Novellino re-named the former well-known Brooklyn Boyz Restaurant to BB'z Deli and then added a new menu of over twenty-one different deli sandwiches -- as well as keeping with the tradition of pizza, by the slice, on the menu.
In October 2011, that's exactly what the Novellinos did by turning the existing well-known Brooklyn Boyz Pizzeria location into BB'z Deli and relocating the pizzeria two blocks West to 506 E. Midland Street -- Formerly the site of the Touch Of Mexico Restaurant .
In addition to a new name, Brooklyn Boyz pizzeria & Italian Eatery boasts new items as well as some old customer favorites, including the famous Garlic Knots.
New items on the new-location menu include full entrees such as pasta with pesto sauce, cheese-filled rigatoni, and spaghetti with meatballs -- just to name a few. Items (as always) continue to be made from scratch. A variety of salads, and a wide selection of subs are brought to the table by a full-service wait staff of over twenty employees -- to handle the increased customer traffic and to help with the increasingly high number of customer orders.
When asked where his inspiration comes from, Kevin Novellino replied that
"Customers are just like a part of my big happy Italian family."
The new site is much larger at 2,000sq ft and can accommodate seating for up to 60 persons, which allowed the Novellinos to meet customer requests for expansion but the Novellinos still maintain that feeling of family and Italian authenticity.
While renovating the space, the Novellinos had the vision of building a little Tuscan Villa right in the heart of Bay City's West Side Business District. And that's just what they did.
Keeping the thought of family in mind allowed the Novellinos to decorate the new larger space with items that give similar ambiance such as that of a little eatery in central Rome. The Novellinos also worked hard to keep their family as part of the business tradition by adding personal family photos to the walls that date back to the 1800s
It's safe to assume that the new location expansion and re-structuring to the Brooklyn Boyz Restaurant was a good business move. If you're looking for phenomenal Italian food . . . Head to Brooklyn Boyz Pizzeria And Italian Eatery at 507 E. Midland St (989)894-5560 or make a stop to BB'z New York Deli 612 E. Midland St (989)894-7093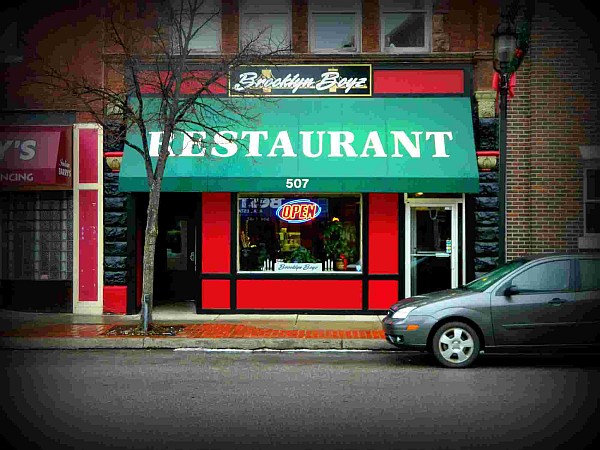 Upgraded Store Front of Brooklyn Boyz Pizza & Italian Eatery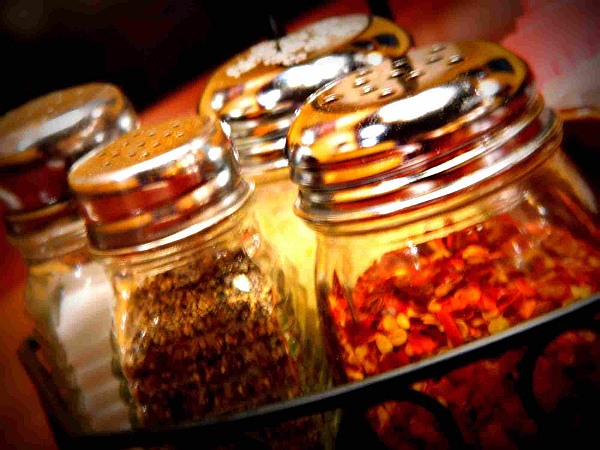 Something for every taste!
---
---
---
Send This Story to a Friend!
Letter to the editor
Link to this Story
Printer-Friendly Story View
---
--- Advertisments ---