Bay County May Have to Divest Community Center, Ice Rink, Pinconning Park
County Executive, City Manager Eye Cuts, Mergers to Meet Financial Crisis
January 4, 2005 Leave a Comment
By: Dave Rogers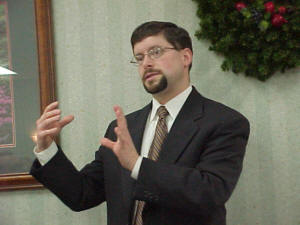 Bay City Manager Robert V. Belleman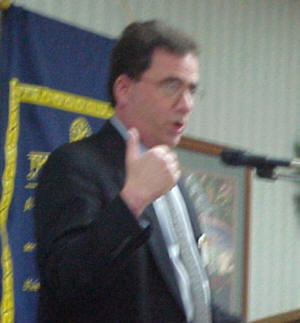 Bay County Executive Thomas L. Hickner
      Only mandated services, probably greatly reduced at that, may remain in the wake of the current state financial crisis that is heavily impacting local governments.
      That was the blockbuster report touched off by County Executive Thomas L. Hickner and City Manager Robert V. Belleman at the Bay City Rotary Club's meeting Tuesday.
      State revenue sharing cuts of about $5.9 million amount to about 25 percent of the city's general fund budget, Mr. Belleman said. In addition, he is sticking to his plan to reduce the tax rate by a half mill a year for the next seven or eight years. The revenue lost from the tax rollback hopefully would be offset by increased economic development, said the city manager.
      Although heonly alluded to it during his brief talk, after the meeting Mr. Hickner revealed that commissioners are considering divesting as many county properties as possible. This could include the community center, ice arena, Pinconning Park, county market and others.
      The county golf course, that nets about $120,000 a year for county coffers, and the fairgrounds, housing several key county facilities, would likely stay as county property, he indicated.
      An option that could "save" the ice arena would be a large corporate donation for "naming rights," like that involved in the Dow Chemical Co. connection with the Saginaw Civic Center, Mr. Hickner said. Without the need for debt service, the ice arena is a profitable operation, heasserted.
      Divesting property may involve sale or ownership transfer or contract with a non-profit agency that would continue operations for the public benefit, the county executive indicated.
      Mr. Belleman said Mayor Robert Katt and city commissioners may have cooled on an idea to cooperate in a metropolitan police force but merger of regional fire departments may get a serious look.
      Merger of the three metropolitan school districts also should be seriously considered, the county executive said, to save money and provide a broader base for educational improvements vital to economic development and job growth.
      New county commission chairman Gene Gwizdala and several new commissioners, Republicans Ernie Krygier and Vaughn Begick and Democrat William Tacey, will grapple with needed cuts of $2 million over the next few years, requiring reduction of more than $400,000 a year, Mr. Hickner said, commenting: "It can't be politics as usual."
      The city's biggest expenses are in personnel for fire, police and parks departments, taking up about $13 million of a $20 million annual budget. Those departments already have taken major cuts and some way must be found to reduce overtime pay, running about $500,000 a year, the city manager said.
      Mr. Belleman definitely ruled out any city participation in a proposed baseball stadium because of the debt costs and said a feasibility study for a team here is underway.
      The cityand county leaders both emphasized the need for economic development and support for the new Bay Future private-public sector organization.
      With about $1.7 million still available in the POWER Fund, the city "stands ready" to fund worthy economic development projects, the city manager said.
      He announced that an East Lansing developer has come forward for the housing part of the Uptown at RiversEdge project after initial bid solicitation drew no responses.###
---
---

Dave Rogers




Dave Rogers is a former editorial writer for the Bay City Times and a widely read,
respected journalist/writer in and around Bay City.
(Contact Dave Via Email at carraroe@aol.com)

More from Dave Rogers
---
Send This Story to a Friend!
Letter to the editor
Link to this Story
Printer-Friendly Story View
---
--- Advertisments ---