Libraries Even More Useful in the Internet Age As Information Gateways
New Main Branch Completion On Schedule for December, 2005
January 9, 2005 Leave A Comment
By: Dave Rogers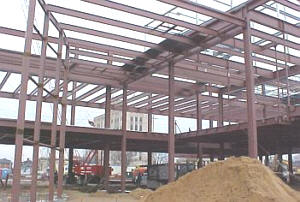 Steel framework for a new Central Library on Center at Jefferson rises against the sky, (above), and will be shaped into a stately 63,000 sq. ft. facility in less than a year.
"For now and the forseeable future, the Internet remains a vast outpouring of miscellaneous, unverified, constantly changing, disorganized, semiliterate information that does not necessarily replace knowledge." (Opinion by expert library commentator.)



            Prior to the approval of new libraries by voters in 2002, library system officials considered how public use of the Internet would affect their services.
      Fred Paffhausen, new director of the Bay County Library System, notes in a current newsletter that three newly opened buildings, Auburn, Sage and Pinconning, "have successfully met patron demand for more services and materials."
      That development belies "conventional wisdom" that libraries are not as relevant as a public service in the age of the Internet.
      A "white paper" prepared by Thomas Birch, Bay City Main Branch managing librarian, addressed "The American Public Library in the Internet Age
: Implications Forthe Bay County Library System."
      Three main conclusions by Mr. Birch in his paper were:
The public library offers as a service "free" access to many commercial databases that are available by subscription only.
Many persons will continue to require assistance from librarians in identifying and validating appropriate information sources on the Internet.
Rather than replacement of the library, automation should be considered as a tool for the extension of library services.
      "The core mission of the public library: knowledge storage, organization and retrieval for its patrons remains unchanged," stated Mr. Birch.
      The library subscribes to at least 10 databases costinga total of about $45,000 that patrons can access at no charge via the Internet, according to the library report. These resources cannot otherwise be accessed from home or office without commercial subscription.
      Databases available through the library system include the Detroit Free Press Archives and MediaStream NewsLibrary, Gale Group InfoTrac, SIRS Discoverer Deluxe geared for children in grades K-9, Biography and Genealogy Master Index, Literature Resource Center for high school and undergraduate college students, and ReferenceUSA business database for investors and researchers.
      "Even to the many who do not use it, the public library remains, like the public school and a free press, part of what makes American democracy work," wrote Mr. Birch.
            "The public library is important as a physical place for finding information: a place for study, education and training," the paper continues. "The role of librarians as mediators will be especially important where electronically accessed information is linked with traditional library materials."
      City development planners and officials point out that the new main branch library will be an "anchor" to one of Michigan's most vibrant downtowns and animportant "Cool Cities" asset. Downtown residents, especially retirees, will find the library's reading rooms, training and gathering centers an essential part of living at the city's center.
      Mr. Birch continued: "Public libraries provide a bridge from the past to the future by archiving the old, managing the new and preparing for future information resources, no matter what format they take."
      Much of the most important information, although available on the Internet, will remain proprietary, available at fee rather than for free. Librarians must "stay ahead of the curve" by learning and teaching newly evolving technology to assist library users in navigation of the Internet, Mr. Birch points out.
      The paper concludes: "The Bay County Library System can and should provide access for all Bay County citizens, rich or poor, to the universe of online information. It is extremely important, as a matter of democratic principle and for the vitality of our community, that the new technoloogy be used to make this information freely accessible and not just to create privileged resources for a few."

Artist Rendering of the Downtown Bay City Central Library
---
Community Article 666
---

Dave Rogers




Dave Rogers is a former editorial writer for the Bay City Times and a widely read,
respected journalist/writer in and around Bay City.
(Contact Dave Via Email at carraroe@aol.com)

More from Dave Rogers
---
Send This Story to a Friend!
Letter to the editor
Link to this Story
Printer-Friendly Story View
---
--- Advertisments ---