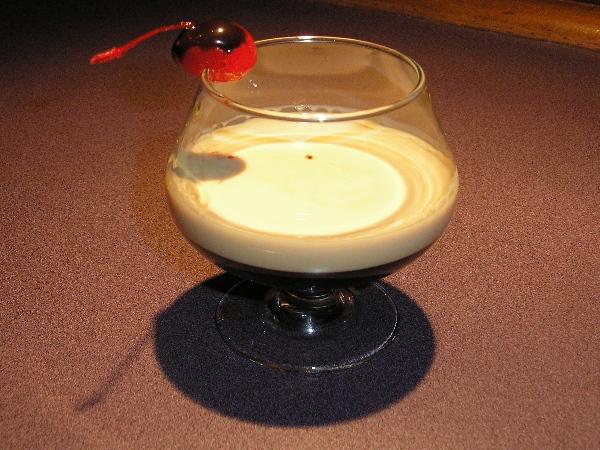 Chocolate Covered Cherry Shot = Yummy!
---
Look Mom! I'm a Bartender!
'Old City Hall' - From The Other Side of the Barstool
February 14, 2012 Leave A Comment
By: Diane Szczepanski
When one the guys in the MyBayCity offices asked if I would be interested in writing an article about bartending and get the opportunity to try tending first hand at
Old City Hall Restaurant
, my immediate reaction was, "Would I ever!"
'OCH', as it's known by many of us locals, offers an array of entertainment which includes everything from fine dining, live music and big screen TV's.
All in an upscale, yet cozy and friendly at atmosphere.
They are located at 814 Saginaw St.,Bay City, MI and is Bay City's first former city hall.
It's origin and location on the former
"Hell's Half Mile"
known in the late 1800's for it's wild saloons, rough crowds and tawdry activities, keep OCH a key point of interest in Downtown Bay City.
---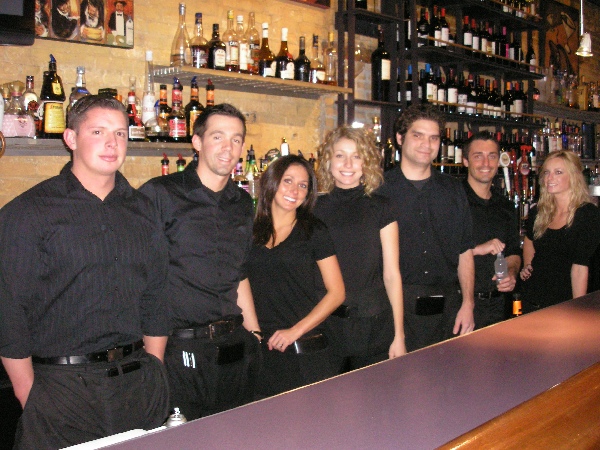 Some of the friendly OCH staff on deck the night I "helped" out.
(From l/r) Dan Harborth, Ben Batzer, Ashley Elzinga, Chelsea Sturza,
Tyler McGinnis, Justin Parker and Magen LaDrique
I was familiar with OCH, having been in there many times over the years. It is a staple for business lunch meetings and the "go to" place for many Downtown Bay City professionals.
I knew I would see friends and business peers during my interview, who would be surprised and amused at my being on the opposite side of the bar.
Certain my experience would be a pleasant one, I agreed to give it a shot. No pun intended.
---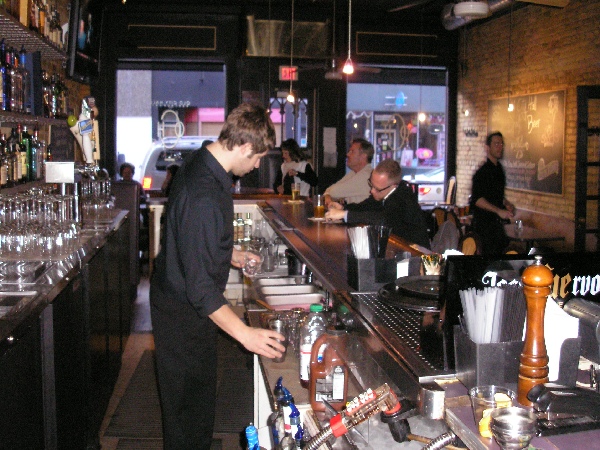 The calm before the storm.
Megan LaDrigue, Head Bartender, Tony Jeske, Manager and Dave Dittenber, Owner, served as my welcoming committee and invited me to "get to work".
I was eager to find out how the friendly bar and wait-staff that I've always encountered when I have visited, make it look so effortless, realizing it could not be.
I was correct in that assessment.
It is an extremely demanding and tough job. Being a master at multi-tasking is a must. So is dodging each other while behind the bar.
All while wearing a smile.
---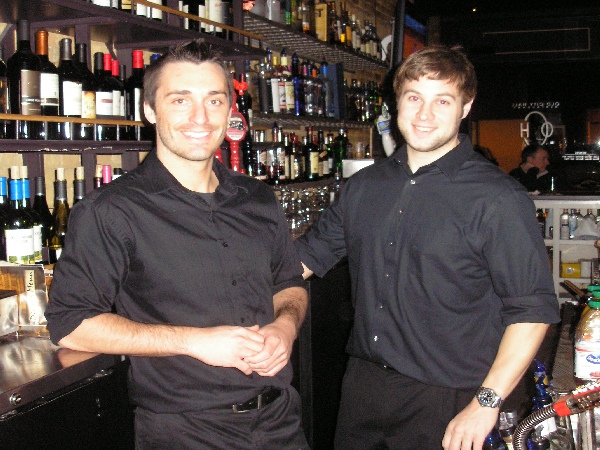 The two patient barstaff, whose way I got in for two hours,
Justin, left and Chad, right
Justin Parker, who has worked for OCH for roughly 5 1/2 years, was my very accommodating guide during my time on his 'turf'.
He never seems outwardly rattled, he looks busy yet relaxed while he works and I wanted to know how he did it.
His motto? "You just remember to smile and be happy. No matter how crazy things get".
---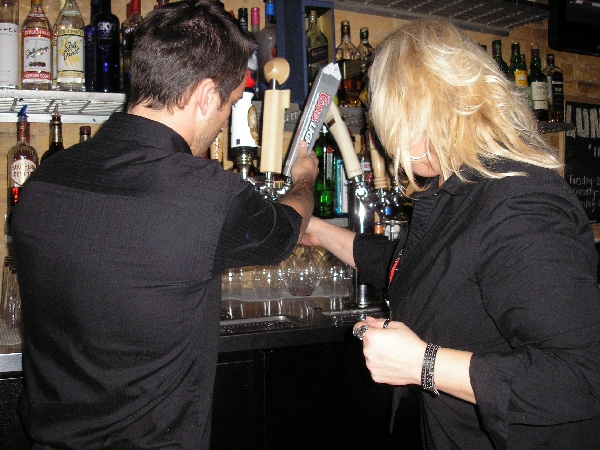 Justin shows me the correct way to pour a draft beer.
The first thing I learned is the art of pouring a draft beer. OCH features a large variety of domestic and imported beer and boasts over 20 on Tap.
Certain varieties of beer are more finicky to pour than others, I discovered. Just when I thought I was getting the hang of it, I would try a different kind only to find it poured 'foamier'.
Justin assured me it just takes practice, as I tried to pour pints of beer at what seemed like a snails pace. (Which I usually gave up at some point and enlisted his help.)
---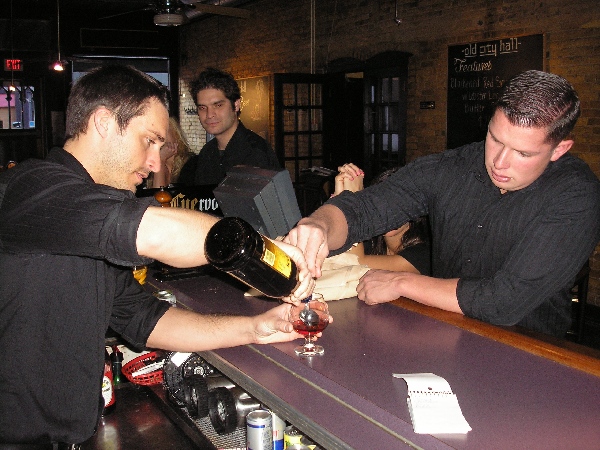 Justin, left and Dan, right make the Chocolate Covered Cherry Shot, while Tyler watches.
One of the other things I quickly learned is 'presentation' is as important in specialty drinks, as it is with cuisine.
The staff showed me how to make a Chocolate-Covered Cherry Shot that not only is DELICIOUS, it "looks cool" according to Megan.
The layered drink takes some skill to put together correctly to make it look pretty. It includes a series of steps including Grenadine, Kahlua, Bailey's, chocolate syrup and a cherry.
I left that one to the professionals.
One of their most popular shots are the 'Johnny Vegas', which are made of tequila, watermelon pucker and an energy drink.
---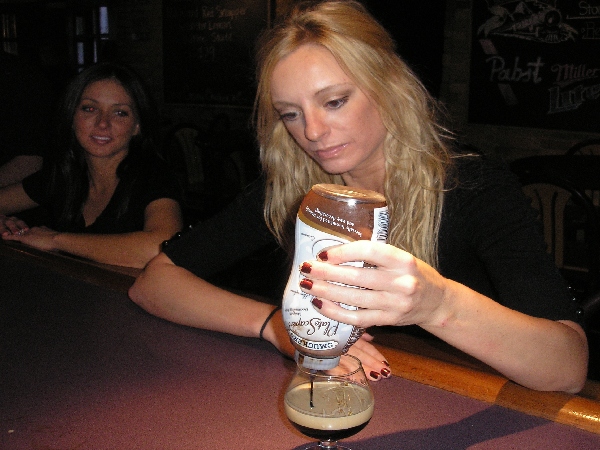 Megan puts on the finishing touch to make it look "pretty", while Ashley looks on.
Old City Hall is known for their vast beer and their large wine selection, but they are also well-known for their delicious martini's.
When asked which are the most popular, Justin answered by saying, "The straight up gin or vodka martini is still our most popular". He added, "Cosmopolitan's and one called Snickers, is also very popular".
---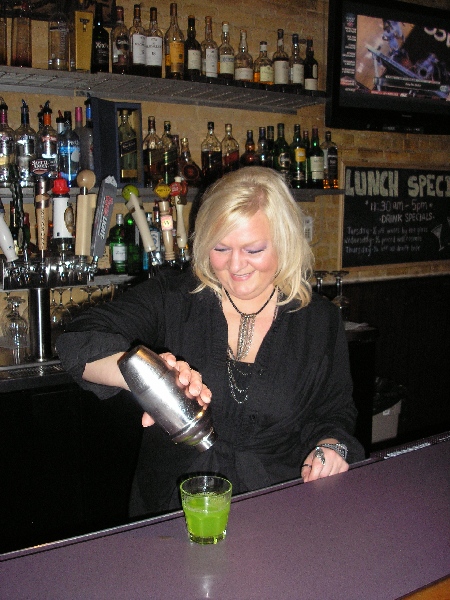 My attempt at making a 'Jamaican 10 Speed'.
I was given a relatively easy drink to make called the 'Jamaican 10 Speed', which was Midori, Sweet and Sour mix, Chambord and Jagermeister.
I'm not sure how it tasted, but it sure was colorful and was easy and fun to make!
---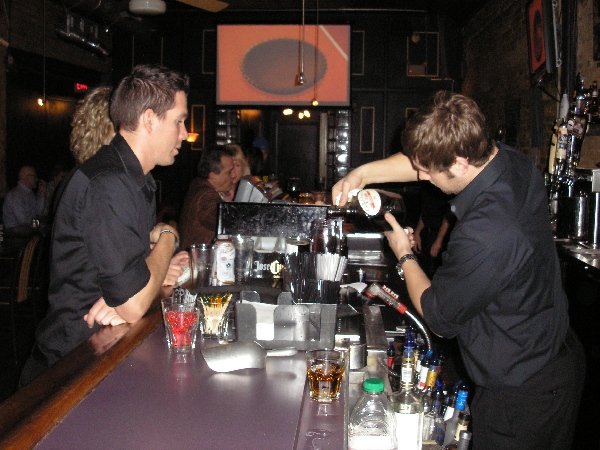 The bar is in constant motion when it gets busy.
While observing and trying to learning more about their jobs, (and mostly just trying to stay out of their way when it got busy) I realized the phone was constantly ringing and Justin kept having to stop to answer it.
When asked about this, he replied, "Part of the bartending experience is answering the phone what seems like every 5 seconds".
He went on to say, "People call wanting to know what the specials are, or to make reservations. These are just some of the type of calls we get regularly. It never stops ringing.".
---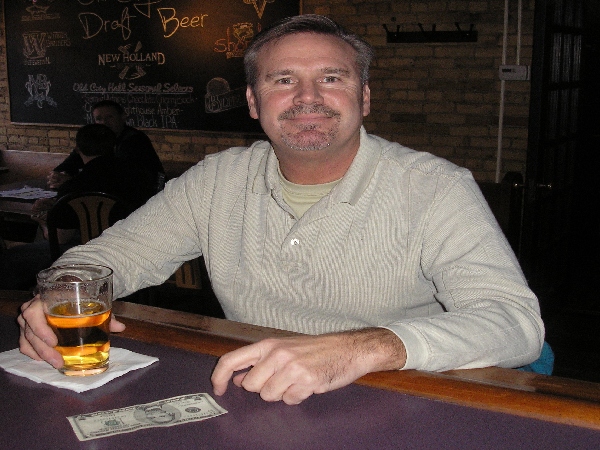 Pat Schaefer patiently waited while I poured and re-poured foamy beers. (Good thing he's a friend!)
It was clear to me as I watched Justin, who answered my questions, tried to show me a few tricks of his trade, train a newer employee, keep the waitstaff in drinks for their tables of diners, answer phones and keep the patrons at the bar happy, that he is one VERY skilled bartender.
When I noted this to him, he shrugged it off casually and said to be a good bartender you have to be willing to be a "receptionist, dishwasher, drink maker, server, and counselor".
"We are always doing something", he said. "Whether it be cleaning or stocking supplies or washing glasses. There is ALWAYS something to do."
---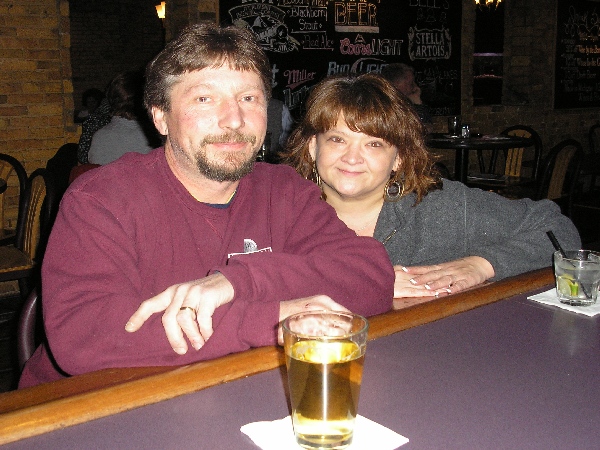 Ken and LeAnn Bruzewski, came to heckle me for a little while.
The place really got hopping between 7-7:30 pm, which Justin indicates is the normal pattern at Old City Hall.
When I pointed out how busy it had gotten since I had arrived, he said, "People come in for dinner and our drink specials. Weeknights can be just as busy as Friday and Saturday nights sometimes."
---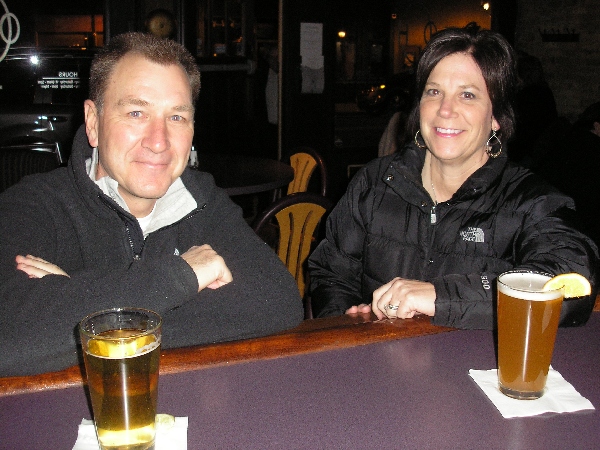 Dan Hanczewski and his wife, Heidi Wagar, came in to enjoy the Wednesday night draft beer special and were actual customers I waited on.
---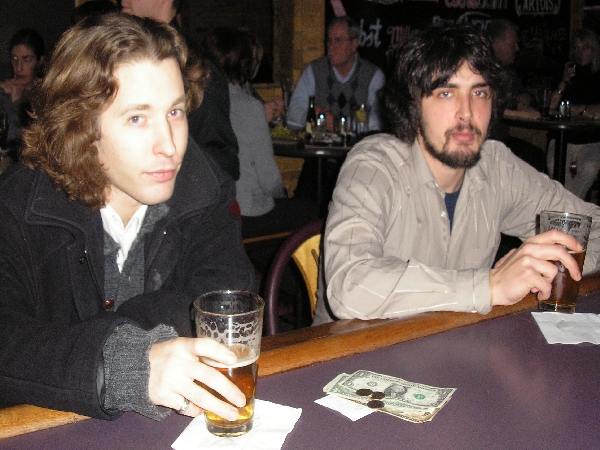 On left, Matt, who indicated he's "drank 100's of different types of beer" and Craig, right who said "We come to OCH for the specials" Both got to witness my skills (or lack thereof) up close.
If you're looking for spirits, they come in 2 varieties at OCH.
One, a multitude (over 120) liquors, many top shelf and numerous cordials to choose from.
Two, as reported by several eyewitnesses, a 'spirit' or two that earned OCH a spot in the 'Haunted Buildings' of Bay City.
---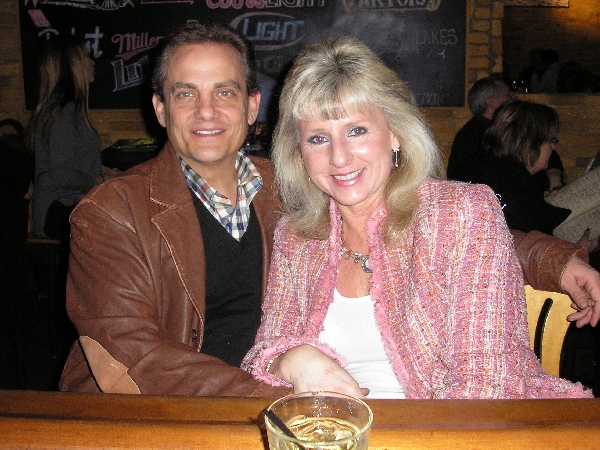 Mark Lehn and Betsy Boutell-Hurn enjoyed an evening of dining on Old City Hall's delicious food.
Trained culinary chefs, offering premier menu choices, as well as knowledgeable and friendly wait-staff, make the dining experience at OCH a first class one.
They offer lunch and dinner specials and you may enjoy your meal at the bar or bar area or in the adjoining room, 'The Chambers'.
For more info, visit their website at:
www.oldcityhallrestaurant.com
---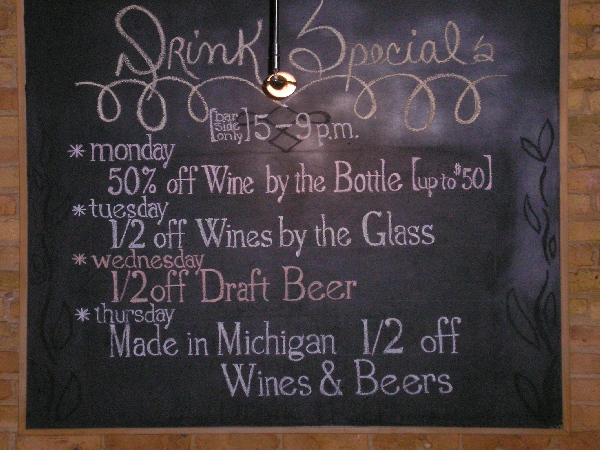 Monday thru Thursday drink specials are posted in the bar.
Thank you to all the OCH staff that made my visit possible AND a such positive experience.
A special "Thank-you!" to Justin for his time with me.
---
Community Article 6661
---

Diane Szczepanski




Business-woman by day, confessed boot addict by night and 'wanna-be' writer, music lover and proud Mom of an awesome guitar playing, teen son.

More from Diane Szczepanski
---
Send This Story to a Friend!
Letter to the editor
Link to this Story
Printer-Friendly Story View
---
--- Advertisments ---