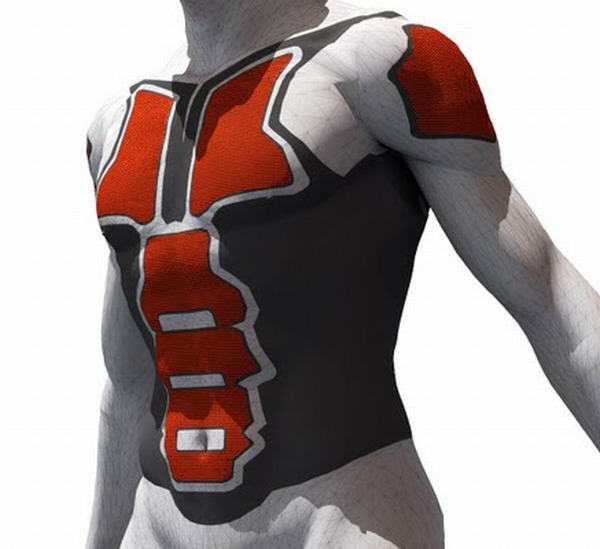 Wakeboarding impact vest made of new Dow Corning material, DEFLEXION, is demonstrated at Munich show.
---
Dow Corning's Deflexion Absorbs Shock, Bullets, Revolutionizes Body Armor
February 5, 2012 Leave a Comment
By: Dave Rogers
A new Dow Corning impact protection silicone technology, said to instantly harden and absorb bullets, has just made its debut in the world of technology.
DEFLEXION technology from Dow Corning, a global leader in silicones, was presented at the International Sporting Goods Trade Show ISPO Munich, January 29 to February 1, 2012 at New Munich Trade Fair Centre in Germany.
The new Dow Corning material is made from silicon that has been polymerized into flexible silicone sheets. This creates a kind of armor that can shift around like clothing in a breathable fashion.
A British technology writer commented: "If something hard impacts it like a bullet, then all the molecules gang up around that area and instant turn rock solid. They would disperse and absorb the impact, like a bullet-proof vest."
Geek.com observes: "Perhaps the holy grail of body armor is the type that's flexible and soft when you're in motion or need to move around, but that firms up the instant something hits you or when you take some kind of impact, offering protection when you need it and flexibility when you need it.
"That's the promise of Deflexion, a new silicon-based smart fabric from Dow Corning, which is made from a fabric that compresses into a strong, solid, hardened surface when something impacts the surface of the fabric.
"The key is in the material's molecular structure: under normal conditions, the molecules in the silicone fabric are free to move about. Upon sudden compression, they tighten up, are unable to move freely, and become near-solid, distributing the impact of the compression across the entire fabric. This feature makes it ideal for wearable armor like bulletproof vests, motorcycle riding gear, or shock-resistant shoes and boots."
The Munich conference provides a comprehensive overview of the entire range of sporting goods, athletic footwear and fashions, as well as the latest trends from these segments.
DEFLEXION (TM) footwear technology and its Ambassador prototyping activities for snowboarding and wake-boarding were launched at the event, as well as presentations showing designers the many ways DEFLEXION impact protection technology can be utilized to create customized impact protection solutions.
DEFLEXION insole technology for footwear offers the user enhanced comfort and cushioning in a thin and lightweight form by effectively spreading and reducing plantar pressures.
Leading podiatrist, Andrew James from ACE Feet in Motion provided a foot scanning service and gave participants the opportunity to experience DEFLEXION technology in shoes all day Sunday and Monday of the show.
DEFLEXION brand ambassador Matt Crowhurst told how he has been involved in designing a bespoke wake-boarding impact vest with DEFLEXION materials for his personal use. Crowhurst is a professional wake-boarder and has been competing and coaching at the sport's highest level for 15 years.
DEFLEXION technology from Dow Corning (deflexiontechnology.com) offers a range of impact-protection technologies that allow for the easy creation of high-performance protective apparel and equipment. DEFLEXION technology focuses on providing comfort, enhanced fit, freedom of movement and, due to the unique stability of silicones, performance over a broad range of temperatures. DEFLEXION products are able to achieve a high level of performance when cold, hot and wet, while remaining comfortable to wear.
DEFLEXION technology was selected as one of the most innovative fabrics of 2010 by Future Materials in their annual "FM 100" article, which ranks the year's most innovative materials. DEFLEXION technology was also selected by Design News as a finalist for its 2011 Golden Mousetrap Awards. For more information, please visit: deflexiontechnology.com.
Dow Corning (dowcorning.com) provides performance-enhancing solutions to serve the diverse needs of more than 25,000 customers worldwide. A global leader in silicones, silicon-based technology and innovation, Dow Corning offers more than 7,000 products and services via the company's Dow Corning® and XIAMETER® brands. Dow Corning is equally owned by The Dow Chemical Company and Corning, Incorporated. More than half of Dow Corning's annual sales are outside the United States.
###
---
---

Dave Rogers




Dave Rogers is a former editorial writer for the Bay City Times and a widely read,
respected journalist/writer in and around Bay City.
(Contact Dave Via Email at carraroe@aol.com)

More from Dave Rogers
---
Send This Story to a Friend!
Letter to the editor
Link to this Story
Printer-Friendly Story View
---
--- Advertisments ---