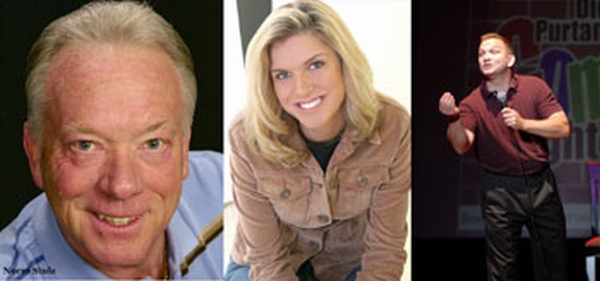 Comedians set to perform at State Theatre on February 10 for Johnny Burke Children's Foundation.
---
State Theatre Hosts WHNN Comedy Night with Norm Stulz and Friends
FEBRUARY 10 EVENT TO BENEFIT: The Johnny Burke Childrens Foundation
February 5, 2012 Leave a Comment
By: Mike Bacigalupo - State Theatre
Norm Stulz
Truth is always funnier than fiction and no one can tell the truth more humorously than Norm Stulz. Norm takes the events of his life and transforms them into hilarious pieces which are timeless. It is these stories which make Norm's brand of humor so special and have delighted audiences nationally and internationally..
Quotes from the experts:
Tim Allen: 'I wish I could tell a story the way Norm does - he's a master'
Detroit News: 'Norm is one headline performer you should not miss'.
Gene Taylor (ABC) 'Norm Stulz is the consummate storyteller'.
Norm Stulz is bringing his high energy club show to our stage for another big evening of laughter. Norm has been seen on H.B.O., Comedy Central, Showtime, and comedy specials on N.B.C and A.B.C. television. Norm's comedy material can be heard on The Bob and Tom Show, Johnny Burke and the Morning Crew, and XM Comedy radio. Norm's storytelling style has made him one of the top shows in the country. Come on in, sit down, and hang on for this fast paced show. Norm has sold out many venues so reserve your seat now.
Kate Brindle
Did you hear the one about the female comic who walked into a comedy club? The one who didn't talk about being fat, her period or resort to man-bashing? Well, you have now. Kate Brindle is her name, and you'll be hearing it a lot in the near future. Described as 'smart,' 'original' and 'hilarious,' she is a unique breath of fresh air on the comedy scene.
Kate has performed her sarcastic yet upbeat and spunky style of comedy on the Canadian Broadcast Channel, Cox Cable and Comcast Cable. She advanced in the California's Funniest Female Contest, and was featured in the International Great Plains Comedy Festival. She's also opened for Dave Attell, Kevin Nealon, Kevin Pollak and Thea Vidale.
Originally from Dexter, Michigan (Population: 72), Kate moved to New York City to do stand-up comedy and study acting at New York University. Since then she's been entertaining audiences at venues across the nation such as Mark Ridley's Comedy Castle, Jr.'s Last Laugh, Dr. Grins Comedy Club...and every bowling alley, basement and dive in between.
An audience favorite, Kate brings to the stage her quick wit and impeccable timing. Whether she's talking about her family (including her wannabe-gangbanger brother or stripper father), dating or making quirky observations of everyday life, Kate continues to charm crowds with her witty and sassy brand of humor.
She is currently performing her stand-up act on stages across the United States and Canada. Catch this rising star while you can!
Steve Lind
Steve Lind is among today's most engaging comedic talents in the Detroit area.
His stand-up performance immerses his audience in his unique perspectives as a husband and father of four boys. Steve doesn't pick on members of the crowd or fill the air with 'blue' comedy; instead he seizes the mic and takes swings at family life, sports and out-of-touch boutique stores. Steve's humor is for educated audiences that can think for themselves and don't have to be spoon fed their comedy. His energetic style and natural likeability help to soften his often satirical but never mean spirited outlook on life.
Recently Steve opened for Tim Allen and Kathleen Madigan at Dick Purtan's Comedy Night Out event. You can catch this up and coming comedian at some of the country's hottest clubs as well as any pub with a microphone and an audience. Steve is a graduate of Central Michigan University and prior to comedy, Steve worked as a public school math teacher and coach as well as a computer programmer.
---
---
---
Send This Story to a Friend!
Letter to the editor
Link to this Story
Printer-Friendly Story View
---
--- Advertisments ---