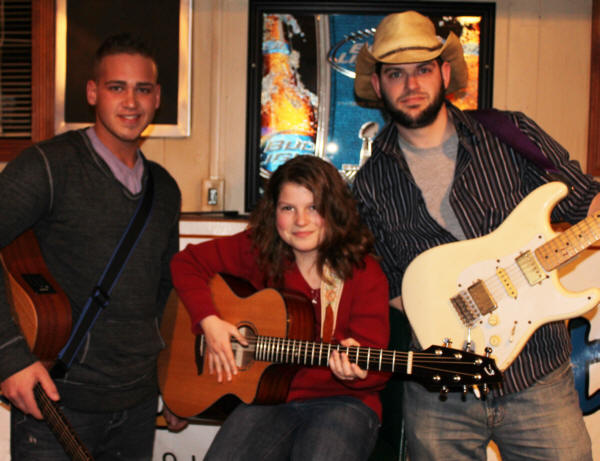 GUITAR JAMMIN' -- (L/R) Joey, Allie Shermetaro and Fred Waibel all brought out the hardware for last Wednesday's Willew competition. Both Joey and Allie sang original songs for their performance.(MyBayCity Photo by Sean Connelly)
---
Guitars Come Out at Willew Michigan Idol Singing Competition
Big Screen TV and X-Box + Games will be awarded on March 21
February 14, 2012 Leave a Comment
By: Sean Connelly
(EDITOR'S NOTE: Due to technical difficulty . . .
The Audio Podcast for the 2/8/2012 performances at Willew will be available on Monday afternoon.)
The talent level continues to rise at the Willew for Michigan Idol this season. Week four of the competition saw three different competitors bring out their own instruments to enhance their performances.
Allie Shermetaro brought out her own acoustic guitar to play an original song composed by Shermetaro and her cousin. "It was written for my sister Caren's wedding," Shermetaro informed the crowd before she drew them in with her song.

Performers on February 8, 2012 -- Fred Waibel, Amanda Glashauser, Jada Archer, Travis Paten, Adam Simmons and Joey
(MyBayCity Photo by Sean Connelly)

Performers on February 8, 2012 -- Allie Shermetaro, Brandy Adams, Jesse Fisher, Stephanie Petrimoulx, Bob Johnson and Renee Pawloski.
(MyBayCity Photo by Sean Connelly)
Shermetaro's mother, Anne, watched with beaming pride as her daughter performed. "We make the 90 mile trip every week just for this," said Anne. "Tommy Anderson, a former and well-respected judge for Michigan Idol, saw Allie perform in Troy at a music festival and made us aware of the competition here." Allie and Anne Shermetaro drive all the way from Rochester Hills to perform for the patrons of the Willew and for a chance to win the 50"+ big screen TV with an XBOX 360 and four games. "We love the atmosphere here at Willew," Shermetaro added.
Allie wasn't the only performer to play an original song.
Joey, made his return to the Michigan Idol competition after taking second place last 10-week season. Joey played his own, "She Doesn't Know," to impress the crowd once again with his talent as a musician. "I've been playing for about four years now," said Joey. "I play at open microphones around town and different contests."
Fred Waibel also brought out his guitar for a cover song this week. Waibel has been playing the guitar for over 10 years and has attended various open mics before coming out to Michigan Idol. "I heard about Michigan Idol through Travis," (one of the other competitors), said Waibel.
That seems to be how many people hear about the competition, through friends who are already competing. It has created a close-knit group among the performers, "I think we're turning in to some sort of family out here," said OJ Cunningham, MyBayCity Publisher and one of the judges for this season of Michigan Idol.
Weekly competitor, Jesse Fisher, had this to say. "We're meeting some pretty fantastic new people as the competition goes on," Fisher said. I really enjoy that because it just gives me the chance to blow even more peoples' minds each week," Fisher added with a smile.
Entertainment and singing starts at the Willew Lounge in Bay City every Wednesday. Michigan Idol warm-ups start at 7 P.M. with the competition starting around 8 P.M.
With six (6) weeks remaining in the competition, new entries still have a chance to win the grand prize, which is the 50"+ big screen TV from Millar's TV and Appliance and an XBOX 360 with four games donated by Game On of Bay City.
Michigan Idol runs for 10 weeks and wraps up the current season on March 21st, 2012. You must compete in at least five of the 10 weeks of singing competition to be eligible for prizes.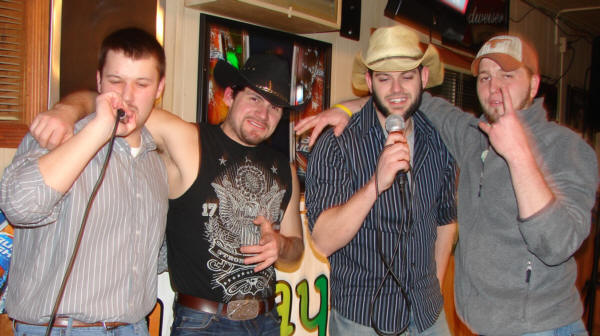 AFTER HOURS AT WILLEW -- The singing and fun continues after the competition at Willew every Wednesday night. Shawn Doyle continues with the music for singing, dancing and just good fun. (L/R) Scott McCann, Travis Patel, Fred Waibel and Adam Dore perform on stage.
(MyBayCity Photo by Sean Connelly)
The Michigan Idol Show is Sponsored by:



---
---
---
Send This Story to a Friend!
Letter to the editor
Link to this Story
Printer-Friendly Story View
---
--- Advertisments ---