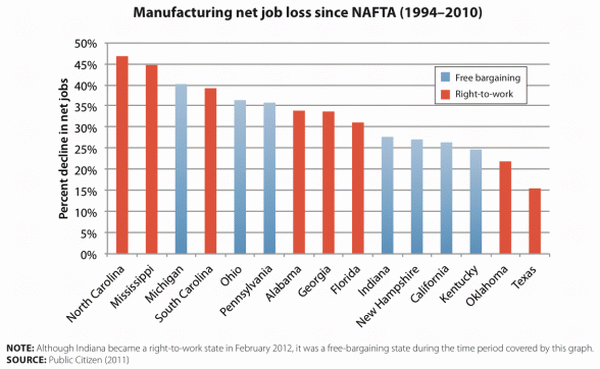 Chart from Economic Policy Institute shows impact of NAFTA on economic development in states relative to RTW.
---
Should Right-to-Work Become Major Public Policy Issue in Michigan?
Union Leaders Call It Right to Work for Less, Mackinac Cites Indiana Threat
February 18, 2012 Leave A Comment
By: Dave Rogers
Indiana has adopted "right to work" legislation and the Mackinac Center for Public Policy at Midland thinks Michigan "may need to adopt such a law to better compete for jobs and talent."
While Mackinac's Michael D. LaFaive writes that states with right-to-work laws are arguably better off economically, admitting, however, that academic research is mixed on the question.
Even if RTW is not a powerful economic development tool, as touted, Mr. LaFaive says "such laws should still be adopted in the name of individual liberty."
Michael Hicks, adjunct scholar for Mackinac, writing for Ball State University's Center for Business and Economic Research, found that from 1929 through 2005, "the presence of a right-to-work law did not play a role in state industrial composition or income from manufacturing."
Gordon Lafer of the Economic Policy Institute has issued a study that found that RTW has failed as an economic development strategy and is particularly unsuited to New Hampshire.
In discussion during 2011 about RTW in New Hampshire, Lafer asserted that a right-to-work law could lower New Hampshire workers' wages, reduce benefits, and threaten the state's small business and health care sectors while doing nothing to boost job growth.
To be fair, we must point out that EPI's board of directors is heavily laden with labor leaders like Richard Trumka of the AFL-CIO, Leo Gerard of the United Steelworkers and liberal intellectuals like Barry Bluestone of Northeastern University.
EPI's 2011 report, Right to Work: Wrong for New Hampshire, noted that in states that have adopted RTW, annual wages and benefits are about $1,500 lower than for comparable workers in non-RTW states -- for both union and nonunion workers -- and the odds of getting health insurance or a pension through one's job are also lower. The report also pointed out that RTW has no impact at all on job growth -- a conclusion of multiple statistical studies carried out both by the report's author and by other independent economists.
To a large extent, globalization has rendered RTW "impotent," the report noted. In the 1970s and 1980s, U.S. companies may have moved to RTW states in search of lower wages. But in the globalized economy -- the terms of which were ushered in by the North American Free Trade Agreement in 1994 -- companies looking for cheap labor are overwhelmingly looking to set up operations in China or Mexico, not South Carolina.
The report further states: "Every U.S. state has lost manufacturing jobs to cheaper labor overseas, and RTW laws have been powerless to prevent this. Indeed, the RTW states of North and South Carolina, Mississippi, Alabama, Georgia, and Florida have all lost a higher share of their manufacturing sector since NAFTA than has New Hampshire (Public Citizen 2011).
"The most instructive case study for any state considering RTW in 2012 is Oklahoma, the only state to have newly adopted RTW since NAFTA took effect, the report said.
"During the debate leading up to the passage of RTW in 2001, numerous corporate location consultants told Oklahoma legislators that the state was being "redlined" because up to 90 percent of relocating companies "won't even consider" locating in a non-RTW location. If Oklahoma adopted RTW, the state would see "eight to ten times as many prospects," these consultants promised (Lafer and Allegretto 2011)."
But instead of growing, the number of new companies coming into Oklahoma has fallen by one-third in the 10 years since Oklahoma adopted RTW. Employer surveys confirm that RTW is not a significant draw. In 2009, manufacturers ranked RTW 14th among factors affecting location decisions (Gambale 2009). For higher-tech, higher-wage employers, nine of the 10 most-favored states are non-RTW. New Hampshire ranks 11th on that list, ahead of 21 of the 22 states that had RTW laws at the time (Atkinson and Andes 2010). (Indiana passed RTW in February 2012.)
A Q&A developed during the discussion on the Indiana Right-to-Work issue may be instructive:
Q: Can workers be forced to join a union before getting a job?
A: No. Under Federal law no one can be forced to join a union before getting a job. That is called a "closed shop" and has been illegal under the National Labor Relations Act for years.
Q: The "Right-to-Work" supporters keep talking about "compulsory" unionism. Do all workers have to be union members when there is a union security clause in a contract?
A: No. "Compulsory" unionism is a boogeyman created by folks with an anti-worker agenda. Again, under Federal law workers can never be forced to join a union even when there is a union security clause in the contract. This has been part of the law for years.
Read the Case: NLRB v. General Motors Corp., 373 U.S. 734 (1963)
Q: Can workers be "forced" to pay for union political activities?
A: No. Once again, under Federal law workers can never be forced to pay dues for union political activities.
Read the Case: Communications Workers v. Beck, 487 U.S. 735 (1988)
Q: Do so-called "Right-to-Work" laws affect wages and benefits?
A: Yes. The real data shows that once "Right-to-Work" laws are enacted, they lower wages and benefits for all workers. Workers in so-called "Right-to-Work" states earn far less then their counterparts in Non-Right-to-Work states. It's the same effect with benefits. For more information take a look a these reports:
2006 Indiana University Report on Right-to-Work legislation
EPI Report on Oklahoma Right-to-Work Law
EPI Report on the "Wage Penalty" from Right-to-Work Laws
So far, Gov. Rick Snyder has dodged any serious discussion of right-to-work legislation, apparently not wishing to have Michigan "Walkerized," turmoil as occurred in Wisconsin when Gov. Scott Walker tried to end union bargaining rights for state workers. Perhaps Snyder has put his credentials as "nerd" to work in analyzing the issue and concluded it is a non winner.
If RTW does not provide an edge in economic development, as the Mackinac-Ball State and the Lafer-EPI reports say, and wages of all workers are adversely affected, as EPI asserts so powerfully, then Snyder's position seems to be a wise one.
If the evidence presented by EPI is even somewhat valid, whether or not Michigan should adopt RTW may not be worth arguing about. In fact, it may be counterproductive, as Gov. Snyder seems now to view it. ###
---
Columns Article 6755
---

Dave Rogers




Dave Rogers is a former editorial writer for the Bay City Times and a widely read,
respected journalist/writer in and around Bay City.
(Contact Dave Via Email at carraroe@aol.com)

More from Dave Rogers
---
Send This Story to a Friend!
Letter to the editor
Link to this Story
Printer-Friendly Story View
---
--- Advertisments ---