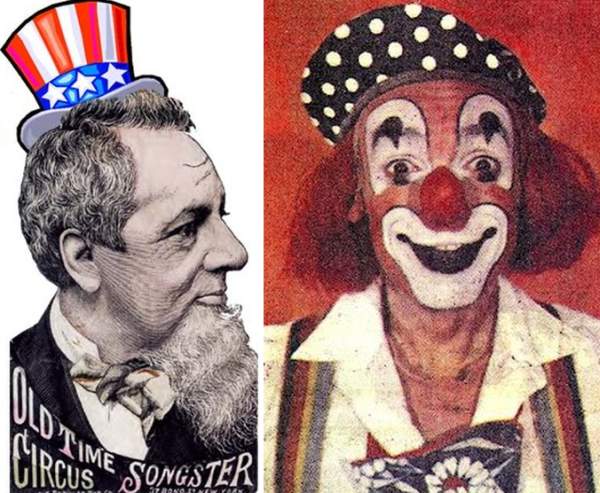 Dan Rice (Left) and Dave Carlyon as "Zachary" the clown
for Ringling Bros. Barnum & Bailey Circus in the 1970s.
---
Dave Carlyon, Bay City's Most Famous Clown, Writes of Antics of Dan Rice
Rice, "The Most Famous Man You Never Heard Of," Ran for President in 1868
February 26, 2012 Leave A Comment
By: Dave Rogers
The town of Girard, Pennsylvania, celebrates Dan Rice Days each year and lots of people wonder why.
Not Bay City Central High graduate Dave Carlyon, 62, who, like Rice, was a clown and learned alot about human nature from the experience.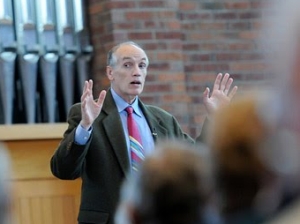 Dr. David Carlyon, speaking at the 2011 humanities and fine arts convocation
at Augsburg College, Minneapolis, MN.
Rice was no ordinary clown, he established undying traditions that are reflected in today's culture.
The Pennsylvania history website proclaims: "Without Dan Rice, there'd be no Uncle Sam, no Will Rogers, no Mort Sahl, no Mark Russell, no Dennis Miller, no Howard Stern, no Bill Maher, no John Stewart and The Daily Show, and no "Weekend Update" on Saturday Night Live.
"For, as surely as Rice's favorite costume of patriotically striped trousers, a star-spangled coat, top hat and a beard that would do a billy goat proud formed the model for the nation's personification, his wise-cracking political commentary and cracker-barrel philosophizing laid the foundation for every tart-tongued, quick-witted political satirist who's followed."
The author who made the un-famous Rice more well known, Dave Carlyon, fondly recalled his youth here in a recent visit with his mother, Betty, and father Donald. Don Carlyon is a well known figure here, having been president of Delta College and formerly headed the Bay County Library System board.
Besides his three years as a clown for Ringling Bros. Barnum and Bailey Circus, Dave Carlyon has earned a Ph.d. in Theatre from Northwestern University, taught there and at other universities and also got a law degree from the University of California at Berkeley. A graduate of the University of Michigan, he served in the U.S. Army, is a playwright and also worked as an actor and director
In 1976, the recent law graduate decided instead of practicing law to get an advanced degree in clowning at the Ringling Bros. school in Florida. He spent three years on the road with the circus as "Zachary" the clown.
"In terms of public image, they seem at opposite poles," he described his career shift to a Missouri newspaper. "A clown acts silly and a lawyer is more serious. But being a clown is hard and serious work too."
He lives with his wife, Barbara, in Larchmont, New York, one of the suburbs that sprawl northeastward from Manhattan on Long Island Sound. Larchmont is where the couple raised their two sons, Daniel and Will, in the village of about 5,000 in Westchester County, rated among the 100 best places to live in America.
"I'm a magpie," he says of his work on the speaker's bureau of the New York Council for the Humanities. He gives talks on such varying topics as "The Nineteenth Century Circus: Sex, Violence and Politics," and "The Gettysburg Address: Overlooked Influence, Unique Perspective."
In 2001, Public Affairs Press of New York City published his book, "Dan Rice: The Most Famous Man You've Never Heard Of." The 506 page tome earned him mention in The New York Times and an hour on C-Span Book Notes, in addition to other publicity. The book was adapted from his doctoral dissertation at Northwestern.
What did Rice (1823-1900) do to rate his own festival? The town website states: "Dan provided financial assistance to the needy in both the North and the South, helping to rebuild Southern churches and schools while at the same time supporting the widows and children of Northern troops who had been killed in the conflict."
Abraham Lincoln even mentioned Dan Rice and his performing pig show, Carlyon points out in his book that also includes mentions of Michigan's Lewis Cass, one of Abe's cabinet members. Rice and Lincoln reportedly were friends and Mark Twain referenced Rice and the circus in his timeless novel of Americana, "Huckleberry Finn."
A Pennsylvania history site comments: "In 1868, he made a serious run for the White House himself, seeking the Republican presidential nomination. Despite strong early support, his candidacy was doomed when opponents - including the victorious Ulysses S. Grant - brushed him off as a "professional clown." The following year, Harper's Weekly cartoonist Thomas Nast used Rice and his all-American circus costume as the prototype for a revamped - and enduring - conception of Uncle Sam."
"Rice's most lasting legacy to the people of Girard was the erection of the marble monument that still stands in the middle of the town's Main Street, said to be the first in the nation to honor the Civil War dead," town historians recall.
"Sculpted by Leonard Volk of Chicago, the pillar was shipped to Girard at Rice's expense and dedicated at an elaborate ceremony on November 1, 1865. The dedication was covered nationally by Harper's Weekly, and drew a crowd estimated at 10,000 people."
Rice had married a Girard girl, Rebecca McConnell, a circus performer herself. It was a second marriage, his first wife Margaret Ann Curran having divorced him, and it also was an ill-fated coupling.
Three years later, the Rices became parents again, this time to a boy, Dan Rice, Jr., the same year that Dan ran in an unsuccessful race for the Presidency.
In 1870, Rebecca returned briefly to the circus, however the two were beginning to drift apart as Dan spent more and more time touring while Rebecca remained with her family in Girard.
By 1881, Dan and Rebecca divorced, and Dan no longer visited Girard. His fortunes continued to diminish, and he died virtually penniless in 1900 at the age of 77. Rebecca, suffering from a variety of health problems, had passed away five years earlier.
The couple's son, Dan Rice, Jr., moved his family west and never returned to Girard, although his ancestors did return to settle in nearby Erie, Fairview and Millcreek. Despite the sad ending to his story, Dan Rice is well remembered by the town he once considered his home.
A yearly festival, "Dan Rice Days," is held each August to honor his memory and his multiple contributions to Girard. Although Rice's elegant home is long gone, the Civil War monument still stands in its original location, and will remain as a lasting symbol of an exciting era in Girard and in our nation.
###
---
Arts/Theater Article 6791
---

Dave Rogers




Dave Rogers is a former editorial writer for the Bay City Times and a widely read,
respected journalist/writer in and around Bay City.
(Contact Dave Via Email at carraroe@aol.com)

More from Dave Rogers
---
Send This Story to a Friend!
Letter to the editor
Link to this Story
Printer-Friendly Story View
---
--- Advertisments ---