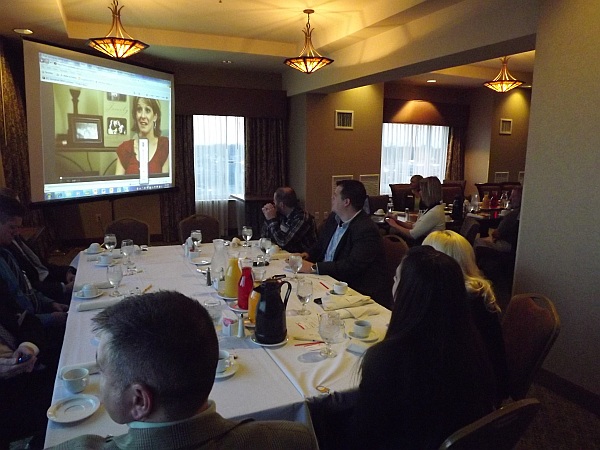 The American Heart Association recently held a meeting at the Doubletree to encourage local businesses to get involved in heart attack prevention.
---
American Heart Association Introduces My Heart, My Life
March 20, 2012 Leave a Comment
By: Josh Sharrow
Jennifer Gracey, American Heart Association Corporate Events Director, says that one of every three adults in the United States has some form of heart disease today or has had a stroke.
Together, heart disease and stroke kill more than 813,000 Americans a year. Almost 65 percent of American adults (135 million +) are overweight or obese and this number continues to grow. "Due to risk factors like obesity and diabetes," Gracey said, "these illnesses are affecting us at much younger ages than ever before."
Some experts predict that today's children are not expected to live as long as their parents, which would be the first time in history that an entire generation's life expectancy actually drops.
Thankfully 80 percent of cardiovascular disease is PREVENTABLE. Our challenge is to help more people, specifically our employees, stop heart disease and stroke before these illnesses have a chance to get started.
And this is where the American Heart Association steps in to help!
Last year the American Heart Association made a historic decision to adopt a new goal: That goal is by 2020 to improve the cardiovascular health of all Americans by 20 percent, while also reducing deaths from cardiovascular disease and stroke by 20 percent.
This is an ambitious goal, and it reflects a major shift in focus for the association when it comes to health and quality of life. The focus is centered more on improving health of every American.
To help Americans move toward better health, the American Heart Association recently evolved the Start! movement to a national movement called My Heart My Life.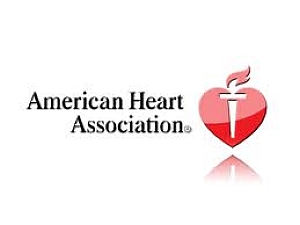 According to Gracey, "Through My Heart My Life," the American Heart Association provides a wide variety of tools and resources to help companies create a culture of ideal cardiovascular health. These tools include a walking program with a robust online tool www.startwalkingnow.org!
National Start! Walking Day
is April 4th this year and The American Heart Association invites companies across the country to gather their employees together for a walking rally. Many companies use
National Start! Walking Day
to kick off or celebrate the success of their walking program and fundraising efforts for the American Heart Association.
Start! Eating Healthy Day
takes place in November and is the American Heart Association's National call to action for people to move away from junk food and move toward healthier eating options. On
Start! Eating Healthy Day
, companies across America encourage their employees to eat healthy. Many conduct a healthy cooking demonstration and provide employees with heart-healthy recipes for the holiday season. Others give employees a piece of fruit as they enter the building and offer snack ideas involving fruit rather candy, cookies and other junk food.
The American Heart Association's Heart Walk
is also a vital part of the My Heart My Life platform. Each year, more than 350 cities and communities hold Heart Walks to raise funds to support the American Heart Association and to inspire people to take that first step in improving their cardiovascular health or celebrate their success in improving their health.
Heart Walk is a great way to rally your employees/groups together for a life-saving cause and, at the same time, encourage them to make simple changes in their lives to become healthier. Companies can participate in Heart Walk by being a corporate sponsor and by forming fundraising teams. Your commitment to this year's Heart Walk will raise critical funds to save lives, perhaps even the life of one of your colleagues. These funds are especially important now that the American Heart Association is a year into their journey toward the 2020 goal for America's cardiovascular health. Without your involvement it won't be possible to achieve this goal.
You can show your commitment today by executing the following steps:
Choose to be a corporate sponsor for the Heart Walk.
Engage your employees in fundraising teams for the Heart Walk.
Make a commitment to engage your company in some or all of the My Heart My Life Programs
The American Heart Association looks forward to seeing you at the Heart Walk on Saturday, May 12th. The event is a fun, uplifting, family-oriented occasion that brings the whole community together. It is also unique among fundraisers in that it lives on through the lasting effects it creates in your workplace and community.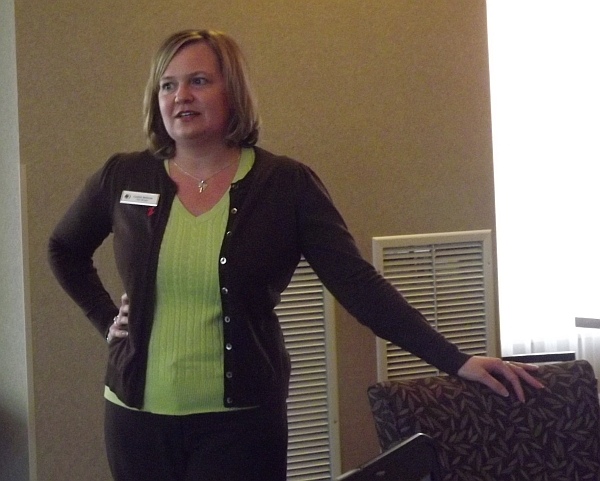 Cynthia Wellman, Sales Manager from The Doubletree Hotel shares her personal association with The American Heart Association.
(MyBayCity Photo by Josh Sharrow)
---
---

Josh Sharrow




Sharrow is the Sales Manager, columnist, writer, coffee maker for O.J. Advertising and an on-air personality for 98 KCQ.

More from Josh Sharrow
---
Send This Story to a Friend!
Letter to the editor
Link to this Story
Printer-Friendly Story View
---
--- Advertisments ---