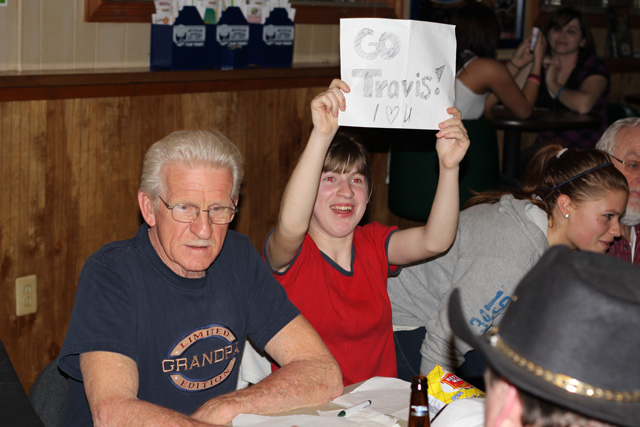 Michigan Idol attendees show their support for Travis Paten
---
One Week To Go at WILLEW
Michigan Idol Prepares for Season Finale
March 18, 2012 Leave a Comment
By: Sean Connelly
The contestants for Michigan Idol Season III really kicked the intensity level up a notch in preparation for the final performance of the season. With only one week remaining until the 50 inch plasma television and XBOX 360 are given away, there was no time like the present to "wow" both the judges and the crowd at the Willew in Bay City last Wednesday.
Travis Paten, Idol performer, took the crowd by storm once again with his dominating stage presence. "I really wanted to get out there and entertain people," said Paten, "The energy I get from the crowd brings me back every week." Travis, along with fellow Idol performer Stephanie Petrimoulx, were the first to break the contestants out of their comfort zone. Both Paten and Petrimoulx left the stage area four weeks ago and started singing and standing on chairs and Petrimoulx even jumped up on a table for a brief moment.
"I just love being in the crowd!" added Paten.
Travis Paten unleashing his inner "Monster!"
(MyBayCity Photo by Sean Connelly)
Paten gets up on chairs, mixes with the crowd with a wireless microphone, and even lets the crowd sing parts of the song for him. Dave Bernreuter, Idol judge, was all praise for Travis' performance, "That's what it's all about," said Burnreuter, "getting the crowd going. And you do it every week!"
Stephanie Petrimoulx had an equally powerful performance this week, although without all the energy that she normally brings. Petrimoulx slowed things down performing Miranda Lambert's "Over You" in remembrance of one of her best friends, Adam Marshall, who passed away almost four years ago.
"His birthday is coming up," said Stephanie, "And my friends and I wanted to do something for it." You could feel the emotion in her voice as she sang the lyrics, "They say I'll be OK, but I'm not going to ever get over you."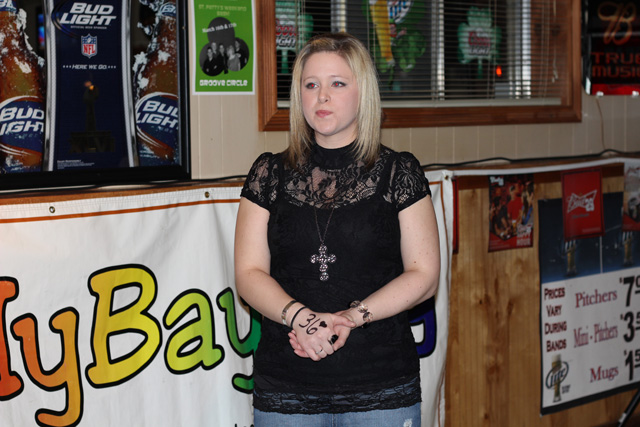 An emotional Stephanie Petrimoulx fights back tears during her moving performance at WILLEW.
(MyBayCity Photo by Sean Connelly)
For the final week of Michigan Idol Season III, the contestants can look forward to a professional stage atmosphere. There will be no video monitor with lyrics, the speakers will be repositioned in front of the performers as opposed to behind them, lights will be shining on them and they may not be able to see the crowd at all.
All stage equipment will be provided by Bruce LaFrance, Idol judge, and his band, Spur of the Moment. Spur of the Moment will also be performing live after Michigan Idol Season III wraps up this Wednesday. "I'm really hoping that some of the singers come up and sing with us, said LaFrance.
Michigan Idol is a 10 (ten) week competition that runs through March 21st, 2012 every Wednesday night at the Willew in Bay City. Warm ups start at 7PM, with the actual competition starting around 8PM. The grand prize for this season is a 50 inch plasma TV, provided by Millar's TV and Appliance, and an XBOX 360 with four games, provided by Game On of Bay City.

(L/R) Travis Paten, Natasha Ehlert, Stephanie Petrimoulx, Fred Waibel, and Allie Shermetaro
(MyBayCity Photo by Sean Connelly)

(L/R) Adam Simmons, Jesse Fisher, Joey Atchinson, and Marty Hofelich
(MyBayCity Photo by Sean Connelly)
The Michigan Idol Show at WILLEW is Sponsored by:



---
---
---
Send This Story to a Friend!
Letter to the editor
Link to this Story
Printer-Friendly Story View
---
--- Advertisments ---