Joey Atchinson is all smiles after being judged the winner at the Willew singing competition.
---
Joey Atchinson Wins Michigan Idol Season 3 at Willew
March 24, 2012 Leave a Comment
By: Sean Connelly
If you've been following Season 3 of Michigan Idol at the Willew then it would come as no surprise that it was an absolutely incredible end to the fantastic journey that the contestants have taken over the last ten weeks.
The friends and family of the contestants were all out in full force, packing the Willew wall to wall. Jesse Fisher, one of Season 3's contestants couldn't believe how many came out, "I don't think I've ever seen this place (Willew) so full!"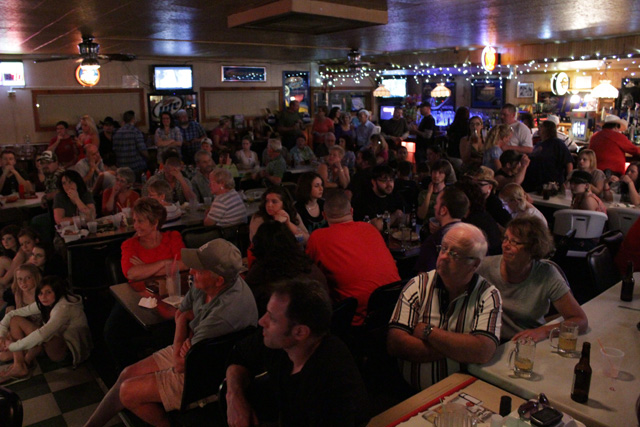 The Willew was packed wall to wall for the Season 3 finale!
(MyBayCity Photo by Sean Connelly)
Everyone in attendance was treated to quite the show as the participants pulled out all the stops, saving some of the best performances of the season for the final night.
Stephanie Petrimoulx, who finished tied for third place, definitely earned one of her top scores for her performance of Miranda Lambert's Crazy Ex-Girlfriend. Petrimoulx got up close and personal with the audience, as well as the judges, as she put her "crazy" on, tossing Judge OJ Cunningham's organized notes all over the floor.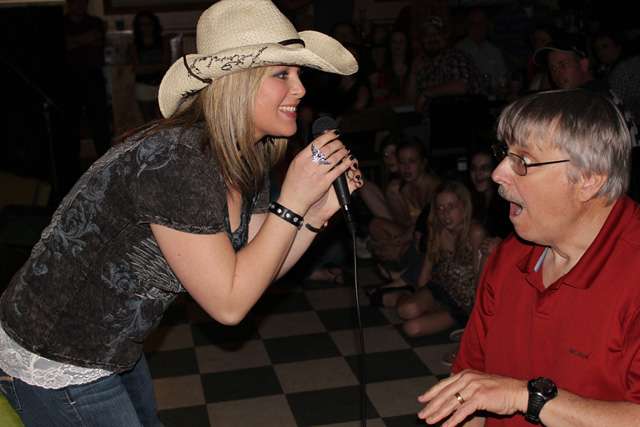 Stephanie Petrimoulx tosses judge OJ Cunningham's notes aside. "That was one of the best moments (for me) during the entire 10 weeks," Cunningham laughed.
(MyBayCity Photo by Sean Connelly)
Amanda Glashauser, Season 2's third place finish and was a favorite coming in to Season 3, had her best performance of the season as well. Before performing, she gave the crowd at the Willew a little insight in to why she chose her last song. "There's so much emphasis on being skinny, to work out and be something that you're not," said Glashauser. "This is for all the women out there who are proud to be who they are."
Amanda then brought out her infamous ukulele to perform Sir Mix-a-Lot's Baby Got Back, sending the crowd and judges roaring.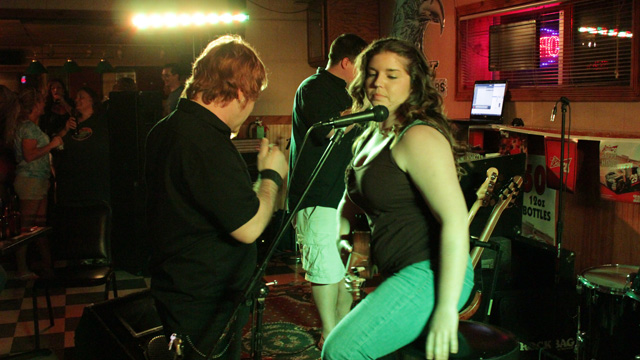 Amanda Glashauser prepares for her performance.
(MyBayCity Photo by Sean Connelly)
The performances weren't the only thing that brought the level of intensity to seemingly impossible heights this week. Thanks to Spur of the Moment and Level 47 Productions. the performers were able to utilize professional stage equipment, including stage lighting, to help them enhance their level of performing.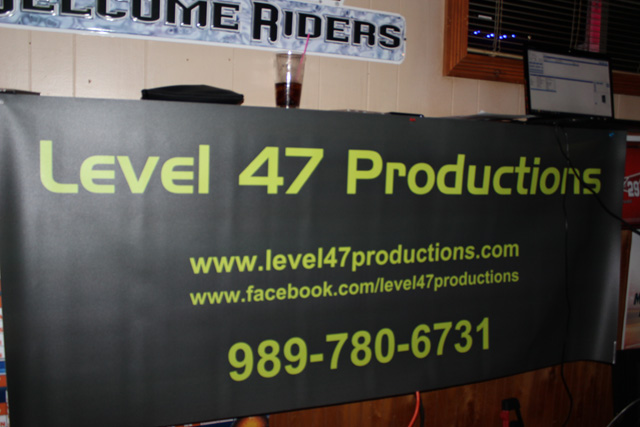 Level 47 Productions and Spur of the Moment bring professional stage equipment to Michigan Idol
(MyBayCity Photo by Sean Connelly)
Spur of the Moment, Idol judge Bruce LaFrance's band, was out to perform after the competition. But Spur of the Moment wasn't the only live act to come out for the finale. During a break, previous winner and former judge for Michigan Idol, Dani Vitany, performed for the crowd at the Willew during an intermission. Dani had nothing but praise for Season 3's contestants, "There's so much talent this season, it's great!" exclaimed Vitany.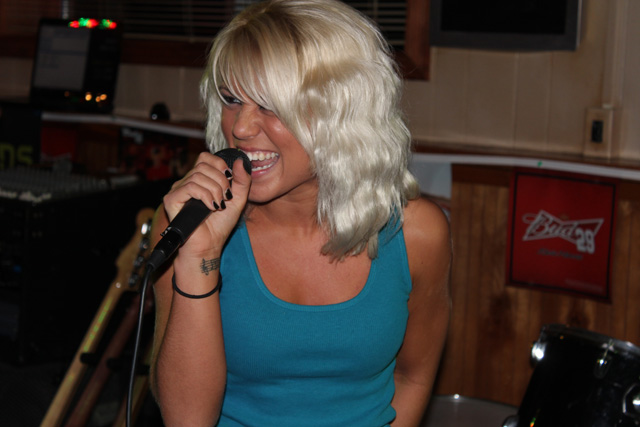 Dani Vitany performs for the crowd.
(MyBayCity Photo by Sean Connelly)
And indeed there was. For the first time in Michigan Idol history the judges had to bring up the final five contestants because the scores were so close. In the end, it came down to Allie Shermetaro and Joey Atchinson. Both were incredibly talented vocalists, performers, and song writers, and both were equally deserving of the win. But Atchinson was the contestant with the higher score and claimed the Michigan Idol Season 3 Title and the grand prize of a 51" Samsung Plasma TV from Millar's TV and Appliance with an XBOX 360 from
Game On
of Bay City.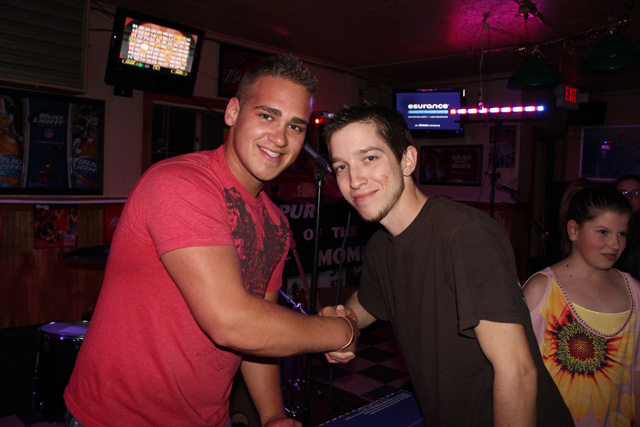 Joey Atchinson and Tim Bruski, Michigan Idol Season 2 winner, giving each other respect.
(MyBayCity Photo by Sean Connelly)
Joey was absolutely overwhelmed, but took the time to give advice for his fellow competitors, "Just keep showing up, and keep trying," said Atchinson. "This is my fourth or fifth competition, and my first win."
Joey already has an album (original songs) that he's currently working on that won't be out for another month. However, if you'd like to keep up to date with his musical career, or would like more information on how and where to buy his album, Joey encourages you to visit his Facebook fan page. Simply search for "Joey Atchinson" on Facebook and "Like" the musician/band page.
Season 4 of Michigan Idol is already confirmed for its return at the Willew Lounge in Bay City on April 11th, 2012. Warm-ups will start at 7PM with the competition starting around 8PM. Just like in seasons past, the top 5 scores for each contestant will be added up at the end of the ten (10) week competition to determine the winner. The grand prize for Season 4 will be a Brand New 49cc Schwinn Scooter provided by Stevens Cycle Sales! Stay tuned to MyBayCity for more details on Willew -- Season 4.

(L/R) Marty Hofelich, Allie Shermetaro, Stephanie Petrimoulx, Travis Paten, Adam Simmons
(MyBayCity Photo by Sean Connelly)

(L/R) Joey Atchinson, Amanda Glashauser, Fred Waibel, Jada Archer, Jesse Fisher
(MyBayCity Photo by Sean Connelly)

(L/R) Raelyn Hawkins, Renee Pawloski, Morgan Hawkins, Natasha Ehlert
(MyBayCity Photo by Sean Connelly)
---
---
---
Send This Story to a Friend!
Letter to the editor
Link to this Story
Printer-Friendly Story View
---
--- Advertisments ---