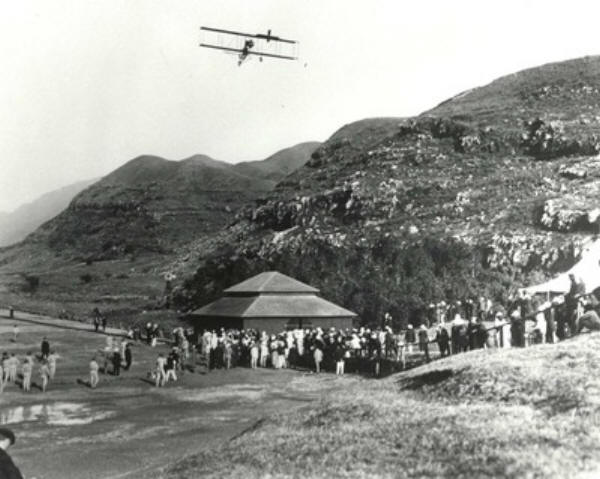 Hawaii state aviation photo shows J.C. "Bud" Mars of Michigan soaring in Curtiss biplane above crowd in Honolulu, Hawaii, in 1910.
---
Final Quote Immortalized Bud Mars, Flyer Who Took Japan's Emperor Aloft
"I Wish We Had Crashed," Mars Said Recalling the Historic Flight in Tokyo
March 26, 2012 Leave a Comment
By: Dave Rogers
In the early 1900s, local fairgoers were amazed by the daredevil exploits of early aviators like Bay City legend Lionel DeRemer and also a fellow Michigan flyer named Bud Mars from Muskegon.
A hundred years ago, Mars had the reputation of being the most daring flyer in the country. It was said that he swooped under the bridges across the Mississippi River. While many of his compatriots died during exhibition flights, Mars survived numerous close calls and lived on to what then was a ripe old age.
He was one of the first aviators to demonstrate flight in Japan, and that's where he made history. He took the emperor, Hirohito, then 11 years old, on his first plane ride.
The boy emperor was fated to lead his nation into the greatest war in world history that was still going on when Mars died.
The Aug. 7, 1944 edition of Time Magazine carried the following article:
"Died. James C. ("Bud") Mars, 68, pioneer world-touring balloonist and aviator who gave Hirohito his first plane ride in Tokyo in 1911; of heart disease; in Santa Monica, Calif. A circus high diver who learned to fly in 1908, Mars recently said of his most notable flight: 'I wish we had crashed in Tokyo.'"
As a young man Mars had changed his name from McBride to keep his family from knowing about his life-threatening exploits as an acrobat and flyer. He was born March 6, 1876 in Grand Haven, Michigan, where his father, Thomas D. McBride was a member of the U.S. Lifesaving Service. The family later moved to Muskegon when his father became a ship captain on the Great Lakes.
Bay City's DeRemer had gotten the flying "bug" watching Mars pilot a dirigible at Wenona Beach and at Caro, Michigan. He later attended flying schools in St. Louis, MO, and on Long Island, New York, and brought his skills home to Bay City where other local enthusiasts learned from him.
Mars did much of his flying elsewhere, but did make an appearance in Grand Rapids on a national tour in 1910 with the Curtiss aeroplane team.
William J. Horvat, in his book "Above the Pacific," noted that Mars was first to fly in Hawaii. On Dec. 31, 1910, before 3,000 paying customers in Honolulu, he took a Curtiss P18 biplane aloft to the wonder of the crowd.
Hawaii was the first stop on the Curtiss Airplane Company's 30,000-mile demonstration tour which included Japan, China, the Philippines, Siam, Singapore, Java, Persia, Africa, the Holy Land, Egypt, Spain, France, England, and "anywhere else bird men had not been seen before."
Perhaps inspired by his first experience with flight demonstrated by a pioneer Michigan airman, 31 years later the Emperor Hirohito launched 353 planes against the American naval fleet at Pearl Harbor, Honolulu, Hawaii.
It was Dec. 7, 1941. What President Franklin D. Roosevelt soon called "the day of infamy" had arrived -- bringing death, destruction and the entry of the United States into the worst war in world history.
###
---
---

Dave Rogers




Dave Rogers is a former editorial writer for the Bay City Times and a widely read,
respected journalist/writer in and around Bay City.
(Contact Dave Via Email at carraroe@aol.com)

More from Dave Rogers
---
Send This Story to a Friend!
Letter to the editor
Link to this Story
Printer-Friendly Story View
---
--- Advertisments ---