Are Social Security, Medicare at Risk in High Court Health Care Decision?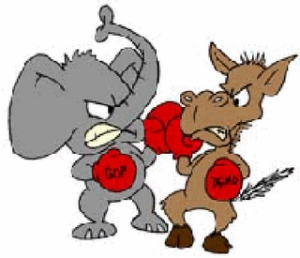 Dems and Republicans battle over Social Security, Medicare and National Health Care issues.
The fate of the nation is coming to a rousing crescendo at the Supreme Court this week in the arguments over the Affordable Health Care Act, so-called Obamacare and Romneycare.
It is no secret that some ultra-conservative elements in the body politic would like to see Social Security and Medicare scrapped.
Before George Bush left office in 2008, he made a serious run at the Social Security system and was spurned by most voters who are almost universally in favor of the program that began under President Franklin D. Roosevelt.
Medicare is a popular program, providing health care mainly for seniors whose medical needs can run into astronomical costs that would impoverish them without government support.
Listening to the comments by the opposing sides after Tuesday's arguments by the U.S. Supreme Court, the fact that those programs are at risk became clear.
Two groups of senators, Democrats including Pat Leahy of Vermont, Jack Reed of Rhode Island, and Tom Harkin of Iowa were followed by Republicans Mitch McConnell of Kentucky, John Cornyn and Kay Bailey Hutchinson of Texas and Marco Rubio of Florida.
Duel on the grass, you might call the open air debate before microphones outside the Supreme Court.
And what a duel it was, and is!
The Democrats indicated their strong opinion the High Court would be hard pressed to throw out the provision that college students can stay on their parents' health care coverage until age 26 and persons with existing medical conditions may not be barred from insurance coverage.
Millions of Americans are involved and would suffer by an adverse ruling.
Dems seem to think that justices would not dare to alienate those vast numbers of vulnerable citizens. Don't bet on that, since this debate is one that has been looming for decades. The New Deal is still poison to some reactionary groups and the Supreme Court is so closely divided that anything can happen. As the old saw goes, anything that can happen, will.
The American people sit exposed to raw political ambitions of unprecedented passion as politicians spar for advantage for the 2012 Presidential election.
Sen. Marco Rubio even spoke Spanish for a few minutes, explaining the issue to constituents.
If it is unconstitutional to require an individual mandate for health care, certainly it is unconstitutional to require citizens to participate in the Social Security and Medicare systems, some commentators indicated.
Good Lord, is that the bottom line in this charade?
If, so, and that appeared to be the case from the conversation, ordinary Americans should be more than alarmed.
Democratic senators appeared confident that the High Court will uphold the individual mandate.
They refused to state a strategy in case it is thrown out, except that the voters will have their say in the Presidential election in November.
If it comes down to that, if Social Security and Medicare and the Affordable Health Care Act are all on the table, don't bet the farm on the outcome.
And, if the court rules that the government can't require citizens to pay for a health care system all access at some point, the anti-tax folks will be sure to pounce and try to invalidate the income tax, too.
This will be the battle to end all battles, the war to end all wars. And this kind of war is not good for anybody on either side. Certainly not for the citizens who have paid into the Social Security and Medicare systems during their lifetimes and expect them to protect them.
Our guess is that the Supreme Court will see the massive implications of the issues and will duck a decision until 2015, when the first mandate payments would take effect. Let's hope so because we don't need any more polarizing elements in our government right now. ###
---
Columns Article 6872
---

Dave Rogers




Dave Rogers is a former editorial writer for the Bay City Times and a widely read,
respected journalist/writer in and around Bay City.
(Contact Dave Via Email at carraroe@aol.com)

More from Dave Rogers
---
Send This Story to a Friend!
Letter to the editor
Link to this Story
Printer-Friendly Story View
---
--- Advertisments ---