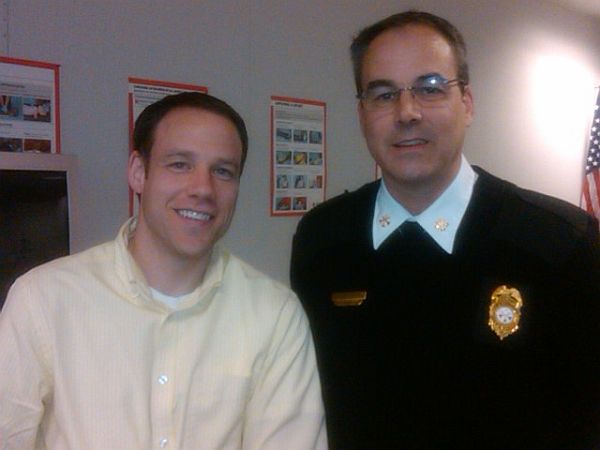 Christopher Izworski, (left) Coordinator for Bay County Emergency Management
and Robert Phillips, Assistant Fire Chief
---
Skywarn 2012-National Weather Service Spotters Class
Michigan Severe Weather Awareness Week-April 15th-21st, 2012
April 15, 2012 Leave A Comment
By: Diane Szczepanski
Over 50 people attended the overflowing classroom at the American Red Cross building on Washington Ave, in Bay City, MI. Members of Fire Rescue, Bay Medical Care Facility, Lake Huron Area Council Merit Badge College Members and Amateur Ham Radio members, all joined many others who are in critical care positions.
Also there, were citizens from all walks of life interested in learning more about how to spot potential weather situations for a variety of reasons.
---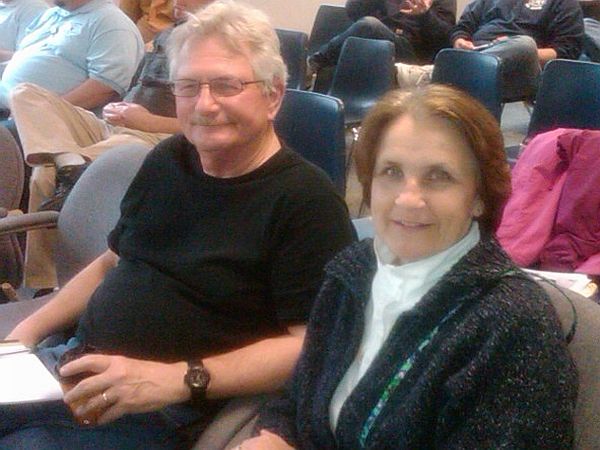 Jerry Habedank and Laurie Habedank, attended the class, "I'm a touring bicyclist. It would be a good thing to be able to look at the sky and have a better idea when to seek shelter", Jerry remarked.
(MyBayCity Photo By Diane Szczepanski)
According to Dave Kook, Meteorologist and Instructor for the class, there are two things a person should know.
It's not only his, but also the National Weather Services mission as well, to "forecast warnings to protect life and property, not just to report daily temperatures.
His second goal, is for people to realize that in ALL things related to weather spotting, "your safety should be your top priority".
Last year was a particularly destructive weather season in the south, with the EF5 tornado in Joplin, Missouri, which resulted in 160 deaths and damage upwards of 3 billion dollars.
As we head into the thunderstorm season, it's important to realize that while although in Michigan we are fortunate to be out of the more severe tornado belts, there is
always
a possibility of a tornado touching down in our area.
The northern Flint community, Beecher, was devastated on June 8, 1953, with the largest tornado Michigan has experienced to date. It killed 116 people and injured 844 during its destructive path on the ground.
In 2011 alone, Michigan was under 582 severe weather reports and on May 31, 2011, during a warning, Northern Bay County in the Linwood area, experienced an EF0-EF1 touchdown.
According to Dave Kook, although the majority of hazards in Michigan are thunderstorm hazards, "EF0-EF1's can develop very quickly and sometimes can happen within the 5 minutes it takes for the radar to loop". We are not immune to the larger tornadoes either as the Beecher storm has proven.
Therefore, knowing some of the tips and indicators to watch for during a weather situation and knowing what to do in the case of a warning, are critical.
---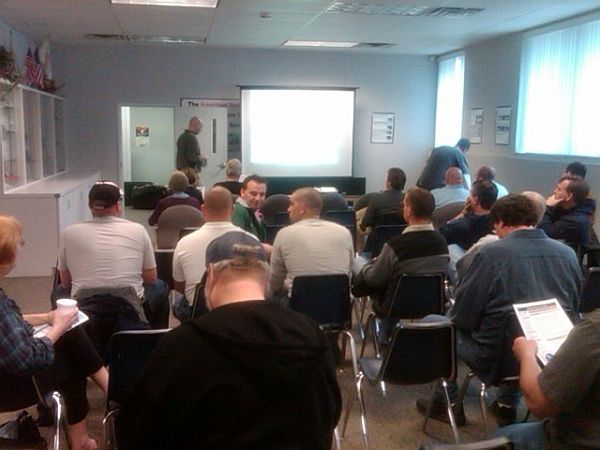 Meteorologist, Dave Kook, gives the packed room tips on the upcoming storm season. Dave instructs the annual Weather Spotter Class to roughly 2500 people in 17 counties.
(MyBayCity Photo By Diane Szczepanski)
As we head into severe weather season, reviewing some of the major hazards and how to protect ourselves from them, is a prudent idea.
Lightening:
There is roughly 1 death a year in Michigan due to lightening. You should remember that lightening can strike from 10 minutes to 10 miles away from the storm. Don't assume because it appears that the storm has passed, it's safe to go outside. Give it a few extra minutes.
Flooding/Flash Flooding: Dave advises remembering the phrase, "Turn around-Don't drown". Many a person has been caught during a flash flood in what appeared to be a few inches of water, but was actually a collapsed stretch of road with several feet of rushing water. Don't chance it. EVER.


Tornado/Thunderstorm Warnings: When driving, get to a safe building. An underpass is not a safe spot. In addition, it may clog the roadway with cars that are pulled over, not allowing for others to pass, who are trying to get to s safe location.

When in a building or home, go to the lowest level, away from glass. Assume a fetal position and always cover your head with a pillow or blanket.

As Dave noted, "You may get hit with a flying brick in the leg and it could hurt a lot or even break it. But, getting hit in the head with that brick can kill you".

If no basement or shelter is available, go to an interior area, away from the exterior of the house, preferable the bathroom. With the plumbing, it adds a bit of stability and it has the most around it to protect you.

Investing in an electric/battery powered weather radio is also a good idea. Particularly if your television in not in the safest possible area of your home, or if there is a power outage. Always wait until all warnings have expired, before leaving your safe spot.

Also, another method of notification in Bay County, MI is "Bay Alerts", a mass message text, voice IP communication system when there are emergency situations. To sign up for this potentially life-saving service go to:

http://www.baycounty-mi.gov/bayalerts.aspx

It's simple and easy to register and could give you that few extra minutes needed to head to a safe spot.

Also, make sure your children know what to do in case of a weather emergency and always make sure there is a plan of communication.

For more weather and safety tips and for complete up to date radar and information go to:

http://weather.gov/



---
Community Article 6877
---

Diane Szczepanski




Business-woman by day, confessed boot addict by night and 'wanna-be' writer, music lover and proud Mom of an awesome guitar playing, teen son.

More from Diane Szczepanski
---
Send This Story to a Friend!
Letter to the editor
Link to this Story
Printer-Friendly Story View
---
--- Advertisments ---