Sail Training Conference Sked Here in November Heralds Return of Tall Ships
Boating Classes Scheduled By Delta College Sailing School
January 28, 2005 Leave a Comment
By: Dave Rogers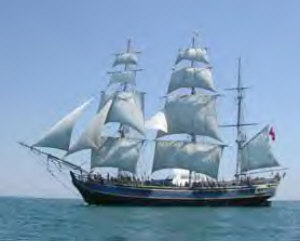 Magnificent sight of tall ship under full sail will again return to Saginaw Bay in the summer of 2006.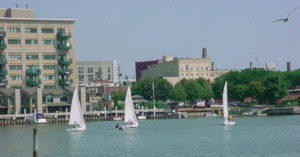 Young sailors receive instruction in 15 foot sailing trainers off Wenonah Park.
      Months before the Tall Ships swish down the Saginaw River again in 2006, the folks who run the show will gather in Bay City.
      The occasion is the American Sail Training Association's (ASTA) annual convention, set Nov. 3-4 at the DoubleTree Hotel - Bay City Riverfront and expected to draw up to 300.
      The tremendous popularity of the Tall Ships visits here points out the compatability of ASTA with Bay City.
      Besides the on-going activities education ship Appledore and sister ship, Bay City offers lots of related activities. We have written about the sailing classes going on at the foot of Fifth Street near Jennison Place. (See "Youngsters Learning to Sail Downtown," Aug. 20, 2004, MyBayCity.com)
      Sailing classes on the river, almost right outside the DouibleTree, are provided by the non-profit Saginaw Bay Community Sailing Association. (Information, 922-SAIL)
      For many years Delta College has offered seminars, classes and "In the boat instruction" for local mariners. This year's schedule is:
      Sailing Fundamentals, Larry Maples, CSS 1001-21 March 31, April 7, 14, 21, 28, May 5, 2005. 7-9 pm . Delta College Main Campus. Fee: $65.
      Beginning Sailing On the Water, Larry Maples & Guy Parks. This five session, two hour per session class is all real sailing time. High performance, stable 23' Sonar keelboats are used in these classes. One instructor per boat with a maximum of 4 students is the standard for this class. Times are 6-8 pm during May and June. Fee: $185.
      Diesel Engine Maintenance and Servicing for Boaters - Blue Water Marine, Warren Roosen. CSM 2005-21 Delta College Main Campus March 19, 2005, 9 am- 5 pm Fee $190.
      Fiberglass and Composite Repair—Gougeon Brothers Inc. and WEST SYSTEM Epoxy, J.R. Watson & Tom Pawlak CSM 2001-21, D. C. Main Campus, April 2, 2005, 9 am - 4 pm. Fee $98.
      Preparation for Captain License, Larry Maples CSG 1051-21 D.C. Main Campus Feb. 5, 12, 19, 26, March 5, 12, 2005, 9 am -3:30 pm. Fee $295.
      Beginning Navigation, Larry Maples, Delta College Sailing School, Bay City. CSM 1006-61, June 4, 2005. 9 am - 2 pm. Fee $60.
      Celestial Navigation, Larry Maples, Delta College Planetarium,CSM 1005-21 Feb. 15, 22, March 1,8,15,22,2005. 7:30—9:30 pm. Fee: $65.
      GPS Training, Larry Maples, CSM 1008-21, April 5, 12, 2005. 7:00-9:30 pm Delta College Planetarium, Bay City Fee $60.
      Knot Tying for the Boater, Larry Maples, May 3, 10, 2005 7-9 pm. CSG 1005-61 Delta College Main Campus. Fee: $15.
      Radar Training, Larry Maples, January 13, 20, 27, 2005, 7-9 pm. Delta College Planetarium CSN 1004-21. Fee $75.
      Understanding Weather for Sail & Power, Mark Torregrossa, CSG2005-21, Delta College Planetarium, Bay City. Feb. 10, 17, 24, 2005 7:30-9 pm. Fee: $75.
      The course descriptions and other information can be obtained on the Delta College web site: http://www.delta.edu/sailing.
Boater's Top Ten New Year's Resolution from BoatUS.
1. Teach a child or friend to sail, or introduce them to boating.

2. Check your flares, fire extinguishers and other safety equipment.

3. The next time you go fishing experiment with circle hooks. Save a fish for someone else.

4. Familiarize yourself with an online weather service so it becomes a routine part of your pre-departure planning.

5. Fuel up your boat without spilling a drop overboard this entire season and contain engine room leaks with bilge pads.

6. Purchase and wear an inflatable life jacket.

7. Tune your engine. This reduces exhaust and oil emissions.

8. Set up separate trash and recycling containers aboard.

9. Save the alcohol for when you arrive safely back at the dock.

10. Make a donation to your favorite educational or marine conservation group.


Wisdom from BoatU.S. Membership eLineRegister Your Boat Today: Research by BoatU.S. shows that many owners of used boats and marine engines never receive warnings about defect recall campaigns because federal laws don't require manufacturers to maintain records for second and subsequent owners. Start the year off right by registering your boat on the BoatU.S. National Recall Alert Registry. In the event of a defect recall, the manufacturer of your boat or marine engine will be able to contact you about important safety information. The registry is free and secure. No one can access your information except you and the manufacturer of your boat. To find out more and to register your boat, go to http://www.boatamerica.org/recall// or call the BoatU.S. Consumer Protection Bureau, 703-461-2856.
---
---

Dave Rogers




Dave Rogers is a former editorial writer for the Bay City Times and a widely read,
respected journalist/writer in and around Bay City.
(Contact Dave Via Email at carraroe@aol.com)

More from Dave Rogers
---
Send This Story to a Friend!
Letter to the editor
Link to this Story
Printer-Friendly Story View
---
--- Advertisments ---