Wood and Ag Products May Be Making Comeback as Automotive Components
CAR Report Cites Variety of Innovations Under Development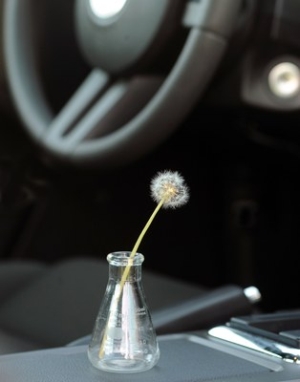 Ohio grown Russian dandelions are said by Ohio State University to be a good base material for high quality rubber.
Remember when car frames were made from wood in the Wilson Body Company and Murray Body Company in Bay City?
Neither do I, but I have read historical accounts of those firms that were located on South Lincoln Avenue near Pulaski Hall.
The hulk of the old World War I era factory remained a derelict icon for many years, into the 1950s. Uninformed local youth called it "Mary's bodies" and conjured stories of ghosts and criminals prowling its shambles.
The firm lasted until steel began to dominate the components of vehicles in the 1930s.
Well, the Wilson and Murray Body companies are no doubt gone forever, but the days of automotive components made from wood and other agricultural materials appears to be coming back under the impetus of a new emphasis on environmentally-friendly materials.
All this speculation seems to be great news for farmers in the heart of mid-Michigan who are constantly seeking new markets for ag products.
The Great Lakes Region, especially the tri-county area of Bay, Saginaw and Midland, are well stocked with such materials or very accessible to them in nearby northern counties.
A report by the Ann Arbor based Center for Automotive Research (CAR) describes a bright future for bio-based materials.
Industrial products made from renewable agricultural and forestry feedstocks can include wood, grasses, and crops, as well as wastes and residues, according to the report.
These materials may replace fabrics, adhesives, reinforcement fibers, polymers, and other, more conventional, materials. Adoption of bio-based materials in the manufacture of automotive components could provide many opportunities for growing the bio-based materials industry in the Great Lakes region, the report concludes.
This study examines current bio-based materials technology and use within the automotive industry, emerging industry trends toward deployment of bio-based materials, leading organizations that are active in the automotive bio-based materials sector, and feedstock and resource base considerations associated with production of bio-based materials.
Bio-based plastics and foams are a particular focus of the report. The Center for Automotive Research (CAR) has conducted three case studies. These examples of successful automaker bio-based product utilization provide a basis for understanding how a component that integrates bio-based materials is developed and how these materials move from farm to factory.
Drawing on the literature review, case studies, and meetings with industry representatives, CAR has documented lessons learned and obstacles encountered and developed recommendations for increased commercialization and adoption of bio-based materials into automotive supply chains.
There are several ways bio-based materials may be used in automotive components. Beyond traditional uses (such as wood trim, cotton textiles, and leather seats), there are two primary ways these materials are used: to create polymers or as reinforcement and filler.
The Great Lakes region's agricultural and chemical industries are among its greatest assets when it comes to developing the bio-based materials industry, the report states, amplifying:
"Some food and forestry companies have become manufacturers of bio-based fuels, chemicals, and plastics, including Archer Daniels Midland (ADM) and Cargill. Chemical companies, such as Dow Chemical Company and DuPont, are also closely involved with the development and use of bio-based materials.
"ADM (Archer Daniels Midlands), an agricultural product conglomerate, created an alliance with PolyOne Corporation to develop bio-based plasticizer technologies. Plasticizers are used to make plastics softer and more flexible and are especially important for materials used in automotive interior components.
"Cargill, a major producer and marketer of food and agricultural products and services, created a subsidiary, Durafibre, which is a commercial processor of natural-based fibers. Durafibre provided the flax straw that was used to create the rear shelf of the 2000 Chevrolet Impala. Cargill also partnered with BioAmber to commercially produce bio-based succinic acid, a building block for polymers and resins, at its new plant in Sarnia, Ontario. NatureWorks LLC is a Cargill spinoff that produces renewable plastics.
Dow Chemical Company produces soybean oil-based polyols which are used to produce foams for various applications, including seating, headliners, arm rests, headrests, and consoles. DuPont has been extremely active in developing bio-based materials; in addition to working with Denso to jointly develop a radiator end tank using bio-based nylon, DuPont has several bio-based product offerings, including Zytel which is derived from castor oil, Sorona which is derived from corn, and Hytrel which is also derived from corn.
In the 1930s, bio-based materials were in use in the production of vehicle parts and components. Henry Ford used bio-based materials in paints, enamels, and molded plastic parts. Ford also used soybeans, hemp, wood pulp, cotton, flax, and ramie in various components, and in 1941, Ford unveiled a car that had soy-based plastic body panels. Ford's famous "soybean car," integrated many bio-based materials. The car's body integrated straw, flax, and soybean meal and its tires were made from goldenrod latex.
Bio-based polymers can be made from a variety of sources -- including soybean, castor bean, corn, and sugar cane -- which can be fermented and converted into polymers. Bio-based composites may be reinforced or filled using natural fibers such as hemp, flax, or sisal.
Bio-based materials have been tested and deployed in a number of automotive components. Flax, sisal, and hemp are used in door interiors, seatback linings, package shelves, and floor panels. Coconut fiber and bio-based foams have been used to make seat bottoms, back cushions, and head restraints. Cotton and other natural fibers have been shown to offer superior sound proofing properties and are used in interior components. Abaca fiber has been used to make underbody panels.
These materials provide a number of benefits, but there are also costs associated with their use. Although still in its infancy, the use of bio-based materials by the automotive industry has been gradually accelerating over the last several years. The industry's new emphasis on environmentally-friendly materials and technologies has been spurred by government regulations, consumer preferences, and, in some cases, financial savings that can be realized from the adoption of these materials and technologies.
After years of research, bio-based plastics are now closer to meeting or exceeding performance and cost parameters of conventional plastics than ever before. Despite these advancements, however, there are still some drawbacks which prevent bio-based materials from seeing wider application in the automotive industry.
Since there is intense price competition in the automotive industry, automakers are generally unwilling to pay a premium on parts and components. Suppliers therefore must address any shortcomings of bio-based materials. Further, bio-based components must be price-neutral compared with their conventional counterparts -- which is a significant challenge for a new product to overcome.
The Great Lakes region has many advantages when it comes to developing bio-based materials for use in automotive components. The region is known for both its manufacturing and agricultural production capacity.
Many companies with facilities in the region are examining the potential of automotive bio-based material applications since the region grows several important crops that can be used as feedstock to produce materials. In recent years, the region has also become host to significant bio-based materials research, as well as associations interested in promoting the development of the bio-based materials industry.
Three case studies were developed by CAR to demonstrate a range of pathways to commercialize automotive components made from bio-based materials:
The first case study examines the storage bin in the Ford Flex which is made of a composite that integrates wheat straw fiber reinforcement.
The second case study examines the Ontario BioAuto Council, which has assisted several automotive suppliers by providing grants to assist in the commercialization process for bio-based automotive components.
The third, and final, case study outlines a cooperative effort between DuPont and Denso to produce a bio-based nylon radiator end tank for the Toyota Camry.
This study suggests that there is significant potential for the expansion of bio-based automotive parts and components manufacturing in the Great Lakes region.
Further research could examine the realistic potential of the market and investigate the maturity curve for bio-based technologies in automobiles. A supplemental study could also address in detail the role of the government in motivating the bio-based automotive market. The study could make recommendations to strategically support the development of the bio-based materials industry specific to businesses and other organizations in the Great Lakes region.
Future work could also include the establishment of an automotive bio-based products network in Great Lakes region. Such a network could facilitate relationships and business development among interested stakeholders and cultivate the bio-based automotive components market.
###
---
---

Dave Rogers




Dave Rogers is a former editorial writer for the Bay City Times and a widely read,
respected journalist/writer in and around Bay City.
(Contact Dave Via Email at carraroe@aol.com)

More from Dave Rogers
---
Send This Story to a Friend!
Letter to the editor
Link to this Story
Printer-Friendly Story View
---
--- Advertisments ---