Two Most Fascinating People of the 20th Century? Franklin & Winston
Tony Dearing Profiles Churchill, Roosevelt, Launching YWCA Booked For Lunch
January 30, 2005 Leave A Comment
By: Dave Rogers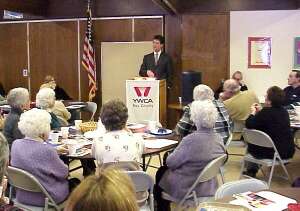 Tony Dearing, editor of The Bay City Times, delivered a book review that provided highly insightful looks into FDR and Churchill - Leaders during World War II
      Author Jon Meachum's "Franklin & Winston: An Intimate Portrait of An Epic Friendship" was the first of seven book reviews of the 2005 winter season presented by the YWCA of Bay County.
      The presentation was introduced by Diane Brunson of the YWCA.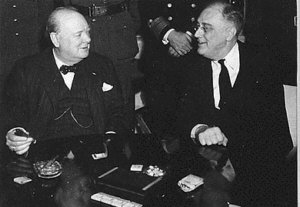 Tony Dearing, editor of The Bay City Times, delivered a review that provided highly insightful looks into the pair of historic leaders of World War II.
      "The allies would not have won World War II without FDR and Churchill," said Mr. Dearing, commenting: "Their relationship had a profound impact on the course of history."
      Most revealing facts from the book involved the early lives of the two leaders. For example, the boy Winston was heard to say: "We are all worms, but I believe I'm a glowworm." And that he was, for sure.
      A young FDR said: "But Mommy, if I don't give orders nothing happens." He knew very early he was born to command.
      Meachum quotes President Grover Cleveland's despairing comment, made to a 5-year-old FDR, visiting the oval office with his father: "My boy, I hope you never grow up to be President of the United States." Perhaps that remark had just the opposite effect on an impressionable young mind.
      According to Meachum's book, Churchill was in pursuit of FDR much as a suitor because he knew that there was no way Britain could win the war without help from the United States.
      FDR was very cautious about committing support for the war since the vast majority of Americans, led by Charles Lindbergh, were pacifists. Of course that all ended with the Japanese attack on Pearl Harbor.
      The pair of history-makers had met only once before the war: Churchill did not remember the meeting; FDR did, but did not like the British prime minister.
      FDR's opinion of Churchill changed to some degree in early 1940 when he supported the cigar-chomping politician. "I suppose Churchill is the best Europe has got even if he is drunk half the time," allowed the U.S. President.
            Statements like that demonstrate the fragility of the dynamics of their relationship, noted Mr. Dearing.
      The key to breaking the stalemate may have been FDR's top aide Harry Hopkins, who was sent to England by FDR and hit it off well with Churchill, noted Mr. Dearing.
      The irascible Brit was among the first on the world stage to recognize the threat posed by the German dictator Hitler.
      "Eventually people realized what a tremendous leader he was," Mr. Dearing said, pointing out that by 1941 Churchill was idolized in the U.S.
      Both men were well skilled at manipulating people but FDR was especially secretive, hiding his love relationship with paramour Lucy Mercer until his death in 1945.
      Churchill had predicted exactly when he would die: Jan. 24, 1964.
Tony Dearing, editor of The Bay City Times
      Future YWCA Booked for Lunch programs include:
      Feb. 4: "Medieval Mysteries," with Rev. Andreas Teich; Feb. 11, "Heartfelt Verse - Poetry for Valentine's Day," presented by Sheila Pearsons, Ann & Paul Lutenske; Feb. 18, the books of Elizabeth Berg, reviewed by Margaret Bird; Feb. 25, "A Short History of Nearly Everything," by Bill Bryson, reviewed by Terry Miller; Mar. 4, "The Plot Against America," by Philip Roth, reviewed by Sylvia Robins; and Mar. 11, "As It Is In Heaven," by Niall Williams, reviewed by Barbara Handley Miller.###
---
Arts/Theater Article 689
---

Dave Rogers




Dave Rogers is a former editorial writer for the Bay City Times and a widely read,
respected journalist/writer in and around Bay City.
(Contact Dave Via Email at carraroe@aol.com)

More from Dave Rogers
---
Send This Story to a Friend!
Letter to the editor
Link to this Story
Printer-Friendly Story View
---
--- Advertisments ---