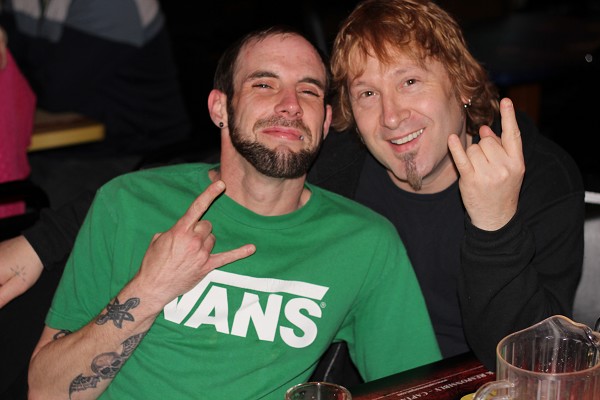 Billy Burton and Bruce LaFrance at Michigan Idol Season 4, Week 2
---
Michigan Idol at WILLEW Welcomes Newcomers and Familiar Faces
April 22, 2012 Leave a Comment
By: Sean Connelly
Week two of Michigan Idol Season 4 saw the attendance triple that of last week. With some returning faces, as well as some brand new to Michigan Idol, Season 4 out at the Willew in Bay City is shaping up to be another fantastic season.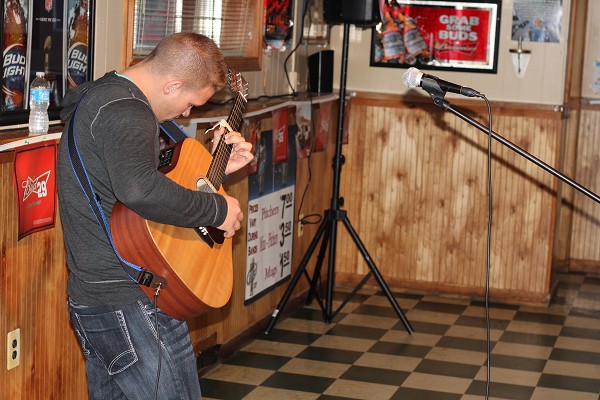 Joey Atchinson prepares for his opening performance!
Joey Atchinson, Season 3 winner, performed once again to kick off the show before taking his seat on the judge's panel. This week also saw the return of seasoned judge Diane Szczepanski. While away from her seat at the judges table, Szczepanski has focused some time on her side business, Boot Candy, which is body jewelry for boots.
Along with all the familiar faces in the crowd. and the competition, was Bruce LaFrance, Season 3 judge and bass guitarist for Spur of the Moment. Bruce brought along a newcomer to the competition, Billy Burton. Burton performed Incubus' Pardon Me, which was more than welcomed by Judge Szczepanski. "I'm a huge Incubus fan," exclaimed Szczepanski, "and I've never heard anyone do them better!"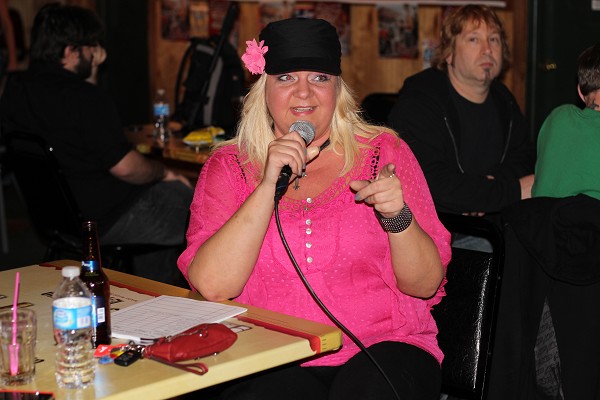 Diane Szczepanski imparting her judge's wisdom.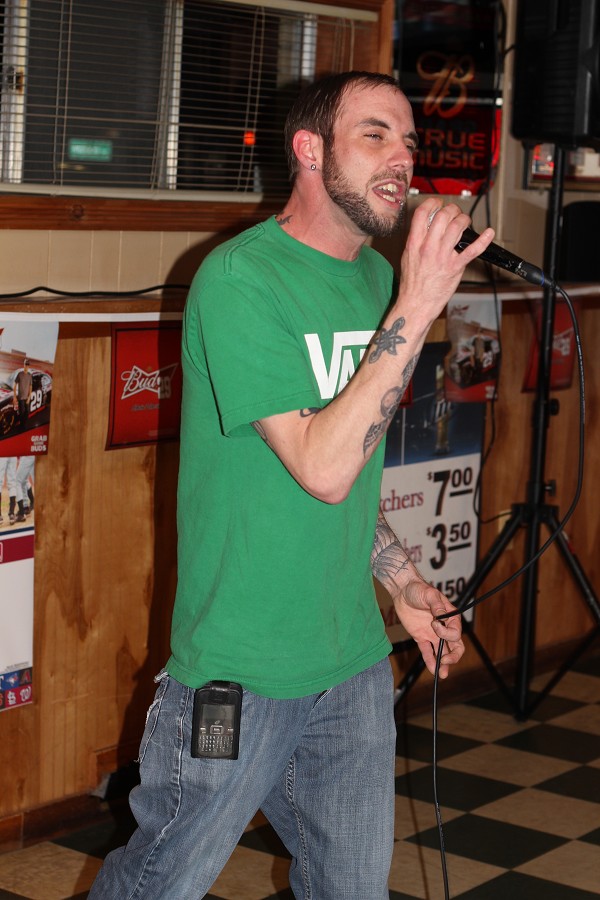 Billy Burton performs Pardon Me.
Billy is a native of Louisville, KY and was in town to visit LaFrance. "Down in Louisville, I play a lot of local shows, either as an acoustic duo or a part of my band, Speed of Sound." Burton is trying to expand his reach as a musician, "I've played a few shows outside of Louisville," said Burton, "I wanted to come see the talent out here."
This season, contestants can win a brand new Schwinn Hope 50 Scooter provided by Steven's Cycle of Bay City. So far, the Schwinn Hope program has helped raise over $100,000 for a very worthy cause. A portion of every sale supports breast cancer awareness and research.
Michigan Idol Season 4 is a ten (10) week competition that will run until June 13th, 2012. Contestants must perform at least 5 of the 10 weeks to qualify for the Schwinn Hope 50 Scooter courtesy of Steven's Cycle of Bay City. Warm-ups start at 7PM every Wednesday at the Willew with the competition starting around 8PM.
L/R Debbie Kirkbride, Kris Pride, Jesse Fisher, Deb Schmeider, Chuck Kirkbride, Dave Sommer

L/R Steve, Amanda Sadrianna, Billy Burton
---
---
---
Send This Story to a Friend!
Letter to the editor
Link to this Story
Printer-Friendly Story View
---
--- Advertisments ---