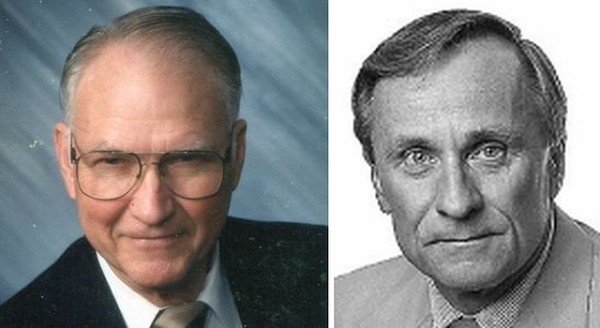 Two who made their own history in the legal profession and have sadly passed on recently, Milt Higgs (L) and Art Pominville (R), got me thinking about Bay County's contributions to political history.
---
Milton Higgs, Art Pominville: Noted Lawyers in the Area's Best Tradition
Bay County is Seat of History-Making Political Movements Led by Titans
Every since lawyer James Gillespie Birney signed a wolf certificate for Mader Tromble in his first act as Hampton Township, Saginaw County justice of the peace in 1842, this has been a center of legal life in mid-Michigan.
Two guys who made their own history in the legal profession and have sadly passed on recently, Milt Higgs and Art Pominville, got me thinking about Bay County's contributions to political history.
Milt was our representative to the Michigan Constitutional Convention that produced our current state constitution in 1963. (At Milt's invitation I happened to be on hand as a reporter when that convention was addressed by former President Dwight D. Eisenhower in 1962). Mr. Higgs also was one of the 300 founders of Delta College, a history-making three county collaborative.
Art was a journalist who became mayor of Bay City and helped shape local government while behind the scenes having influence on state politics. He was a judge advocate general in the Naval Reserve and won honors from the FBI and the U.S. Attorney.
Mr. Higgs and Mr. Pominville followed a long line of local legal and political minds who impacted our county, state and nation, starting of course with James Gillespie Birney who was a resident here 1842-1853.
I admired both men greatly and had many interactions with them, official and unofficial, over the years.
Who can forget other local legal titans as Carl H. Smith, Jim Brooker, Circuit Judges Richard G. Smith, Leon Dardas, John X. Theiler and Eugene Penzien, Michigan Supreme Court Chief Justice Edward M. Sharpe and federal judges Arthur Tuttle and Frank Picard?
Probate Judge Raphael G. Phillips, who lost both his hands in a hunting accident as a teenager, was perhaps the state's longest serving judge, beginning as police justice as a young man with a career spanning more than half a century.
After Birney's move here he started a statewide organizational effort of the abolitionists, anti-slavery zealots who eventually formed the Republican Party in 1854. (This effort and its result is documented in my book: "Apostles of Equality: The Birneys, the Republicans and the Civil War," published by Michigan State University Press.)
The Republicans and Abraham Lincoln backed the cause of universal freedom, a goal of freedom-seekers throughout history beginning with the English who wrung the Magna Carta from the monarch in 1215 and running through the French Revolution, the English Civil War and the American Revolution -- among other movements.
The fact that the organization of such a momentous import should have started here should be more than noteworthy -- despite being little noticed -- among such wellsprings of freedom as Philadelphia, Boston and Washington, D.C.
A close examination of our history over the past half century plus has led me to revelations that I never imagined as a young newspaper reporter beginning work here in 1959.
Besides the emergence of Mr. Birney's prominence in the development of our Republican-Democratic system of government as the leader of the Liberty Party in two runs for President, other local milestones include:
Oscar W. Baker's lawsuit against a railroad in the 1890s that set a precedent requiring a trust for funds granted a minor in a legal judgment;
Florence Tye Jennison's work as research assistant to Illinois Senator Paul Douglas who helped develop Social Security and other reforms for social benefit during the Franklin Roosevelt administration; Miss Jennison was the great-grand-daughter of James G. Birney;
Judge Sanford M. Green's insightful rulings and writings about jurisprudence and corrections philosophies of Michigan in the early 1900s;
The emergence of the Republican Progressive "Bull Moose" movement of Theodore Roosevelt after a raucous state convention at the armory here in 1912;
Continuance of the Republican Progressive tradition in Congress for several decades by onetime mayor Roy O. Woodruff; and
Oscar Baker Junior's work as an activist in the Civil Rights Movement of the 1950s and 1960s in the South.
###
---
Columns Article 7045
---

Dave Rogers




Dave Rogers is a former editorial writer for the Bay City Times and a widely read,
respected journalist/writer in and around Bay City.
(Contact Dave Via Email at carraroe@aol.com)

More from Dave Rogers
---
Send This Story to a Friend!
Letter to the editor
Link to this Story
Printer-Friendly Story View
---
--- Advertisments ---