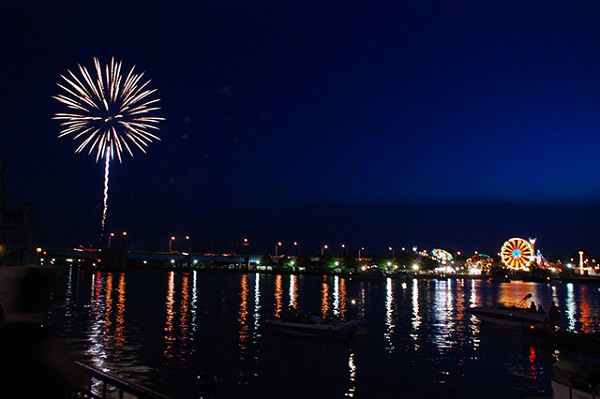 Bay City Celebrates 50 Years of Fireworks!
---
What To Do This Weekend (7/5/12)
(Updated Every Thursday )
What's Happening in Bay City and Beyond
July 5, 2012 Leave a Comment
By: Diane Szczepanski
[Whether it be enjoying a great band, art or partaking in one of Michigan's many summer festivals, there is certainly not a lack of places to go and events to attend in our area. Stay tuned weekly to mybaycity.com. Every Thursday, I'll give you my take on some fun things to do and where my travels might take me]
So...what's on my agenda for this weekend?? Well, let's see..
The place to be this weekend is going to be in the heart of Bay City, MI and the celebration of fifty years of fireworks! The schedule of activities is listed below.
VETERAN'S PARK
- $1.00 Daily Admission
Beer Tent
Thursday, 4 - 11PM
Friday, 4- 11 PM
Saturday, 2PM - 12:00 Midnight
Stage
(at the beer tent)
Thursday,
6-9:45 PM DJ Master Mix by Artie Bee
Friday,
6-9:45 PM "The Beats"
Saturday,
6-9:45 PM Bull Honkey Deluxe
Traders Alley
(north of Vets Bridge)
shopping for every one
unique gifts
food vendors
Skerbeck Carnival Entertainment
Wednesday (July 4th) 2pm - 10pm (wristbands all day)
Thursday - Saturday 12pm - 12am (weather permitting)
Wrist Bands will be available Thursday and Friday from 12 noon to 6:00pm (after 6:00pm individual tickets will be required, wristbands will not work).
COST: for wristbands $22
Also Wednesday July 4th wristbands will be available from 2:00pm til 10:00pm
WENONAH PARK
- $5.00 Daily Admission
Thursday, July 5th, 2012
5:00 PM Gates Open
7:30 - 8:30 PM Jedi Mind Trip (Classic Rock)
8:45 - 9:45 PM "Crossroads" (Both Groups Together)
10:10 PM Fireworks Spectacular (15 minutes)
Friday, July 6, 2012
5:00 PM Gates Open
6:30 - 9:45 PM The "ROCK SHOW" (The Ultimate Rock-n-Roll Tribute Band)
10:10 PM Fireworks Spectacular (15 minutes)
6-9 PM Princess Wenonah Dinner Cruise*
Saturday, July 7, 2012
11:00 - 12:00 PM Baby Pageant
12:00 - 4:00 PM Festival Pageant
6:30 - 9:45 PM The "MAGIC BUS" (A Psychedelic trip to the Woodstock Era")
10:12 - 11:00 PM
10:12 PM Fireworks Spectacular (50 minutes)
6 -9 PM Princess Wenonah Dinner Cruise*
*Princess Wenonah Cruise - 3 hour sunset cruise party featuring live music nightly. Buffet style dinner with cash bar. Boarding begins at 5:30 PM each night - departing at 6PM. Tickets available at Bay City Boat Lines, LLC, office (989) 893-0251.
Also, I would highly recommend making time to visit the
East Bank Market (at Unity Park)
. Vendors will be set up Thursday and Friday from 5p-9p and Saturday 7/7 from 10a-4p.
If you are in the mood for powerful vocals from up and comer, Nashville recording artist,
Dani Vitaney
, head under the big roof at
Chuckie's Bay County Flea Market
on Saturday, July 7th. She will be performing at 8:30 and again after the fireworks. Chuckie's is located on Columbus, 1 block East of Washington Ave.
The Screaming Casanovas
will be playing after the fireworks, at Midland St. Pub, on Friday, July 6th and Saturday, July 7th. Midland St. Pub is located in the heart of the entertainment district on Bay City's Midland Street.
Right next door, on Friday, July 6th, you can catch
Black Squad Entertainment
when
XACT XPOSURE
presents their 2nd annual
"RED WHITE AND YOU"
after fireworks party. 3 DJ's, 3 styles of music, 1 place, 1 night at the
River Rock
.
In between all the festivities, I also plan to make time to visit
My Secret Garden
. Not only are they one of my favorite downtown Bay City stores, they will be highlighting items we made in the USA in honor of Independence Day.
Have fun and a safe holiday!
---
---

Diane Szczepanski




Business-woman by day, confessed boot addict by night and 'wanna-be' writer, music lover and proud Mom of an awesome guitar playing, teen son.

More from Diane Szczepanski
---
Send This Story to a Friend!
Letter to the editor
Link to this Story
Printer-Friendly Story View
---
--- Advertisments ---