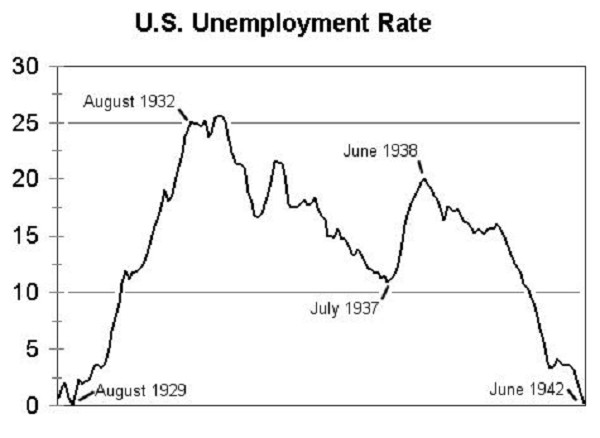 The President, with approval of Congress, could launch a Franklin D. Roosevelt-style government jobs program that would employ millions in the national interest.
---
Why Not Bring Back Government Jobs Like FDR Did During the Depression?
Unemployment Numbers Rise With Welfare Registration, Says Prof. Summers
Expert and pundits assert that unemployment will remain about 8 percent no matter who is President of the United States.
Free trade, job outsourcing, technological advances -- all are blamed for U.S. job losses, with good reason. Government is virtually powerless in the outflow of jobs, but it could put people to work if it had the will.
Actually, the jobless rate is just an estimate, and a shaky one at that.
The Bureau of Labor Statistics randomly surveys about 60,000 individuals around the nation each month. If respondents say they are both out of work and seeking employment, they are counted as unemployed members of the labor force.
The President, with approval of Congress, could launch a Franklin D. Roosevelt-style government jobs program that would employ millions in the national interest.
WHY DON'T THEY?
Some conservatives like the Cato Institute blame regulations, taxes and the old bugaboo, "uncertainty," for job losses and slow job gains.
Many writers observe that government jobs have been under assault by state legislatures across the country. A massive federal jobs program like that under FDR has few advocates in this environment.
So we continue to agonize monthly about the high jobless rate and slow job growth that causes economic distress to millions of families and could easily be fixed with government intervention.
SENSELESS OPPOSITION, SURE!
Kimberly Amadeo of About.com, (a New York Times company) analyzes unemployment causes:
"Sometimes unemployment is a result of advanced technology, such as computers or robots, which replaces worker tasks with machines. If the workers are not retrained, they may not have the skills needed to get a new job. This is known as structural unemployment.
"Unemployment can also be caused by job outsourcing, when a company moves its manufacturing or call centers to another country where labor costs are cheaper. This occurred in many states after NAFTA was signed in 1994. It was also caused when workers in China and India gained the skills needed by American companies.
"Large scale unemployment is caused when consumer demand slows enough that businesses lose too much profit. If they don't expect sales to pick up anytime soon, they then must lay off workers. This usually happens during the recession phase of the business cycle."
Lawrence H. Summers, writing in the Library of Economics and Liberty, states a unique opinion about unemployment statistics:
"Government assistance increases the measure of unemployment by prompting people who are not working to claim that they are looking for work even when they are not.
"The work-registration requirement for welfare recipients, for example, compels people who otherwise would not be considered part of the labor force to register as if they were a part of it. This requirement effectively increases the measure of unemployed in the labor force even though these people are better described as non-employed -- that is, not actively looking for work."
Mr. Summers, a Harvard economics professor, was Secretary of the Treasury under President Bill Clinton and is a prominent liberal.
Phyllis Schlafly, an ultra-conservative Eagle Forum writer, has a strong opinion about the causes of unemployment:
"Since 2000, the U.S. has lost millions of jobs due to outsourcing and in-sourcing. Those are euphemisms for exporting high-paying jobs to low-wage foreign countries, while importing an uneducated underclass willing to work for lower-than-U.S. wages without benefits.
"The winners in this game include the corporate executives and stockholders who benefited by cheap labor, but the losers are the U.S. middle class. In addition to unemployment for those whose jobs were eliminated, the real wages (adjusted for inflation) for the jobs remaining have steadily declined.
"Since 2000, the U.S. manufacturing sector has lost nearly 25 percent of our total manufacturing workforce. Many of those jobs have gone to Communist China, where toys for the U.S. market are made in sweatshops by workers paid as little as 36 cents per hour, and many white-collar jobs have gone to India where telephone operators can be hired for $1 an hour.
Leading economists are waffling on their devotion to free trade. For example, Schlafly notes, Paul Samuelson, Nobel prize-winning economist, faced reality before he died and admitted, "There is nothing in the theory that says trade is always a win-win for every group."
Conservative writer Dr. Jerome Corsi's latest book, "America for Sale," asserts that free trade is turning America into a two-tiered country like many foreign countries, with few of the very rich and a lot of the very poor, while the middle class loses big-time.
In our opinion, government at all levels is failing -- in many cases purposefully -- in its obligation to fulfill the constitutional admonition to "promote the general welfare."
We fail in our patriotic and religious duties to "love thy neighbor as thyself" if we continue to support politicians who work against the national interest.
That view, as we have pointed out above, is supported by conservatives and liberals alike.
Isn't it time we the people opposed the anti-government zealots who are undermining our republic?
Any work, even government sponsored jobs, is better than welfare, isn't it?
Lets put twisted politics aside and put America back to work!
###
---
Columns Article 7146
---

Dave Rogers




Dave Rogers is a former editorial writer for the Bay City Times and a widely read,
respected journalist/writer in and around Bay City.
(Contact Dave Via Email at carraroe@aol.com)

More from Dave Rogers
---
Send This Story to a Friend!
Letter to the editor
Link to this Story
Printer-Friendly Story View
---
--- Advertisments ---