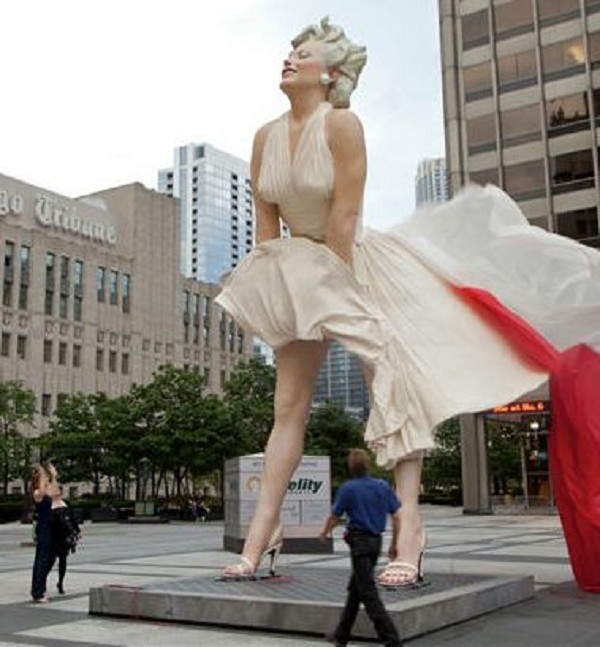 Love It? Build a monument to it.
26 Foot Marilyn Monroe statue in Chicago.
---
Tear Paterno's Statue Down at Penn State
July 15, 2012 Leave A Comment
By: O. J. Cunningham
So people . . . ??
What should we do about this Joe Paterno statue problem at The Penn State University?
Typically, when a culture loves something, they build monuments to it.
When love turns to hate . . . the knee-jerk reaction is always to tear the monument down . . . to push it out of sight . . . so as not to be reminded of the pain and the loss.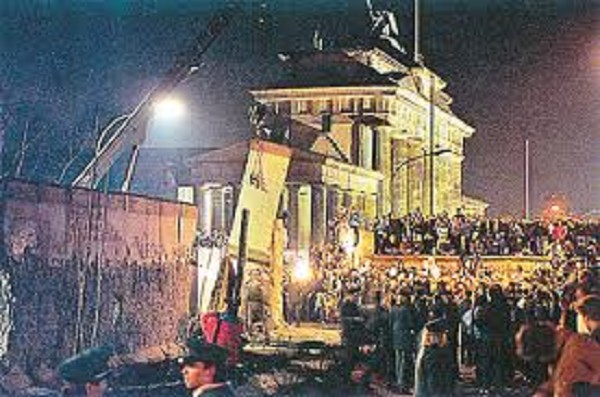 The Berlin Wall, separating East/West Berlin (Germany) comes crashing down.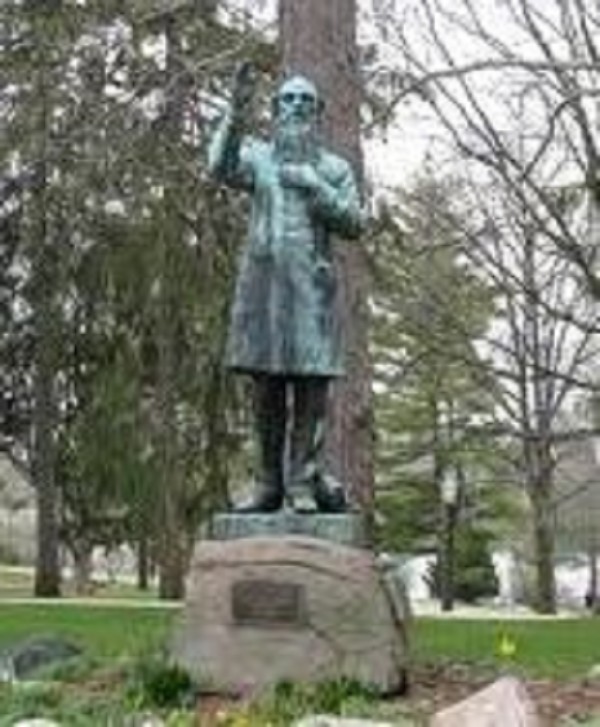 "Fair Catch" (Father) Corby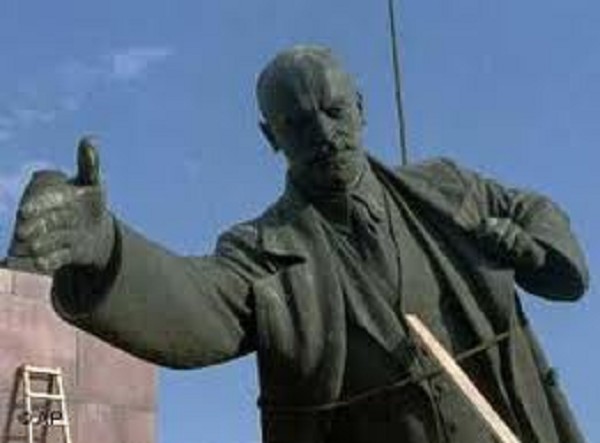 Lenin Statue Comes Down.
I've seen a ton of statues come and go during my day.
The Berlin Wall was the first time I actually watched (TV) while sledge hammers and pick axes tore away the foundation of that German city separator.
From history classes, I do remember that disillusioned Russians took cranes and bulldozers to a larger-than-life figure of Lenin . . . bringing it unceremoniously crashing to Earth.
I think it was a Rolling Stones classic that might have put it best . . .
"I used to love you . . . but it's all over now."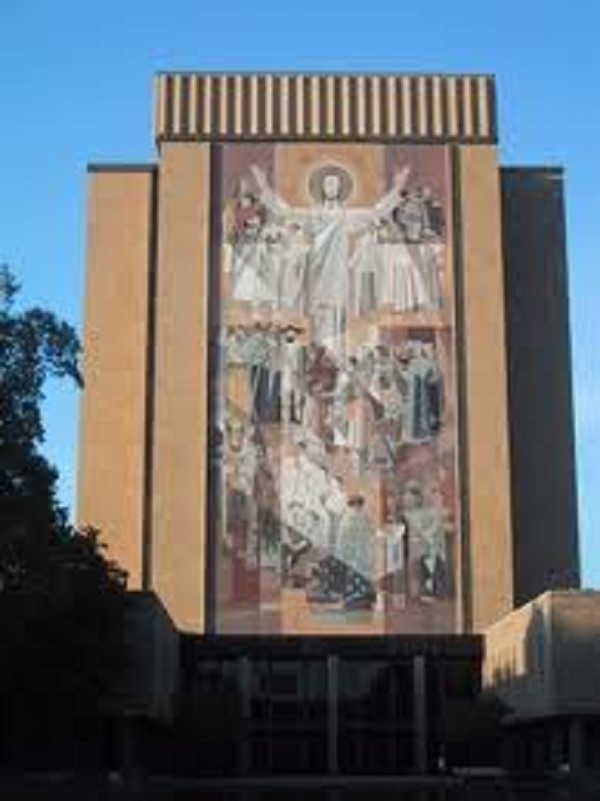 "Touchdown" Jesus
Colleges and Universities are notorious for putting up statues of their oldest, best and brightest shining stars.
I saw this first-hand when I walked onto the South Bend campus as a in-coming freshman student at Notre Dame. The hallowed "Irish" grounds were literally strewn with statues of both founding, religious Fathers as well as legendary, football heroes.
My favorite, back in the 1960s, on the Notre Dame campus was always "Fair-Catch" Corby -- the name was soooooo irreverent -- although when Notre Dame built the Hesburgh Library which featured "Touchdown Jesus" plastered onto the entire side of the 15+ story building . . . I have to admit . . . it immediately became a personal as well as a national football favorite.
Political statues have a history unlike any other.
Let's talk Saddam Hussein -- By the time the Iraqi people got around to tearing down Saddam Hussein's statue, it was pretty much "old news." The political information machine had already bludgeoned us with hourly play-by-play accounts of Hussein's demise.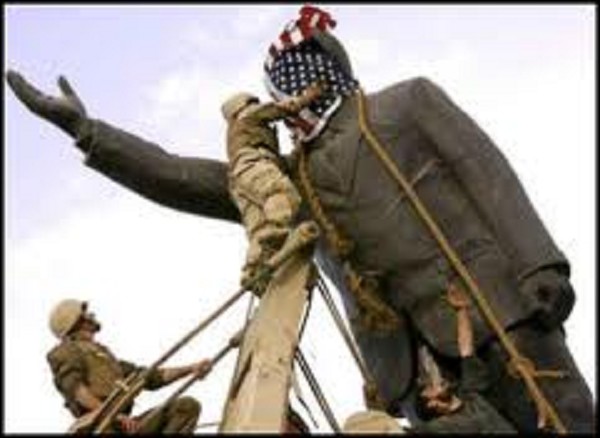 Saddam Hussein -- Torn Down
The ceremonious destruction of the Iraqi Dictator's statue didn't really add much to the story. But I'm sure, in the minds of the people that tore it down, there was a measure of closure and catharsis that was achieved.
And in some respects, that may be exactly what any or all of the statue bashers and wall crushers are looking for . . . a measure of satisfaction for a job well done and seen to the FINISH.
Which brings us back to the Joe Paterno "Statue Issue" at Penn State's Happy Valley.
No question! The statue must go. The locker rooms have to be re-modeled. It's the right thing to do.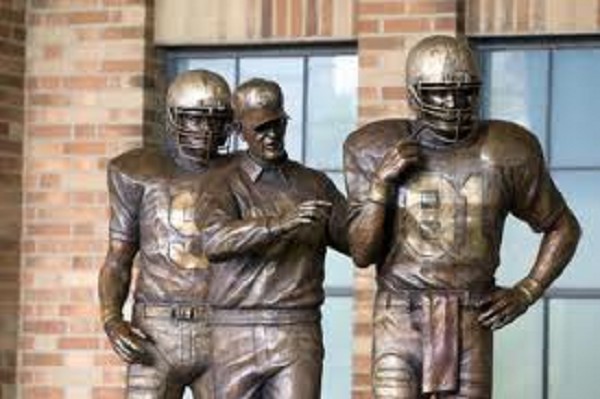 Lou Holtz -- ND Coach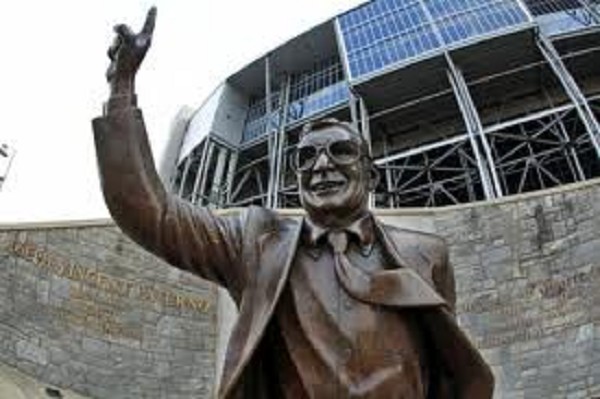 Joe Paterno -- Penn State Coach
It will be decades down the road before anyone, walking across the Nittany Lion campus, can make a Coach Joe Paterno reference without evoking thoughts, memories or even comments pertaining to this horrific pedophile incident at Penn State.
If this was a story concerning Notre Dame's Lou Holtz or the beloved Ara Parseghian . . . I would feel the same.
It's not a witch hunt at Penn State.
It's closure.
The continued presence of the statue or any Paterno reference on campus will only provide a breeding environment in which comments will fester and linger. And that cannot and should not be perpetuated.
Am I saying we should forget?
Absolutely not.
The Penn State University has admitted its wrong-doing.
Bravo to them.
They fired the University President and the Athletic Director. The coach left his position and died. The evil pedophile is going to prison for life.
It's the best that can be done. It's cathartic.
Let's move on.
Take down the Paterno statue . . . Let the healing begin.
---
Columns Article 7182
---

O. J. Cunningham




O. J. Cunningham is the Publisher of MyBayCity.com. Cunningham previously published Sports Page & Bay City Enterprise. He is the President/CEO of OJ Advertising, Inc.

More from O. J. Cunningham
---
Send This Story to a Friend!
Letter to the editor
Link to this Story
Printer-Friendly Story View
---
--- Advertisments ---