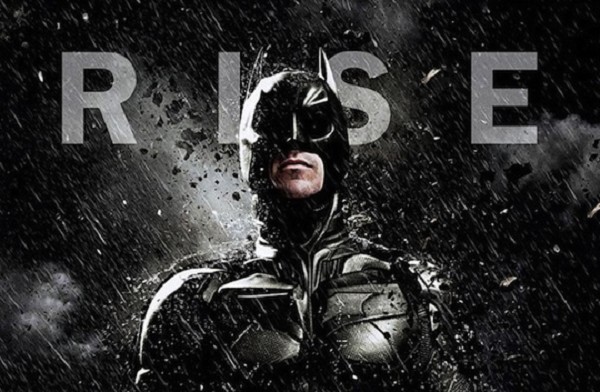 The Dark Knight Rises In To Theaters
(Updated Every Thursday 7/19/12)
July 19, 2012 Leave a Comment
By: Sean Connelly
This is it. This is the week nerds around the globe have been waiting for since Christopher Nolan's masterpiece, The Dark Knight, hit theaters just over four years ago on July 18th, 2008. The Dark Knight Rises is the final movie in Nolan's Batman trilogy, and many expect it to be the movie of the summer.
The Dark Knight Rises is already getting rave reviews, with an average score of 81 on metacritic.com (anything above an 80 percent is fantastic on a site that factors in user reviews, thank you internet trolls), and having already seen the movie myself, I can tell you that the positive reivews are well earned.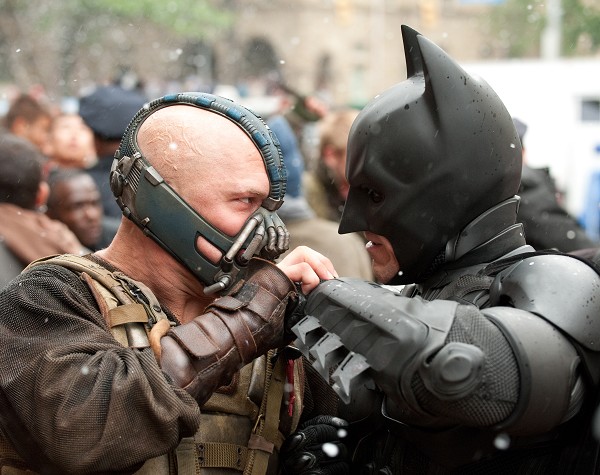 Tom Hardy's Bane vs. Christian Bale's Batman
© MyBayCity.com
TDKR is the only movie being released this weekend, and with good reason.
Nothing
will stand a chance against it at the box office. This nerd will be anxiously awaiting the results from said box office, as I'll be excited to see if the movie will beat Marvel's Avengers in the opening weekend draw.
If you recall, I touched a bit on the fact that I was at San Diego Comic Con last week. While out in the small piece of nerd heaven that was the Gaslamp district, I overheard a conversation. "Avengers had Captain America fans, Iron Man fans, Thor fans, and Hulk fans, there's no way Batman fans alone will be able to outspend all of them combined." said the convention goer. 1) they forgot Joss Whedon (writer/director) fans. 2) It's godd*** Batman. Pretty sure that guy beats everything.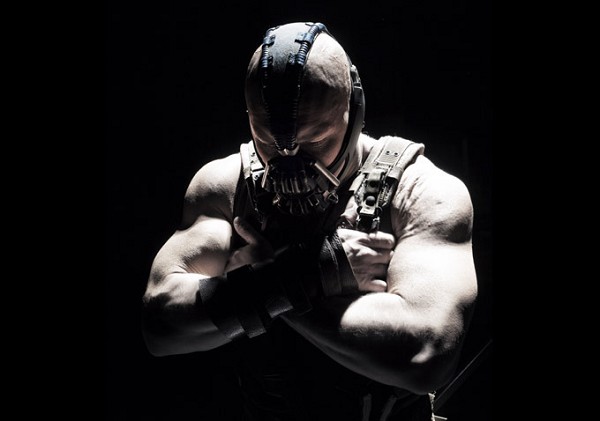 Will he break the "Bat?"
© MyBayCity.com
Because Christopher Nolan has set up this version of the Batman character to be grounded, and to take place in a world that isn't too far off from reality, he's opened up the film to a much broader audience. This isn't just a comic book movie any more. This is an action film with an incredibly riveting story (plot holes not withstanding), one that anyone in their right mind would be crazy to miss.
Keep in mind that this is the final movie in a trilogy, and seeing the first two films comes highly recommended.
Friday July 20th Releases
Genre:
Action, Adventure, Crime
Runtime:
2:45
Rating:
PG-13
Director:
Christopher Nolan
Writer:
Jonathan Nolan, Christopher Nolan
Starring:
Christian Bale, Michael Caine and Gary Oldman
Synopsis:
Despite his tarnished reputation after the events of The Dark Knight, in which he took the rap for Dent's crimes, Batman feels compelled to intervene to assist the city and its police force which is struggling to cope with Bane's plans to destroy the city.
Here's where and when you can see it starting Friday July 20th.
Midland NCG Cinemas:
11:30am, 12:35pm, 2:50pm, 4:00pm, 5:05pm, 6:10pm, 7:30pm, 8:30pm, 9:30pm. 10:50pm*, 11:30pm*
Bay City 8:
11:30am, 11:45am, 12:00pm, 2:45pm, 3:00pm, 3:15pm, 6:05pm, 6:15pm, 6:30pm, 9:15pm, 9:30pm, 9:45pm, 11:00pm*, 11:15pm*
Fashion Square 10:
11:00am, 11:30am, 12:15pm, 1:00pm, 2:30pm, 3:00pm, 4:00pm, 5:00pm, 6:30pm, 7:00pm, 7:45pm, 9:00pm, 10:00pm, 11:05pm*, 11:30pm*
Saginaw 12:
11:30am, 11:45am, 12:00pm, 12:15pm, 12:30pm, 2:45pm, 3:00pm, 3:15pm, 3:30pm, 3:45pm, 6:05pm, 6:15pm, 6:30pm, 6:45pm, 7:00pm, 9:15pm, 9:30pm, 9:45pm, 10:00pm, 10:15pm, 11:00pm*, 11:45pm*
Each theater will be showing The Dark Knight Rises at 12:01am on Friday morning.
As always a * indicates that a showtime is only on days that include late showtimes. Times are subject to change, so please verify them with your local theater.
I highly recommend seeing TDKR this weekend, if you don't mind large crowds that is. While I am not the biggest Bat-Fan, either of the comics or the Nolan films, it's still one hell of a ride and worth checking out if you've seen the other two films.
---
---
---
Send This Story to a Friend!
Letter to the editor
Link to this Story
Printer-Friendly Story View
---
--- Advertisments ---