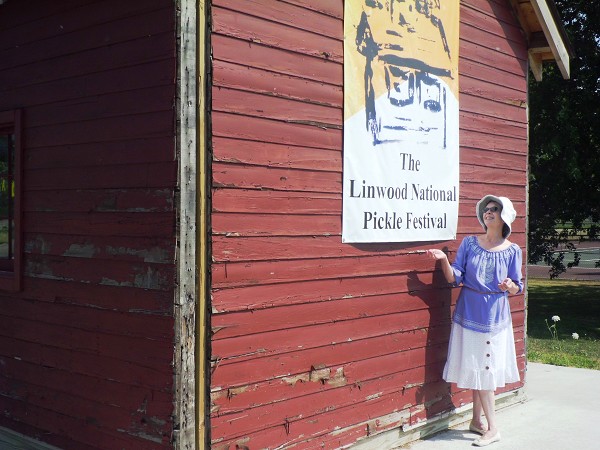 Rachel Walsh, backer of restoration of the historic ice house from the Leona, cottage formerly on Linwood Beach, promotes the pickle festival.
---
NATIONAL PICKLE FESTIVAL: Linwood Sets Schedule for Annual Event Aug. 17-19
August 5, 2012 Leave a Comment
By: Dave Rogers
You're a sourpuss if you miss the National Pickle Festival in Linwood.
The annual event is fast approaching with organizers adding to the list of activities as volunteers come forward.
Here is the lineup so far:
Friday August 17th


Golf Scramble at Green Hills Golf Course 1:00 p.m.
Entertainment Tent by TriCity Icehawks Opens 6:00 p.m.
Men's/Women's Softball Tournament 6:15 p.m.
Bingo 6:00 p.m. - 8:30 p.m.
Entertainment by Groove Circle 8:00 p.m. - 12:30 p.m.
Kids Midway by Tri-City Party Rentals 6:00 p.m. - 9:30 p.m.
Saturday August 18th


Men's/Women's Softball Tournaments Continue 8:00 a.m.
Linwood Grand Parade 10:00 a.m.
Parade Trophies 1:00 p.m.
Kids Midway by Tri City Party Rentals 10:00 a.m. - 9:30 p.m.
Pickle Festival Bike Show by Bubba's 12:00 p.m. - 3:00 p.m.
Entertainment Tent by TriCity Icehawks Opens 12:00 p.m.
Bingo 11:00 a.m. - 9:00 p.m.
Entertainment by Bull Honkey 8:00 p.m. - 12:30 p.m.
Sunday August 19th


Men's/Women's Softball Tournaments Continue 8:00 a.m.
Bingo 12:00 p.m. - 6:00 p.m.
Entertainment Tent by TriCity Icehawks Opens 12:00 p.m.
Entertainment by Steve Drzewicki 12:00 p.m.
Kids Midway by Tri-City Party Rentals 10:00 a.m. - 5:00 p.m.
The 36th annual pickle festival is being organized by a board consisting of Doug Williams, president; Dennis Jean, vice president; Denise Sylvester, treasurer; Denise Jean, secretary; and trustees Mary Jane Williams and Carol Plochl. Contact: 989-697-3825, e-mail linwoodpicklefest@gmail.com.
Located near the pickle festival site at the Linwood Village Park is a historic ice house once on the site of the Leona, a cottage formerly located on Linwood Beach Road. The Leona was one of the first summer homes built along the lakeshore and is a fine example of the Arts and Crafts style popularized around the turn-of-the-century by Gustave Stickley.
See MyBayCity.com July 11, 2010, "Linwood Icehouse Museum."
The ice house is in the process of being restored under leadership of Rachel Walsh, daughter of former Leona owner Frank Wolfarth Walsh, and Larry Chambers.
Rachael Walsh, of Bay City, whose father Frank Wolfarth Walsh inherited the property that held the Leona Cottage and the icehouse, is the chairman of the Icehouse Museum board. She recalls on her blog:
"The icehouse was built in 1911, and in the later years, Frank W. Walsh had bookshelves installed inside the icehouse, along with a bar and table, where he could do his calligraphy and read books.
"Everyone who knew him would talk about books or writing with him, or sit and have a glass of wine with him in there. He tried to inspire others to write. After Frank Walsh passed away, the cottage, including the icehouse, was sold to Sara and Kevin Smith, of Bay City, and the icehouse was dismantled segment by segment in 2009, and about a year later, reassembled in the Linwood Bicentennial Park, where they had to build a new cupola on it."
Ms. Walsh is collecting information from those who used to work the icehouses, and was told that there were huge ice crews to help cut the ice from the bay and get it back to shore and into the icehouses. She says how, in the past, there were icehouses scattered around the Linwood beach area.
The first annual Pickle Festival was held at Linwood Bicentennial Park in July of 1977 at the suggestion of Larry Chambers and supported by Terry Hoyle as a way to raise money for the park. Many cucumbers are grown in the area and the Janicke family was one of the largest briners of pickles in the Linwood area. Larry Chambers who was president of the Linwood Civic Improvement at the time contacted Pickle Packers International and they donated many pickle items for the festival.
The program for the first festival was one page and had four advertisements. The festival had fourteen blooper ball teams, a tennis tournament, anything goes contest, two parades, kiddie rides and games, and pony rides. Aunt Janes Pickle Company donated thirty five cases of jar pickles for giveaways.
In 1979 a third day was added to the Pickle Festival along with music in the beer tent by Disco John Maxwell and the first band to play was called the Side Walkers.
In 1984 Mr. Richard LaFlamme registered the name "National" to the festival and it is now called the Linwood National Pickle Festival.
Over the years events for the festival have come and gone with some of the current ones being: The Queens Pageant on Thursday night, and the car show and bike show on Saturday.
Donations of cases and other items have been graciously given by many companies over the years: Heinz Pickles, Secklers Pickles, Vlasic Pickles, Freestone Pickles, Mt. Olive, Bay Valley Foods, Bay View Mr. Chips, and Pickle Packers International are but a few of them.
All monies raised from the festival are used for maintenance, mowing, and improvements of Linwood Bicentennial Park a tax exempt organization.### ###
---
---

Dave Rogers




Dave Rogers is a former editorial writer for the Bay City Times and a widely read,
respected journalist/writer in and around Bay City.
(Contact Dave Via Email at carraroe@aol.com)

More from Dave Rogers
---
Send This Story to a Friend!
Letter to the editor
Link to this Story
Printer-Friendly Story View
---
--- Advertisments ---