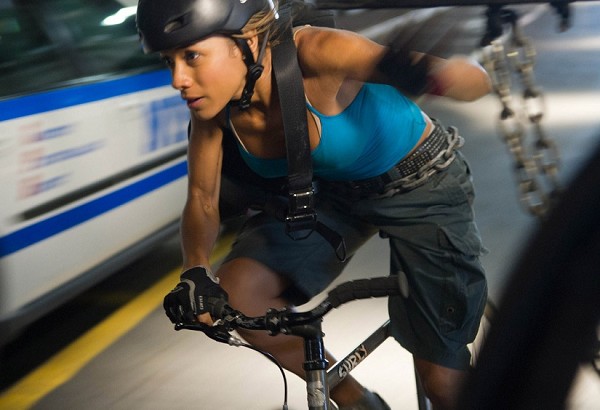 Dania Ramirez in Premium Rush
---
Run For Your Life!
(Updated 8/23/120
(Or A Political Office)
August 23, 2012 Leave a Comment
By: Sean Connelly
Running is the name of the game this weekend. Whether we're talking about Premium Rush, where Joseph Gordon-Levitt's Wilee bike-parkours his way around Manhattan running from everyone that wants the package he is delivering, or Dax Shepard running from his past with Bradley Cooper and Kristen Bell along for the ride, and even 2016: Obama's America, where we get a glimpse of what one man thinks our great country will be if President Obama is re-elected after his run for a second term.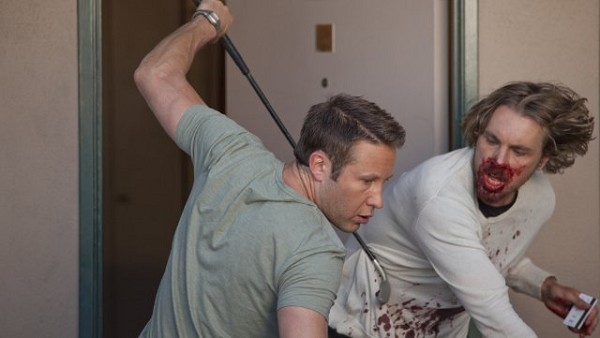 Things get a little viloent in this comedy.
© MyBayCity.com
Starting with Premium Rush, a movie that's premise might not sound too enticing, it actually looks really good. Although, that might be partly due to the overly exciting titles that play during the trailer, it's got a pretty good cast and some crazy stunts that can definitely carry you through the 91 minutes film.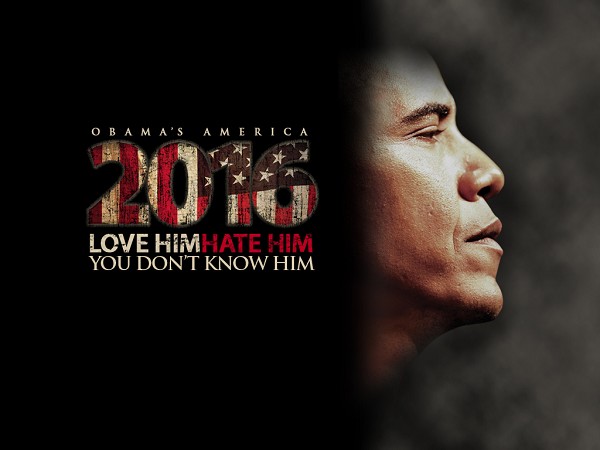 2016: Obama's America
© MyBayCity.com
2016: Obama's America is definitely a political documentary, and while I feel that some of these can be very informative, most of these types of movies are too biased one way or the other for me to approve seeing them. I can't say if 2016 will be in that category, but with the trailer seeming to paint splitting America in to two differing factions in a negative light I have high hopes that this won't be one of them. Take a look at the trailer below and then head over to 2016themovie.com to see if this is something for you.
On to my top pick for the weekend, Hit and Run. I honestly didn't even know this movie existed until I took a peak at what was coming out this week (same goes for 2016), but man does it look fun. It doesn't hurt that it's got some of my favorite people from Hollywood running around in it (Kristen Bell and Bradley Cooper in particular), but it's also got an interesting plot and some decent and comedic action.
Friday August 24th Releases:
Premium Rush
Genre:
Action, Thriller
Runtime:
1:31
Rating:
PG-13
Writer:
David Koepp, John Kamps
Director:
David Koepp
Starring:
Gordon Joseph-Lovitt, Michael Shannon, Dania Ramirez
Synopsis:
In Manhattan, a bike messenger picks up an envelope that attracts the interest of a dirty cop, who pursues the cyclist throughout the city.
Where and when you can see it starting August 24th:
Midland NCG Cinemas:
11:00am, 1:05pm, 3:10pm, 5:25pm, 7:35pm, 9:40pm, 11:45pm*
Bay City 8:
12:50pm, 3:00pm, 5:20pm, 7:40pm, 9:55pm, 12:00am*
Saginaw 12:
11:10am, 1:15pm, 3:20pm, 5:25pm, 7:30pm, 9:35pm, 11:45pm*
While filming, Joseph Gordon-Levitt rode his bike into a cab and smashed into the rear windshield, shattering it. He managed to block his face with his arms and needed 31 stitches on the right. Despite the large amount of blood streaming down his arm, he thought it was "f'ing cool." He took responsibility saying, "No, but it was my fault, I was going too fast."
2016: Obama's America
Genre:
Documentary
Rating:
PG
Writer:
John Sullivan
Director:
Dinesh D'Souza, John Sullivan
Starring:
Dinesh D'Souza
Synopsis:
2016 Obama's America takes audiences on a gripping visual journey into the heart of the worlds most powerful office to reveal the struggle of whether one man's past will redefine America over the next four years. The film examines the question, "If Obama wins a second term, where will we be in 2016?"
Where and when you can see it starting August 24th:
Fashion Square 10:
11:25am, 1:45pm, 4:10pm, 6:50pm, 9:15pm
Saginaw 12:
11:00am, 1:05pm, 3:10pm, 5:15pm, 7:20pm, 9:25pm, 11:30pm*
Here's some additional info about the film: "Across the globe and in America, people in 2008 hungered for a leader who would unite and lift us from economic turmoil and war. True to Americas ideals, they invested their hope in a new kind of president, Barack Obama. What they didn't know is that Obama is a man with a past, and in powerful ways that past defines him--who he is, how he thinks, and where he intends to take America and the world. Immersed in exotic locales across four continents, best selling author Dinesh DSouza races against time to find answers to Obamas past and reveal where America will be in 2016. During this journey he discovers how Hope and Change became radically misunderstood, and identifies new flashpoints for hot wars in mankind's greatest struggle. The journey moves quickly over the arc of the old colonial empires, into Americas empire of liberty, and we see the unfolding realignment of nations and the shape of the global future. Emotionally engaging, 2016: Obama's America will make you confounded and cheer as you discover the mysteries and answers to your greatest aspirations and worst fears.
Love him or hate him, you don't know him."
Hit and Run
Genre:
Action, Comedy, Romance
Runtime:
1:40
Rating:
R
Writer:
Dax Shepard
Director:
David Palmer, Dax Shepard
Starring:
Dax Shepard, Kristen Bell, Bradley Cooper, Michael Rosenbaum, and Tom Arnold
Synopsis:
A young couple that risks it all when they leave their small town life and embark on a road trip that may lead them towards the opportunity of a lifetime. Their fast-paced road trip grows awkwardly complicated and hilarious when they are chased by a friend from the past, a federal marshal, and a band of misfits.
Where and when you can see it this weekend:
Midland NCG Cinemas:
12:10pm, 2:30pm, 4:55pm, 7:15pm, 9:30pm, 11:45pm*
Bay City 8:
12:30pm, 2:50pm, 5:10pm, 7:30pm, 9:50pm, 12:05am*
Fashion Square 10:
11:40am, 2:00pm, 4:35pm, 7:05pm, 9:35pm, 12:00am*
Saginaw 12:
12:20pm, 2:35pm, 4:55pm, 7:15pm, 9:45pm, 12:00am*
2016: Obama's America will be shown at midnight on Thursday August 23rd at the Saginaw 12 only, while Premium Rush will be shown at midnight on August 23rd at the Midland NCG Cinemas and the Saginaw 12 theater.
As always, a * indicates a showtime only available on days with late shows and please double check showtimes with your local theater as they are subject to change.
---
---
---
Send This Story to a Friend!
Letter to the editor
Link to this Story
Printer-Friendly Story View
---
--- Advertisments ---