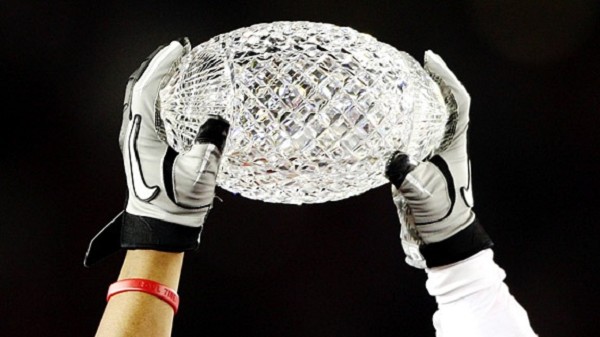 The BCS Trophy.
---
How Irish Win Has Become Important For 10-0 Notre Dame
November 11, 2012 Leave a Comment
By: O. J. Cunningham
There's no playoff in college football.
Don't be fooled by the recent B.S. rhetoric about an impending multiple team playoff scenario coming to fruition in the next few years.
Until the format is set down in black and white . . . best bet is that the "fat cat" "powers that be" will have more to say about who gets in . . . rather that who might be more deserving.
From my perspective: If Notre Dame even gets close . . . They're in . . .
Reasoning behind this: Notre Dame has National Love/Hate potential
Love the Irish or Hate the Irish . . . You'll watch.
And trust me . . . there's no other reason for playoff sports than to get fans to watch and advertisers to pay.
Point is . . . The BCS Playoff System doesn't care if you win . . . but how you win. Best example in recent years has been the lack of respect for undefeated teams like Boise State.
Now it's Notre Dame's turn to play the role of the frustrated, undefeated football team that nobody wants to play.
The Irish are #1 (.990) in the computer portion of the BCS -- The part of the equation that only pays attention to statistics and strength of schedule.
Kansas State is #2 (.970) and Oregon is third (870).
But Notre Dame gets no respect from the Coach's Poll or from the A.P Writer's Poll.
Why?
Because of the way the Irish win . . . With (Manti Te'o) Defense . . .
A 20-17 win over Purdue . . . A 13-6 win over Michigan . . . Overtime wins against Stanford and Pittsburgh . . . None of these have endeared the Fighting Irish to the human voters (Coaches and Writers) in the BCS system.
In a year from now (January 2014), four teams will participate in a mini-playoff for the college football National Championship. This year, Notre Dame will be odd-man out when K-State and Oregon battle for #1.
Personally, as an ND Grad, I've enjoyed the ride and never really expected that Coach Kelly could go undefeated with the 2012 QB corps.
If Oregon or K-State stumble, the Irish will "step up."
Until then, ND will just continue to win.
And Manti Te'o might just win the Heisman Trophy.
Wouldn't that be ironic?
---
---

O. J. Cunningham




O. J. Cunningham is the Publisher of MyBayCity.com. Cunningham previously published Sports Page & Bay City Enterprise. He is the President/CEO of OJ Advertising, Inc.

More from O. J. Cunningham
---
Send This Story to a Friend!
Letter to the editor
Link to this Story
Printer-Friendly Story View
---
--- Advertisments ---