GM Spokesperson Paul Ballew Gives Insiders View of Global Sales Struggle
What GM Needs to Remain Competitive is Tri County Economics Club Theme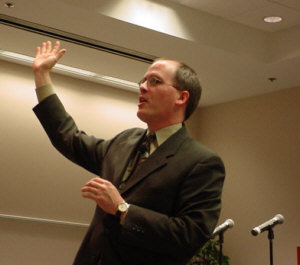 Paul Ballew charms the audience with his presentation on GM at the Tri County Economics Club.
For 18 years, all except last year, Paul Ballew has come to Bay City/Saginaw to tell local business types about how good things are at GM. This year was little different, except that he may have had his fingers crossed behind his back for luck.
As tough as the market is today, Ballew said, GM's position is much better than in 1987 when he first addressed the Tri County Economic Club meeting at Tri City Airport. Mr. Ballew is GM's Executive Director for Global Market and Industry Analysis.
Every day a new negative GM headline brings shock waves to local GM suppliers like Bay City PowerTrain and Delphi in Saginaw, and local workforces reportedly continue to shrink.
Many local workers are from Flint and other areas because of seniority provisions of labor agreements, according to inside sources.
GM reportedly is pushing the UAW for health care concessions, and the union is said to be receptive out of concern for job preservation. "We want to be a good corporate citizen but at some point we will have to do things people aren't going to like," said Mr. Ballew.
Although GM sales are "very strong from a revenue standpoint," said Mr. Ballew, industry projections are for a 10 percent drop in GM sales and profits as much as 80 percent below expectations.
Mr. Ballew's message is positive, but guarded: As opposed to 1990 when the giant automaker was bloated, inefficient and had no cash reserves, GM today has $20 billion in cash and the ability to generate a like amount if need be. GM pension fund is "in good shape," he said.
"The health of the GM balance sheet is very good," enthused Mr. Ballew, once a senior economist with the U.S. Federal Reserve System specializing in the automotive sector. He cited "sound fundamentals" in the U.S. economy, including low inflation, high home ownership and home and vehicle assets."
"We've come a long way," said Mr. Ballew, "since my job with the Fed included assessing whether GM would default on consumer paper (debts). But everything we've done has only gotten us back in the ball game. The biggest challenge we have is how to accelerate improvement of operating performance."
Major problems for GM are brutal international competition, high gas prices that reduce demand for large sport utility vehicles and escalating health care costs, in GM's case $6 billion per year.
"Competition is unbelieveably intense," he said, "every day the bar is raised higher, demanding more productivity gains. The competition is intense, unrelenting and accelerating."
Contrary to rumors, GM is not going to cut capital spending and will not scrap its plans for the 2008 models, though it will make changes, said Mr. Ballew.
However, his presentation gives little solace to local suppliers. He predicted that consolidation of suppliers would continue to be the trend.
The auto industry today has about 25 percent of its production in new vehicles. GM is keeping pace with a new generation of trucks, new Cadillac models and hot new Chevys like the Cobalt. Thirteen GM models are in the top third of their segments and Buick and Cadillac are in the top five nameplates, Mr. Ballew said. Top awards have recently been won byChevy Malibu, GMC Sierra and Chevy Tahoe. The Harbour Study showed GM with a 32 percent improvement in all categories of cars.
"The economic outlook is brighter than what many may assume," he said.
The target is a $1.5 trillion global market that is being flooded with capital investment in production. "Quality is better than it has ever been," said Mr. Ballew. Consumers are taking advantage of the current situation and are "buying up," he said. "It's a great time to be a consumer interms of selection and affordability."###
---
---

Dave Rogers




Dave Rogers is a former editorial writer for the Bay City Times and a widely read,
respected journalist/writer in and around Bay City.
(Contact Dave Via Email at carraroe@aol.com)

More from Dave Rogers
---
Send This Story to a Friend!
Letter to the editor
Link to this Story
Printer-Friendly Story View
---
--- Advertisments ---