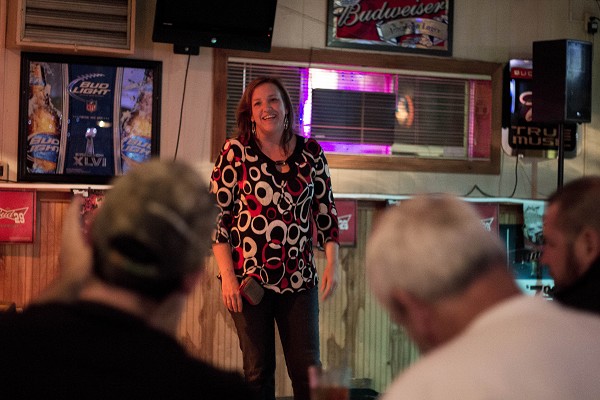 Debi Schmeider wins Week 4!
---
An Exciting Week for K4K
October 7, 2012 Leave a Comment
By: Sean Connelly
Karaoke for Ka$h at the Willew Lounge saw a return to form for week 4. Eight contestants, their supporters, and additional patrons packed the Willew for a night filled with incredible talent and entertainment.
Jesse Fisher, the $50 Week 2 K4K winner, was excited to see a full house. "It's great," said Fisher, "the more people I get to sing in front of, the better. It's good experience for the final night."
While Fisher is just starting his potential singing career, and impressing many in the process, there are others in the competition who have quite a bit of experience. Last week's winner, Lisa Lambert, has won multiple karaoke competitions in the past. Karaoke for Ka$h Week 1 winner, Mandy Glashauser, has a background in musical theater. Adding to the list of proven talent was this week's winner Debi Schmeider.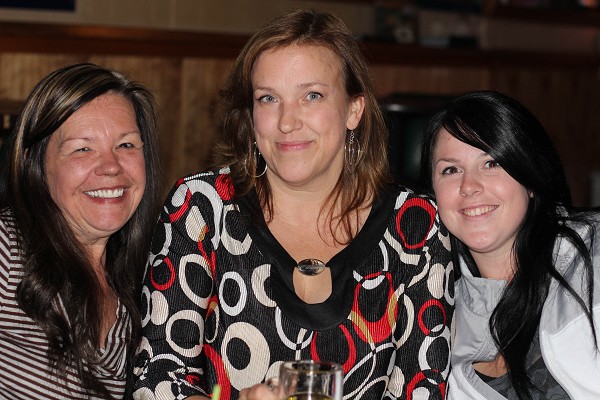 Debi Schmeider wins week 4!
L/R Berta Burns, Debi Schmeider, and Jessica Fowler
Photo by Sean Connelly
© MyBayCity.com
Debi has been singing in various competitions for over 10 years now, but has only recently started at the Willew for what was Michigan Idol, and is now Karaoke for Ka$h. "I'd heard about it from a radio commercial when it was at the Stables," said Schmeider, "but I never went there. I was excited when it came to the Willew [...] I like the atmosphere here much better."
Debi has been around the competition in all of it's iterations at the Willew, even placing in the top 3 for the final season of Michigan Idol this past spring, and that isn't about to change just because her spot is guaranteed for the final night. "Oh, I'll be back every week until the finale."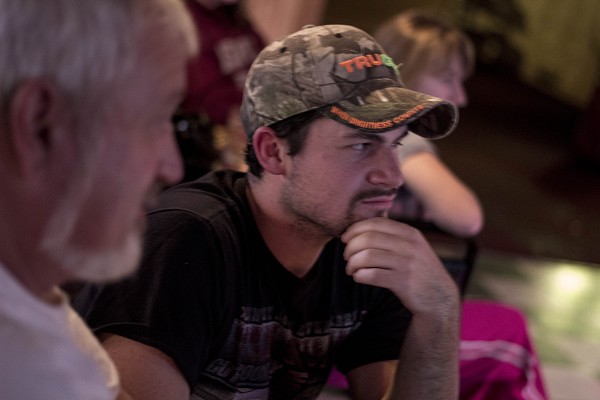 Judges Dave Bernreuter (left) and Travis Patten (right) look on.
Photo by Sean Connelly
© MyBayCity.com
With the final week for Karaoke for Ka$h rapidly approaching, the time to enter and secure your invitation to the final night of the competition is now. While there are still 5 chances left to qualify, not many can enter and win in a single night. "Getting advice and recommendations from the judges is crucial," says Jesse Fisher, "you want to give yourself as much of an advantage as possible."
Karaoke for Ka$h is held every Wednesday night at the Willew Lounge with warm-ups starting at 8PM, with the competition starting around 9PM. The final night for Season 1 of Karaoke for Ka$h is Wednesday November 14th at the Willew Lounge. The winner of the competition will be awarded a $500 cash prize.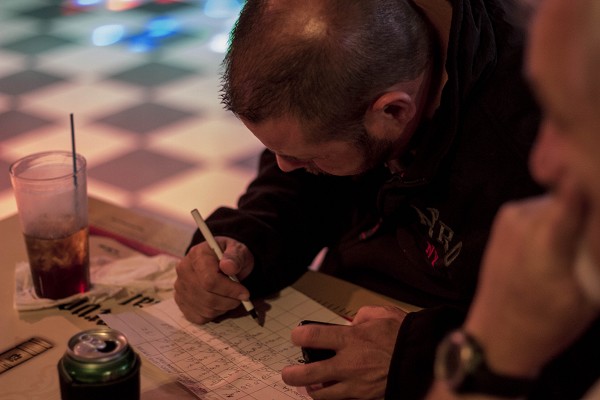 Judge Shawn Doyle tallies up the scores.
Photo by Sean Connelly
© MyBayCity.com

L/R Josh watts, Chuck Kirkbride, Debi Schmeider, Mandy Glashauser
Photo by Sean Connelly
© MyBayCity.com

L/R Helen Hendrick, John Howley, Dwight Hankins, Jesse Fisher
Photo by Sean Connelly
© MyBayCity.com
---
---
---
Send This Story to a Friend!
Letter to the editor
Link to this Story
Printer-Friendly Story View
---
--- Advertisments ---