Pumping Gas . . .
It's Just Not Fun Anymore . . .
April 5, 2005 Leave A Comment
By: O. J. Cunningham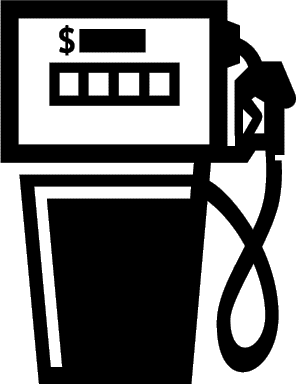 Gas Prices Hit $2.41 Per Gallon - Regular/Unleaded
I bought gas on Tuesday.
It wasn't pretty.
There are a lot of angry people pumping gas in Bay City this week. The sun is out. Many had sunroofs open, and some convertible tops were down.
On Tuesday afternoon, it was close to 75 degrees. People wanted to be happy about the change in the weather. Ahhhhh, Spring. But there were frowns everywhere. Nobody was happy with gas at $2.41 per gallon for regular unleaded.
I tried to make eye contact with a pretty blondgirl pumping gas into her red convertible. She was one unhappy girl. Arms crossed over her chest, she was leering at the whirling dials of the gas pump Angry was not the word to describe her state of mind. She was definitely PO'd. She opened and then slammed the driver's side door of her car as she grabbed her purse from the front seat and went in to pay her bill.
I looked at her gas pump total. $42.00
All the while, my Explorer was sucking gasoline thru the pump's hose at an alarming rate . . . $10 . . . $15 . . . $20 . . .
The guy on the other side of my pump was pumping liquid gold into a gas guzzler of something that was a throwback from the late 1970s. I think it was one of those older, larger, heavier, Tank-like Pontiac Grand Prix that weighed in at 4,000 pound plus. His mileage must be horrible . . . no doubt, single digits.
The guy never once looked up from the ground as he patiently waited for the "clunk" that would signify the end of his gasoline ordeal.
The blond in the convertible angrily "squealed" out onto the street and sped of into the near record-breaking summer temperatures.
My pump's dials were still wildly spinning . . . $25 . . . $30 . . . $35 . . .
The guy's pump next to me clunked. He topped off his tank, seemingly resigned to the final total. He took his credit card receipt and drove off. I checked his total . . . $45.25 . . .
A week ago, I paid $47.05 to fill up out on I-75 and I'msure the price was $2.18 per gallon. The dials on my pump were still whirring. "Good Grief," I muttered. "April 2005 and I'm finally going to break the $50 barrier."
$40 . . . $45 . . . "Unbelievable," I thought. Now I was kinda getting mad too. I finally realized that it was gonna cost me over $50 bucks for a tank of gas $46 . . . $47 . . .
But I took a bit of solace in the fact that at least I'd have a story to tell. "Hey guys," I'd announce. "I finally broke the $50 barrier at the gas pump. Can you believe it?"
But it was not to be . . .
Without warning, the unimaginable happened. $48 . . . $48.50 . . . $49 . . . the madly spinning pump dials started to slow. The spinning numbers began to crawl much like a video cassette slows as it finishes a rewind.
$49.20 . . . $49.50 . . . $49.80 . . . $49.95 . . . 96 . . . 97 . . . 98 . . . 99 and came to rest SQUARELY on $50.
$50 . . . EXACTLY.
No glory. No joy. No record-setting,memorable pump total. Just plain old ordinary . . . boring $50.
Now, I was mad too. I ripped my receipt from the pump and went inside for an explanation.
"Hey," I asked. "How come the pump stopped at $50?"
"Lots of creditcards stop at $50," the female cashier announced without looking up. "If you want more, you have to start over. It's your card . . . not our pump."
No record . . . No moment in time. No song and dance. No lasting memory to share with the grand kids some day . . .
Cars are a big deal in every person's life. We've all enjoyed fabulous freedoms and glorious moments behind the wheel of an automobile. All of a sudden, the happiness associated with driving is missing.
Drivingis nothing but $2.41 per gallon for unleaded regular.
No wonder every-body at the gas pump is PO'd.
It's just not fun anymore.
---
Columns Article 747
---

O. J. Cunningham




O. J. Cunningham is the Publisher of MyBayCity.com. Cunningham previously published Sports Page & Bay City Enterprise. He is the President/CEO of OJ Advertising, Inc.

More from O. J. Cunningham
---
Send This Story to a Friend!
Letter to the editor
Link to this Story
Printer-Friendly Story View
---
--- Advertisments ---