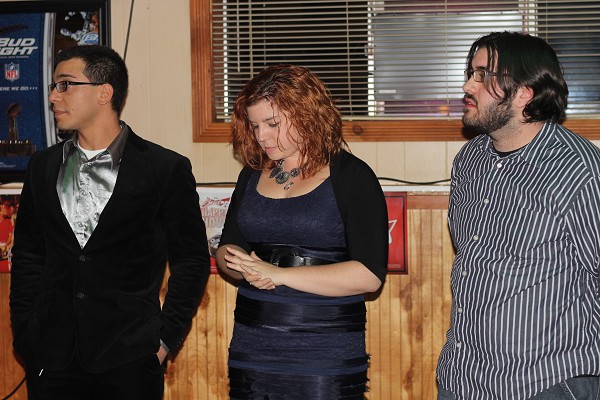 THREE-WAY TIE -- (L/R) Roy Facundo, Mandy Glashauser and Jesse Fisher
---
Mandy Glashauser Wins in Overtime at Willew's Karaoke For Ka$h Finals!
Three-Way Sing-off Determines Winner!
November 18, 2012 Leave a Comment
By: Sean Connelly
It's been said before that Karaoke for Ka$h was a season full of firsts for the competition's storied history. It was the first time (including Michigan Idol) that we've seen a duet win, first time contestants taking home prizes, and the first time there's been nightly winners. This is also the first time in the competition where we've seen the final decision result in a tie, and to make it even more exciting, it was a 3-way tie at that!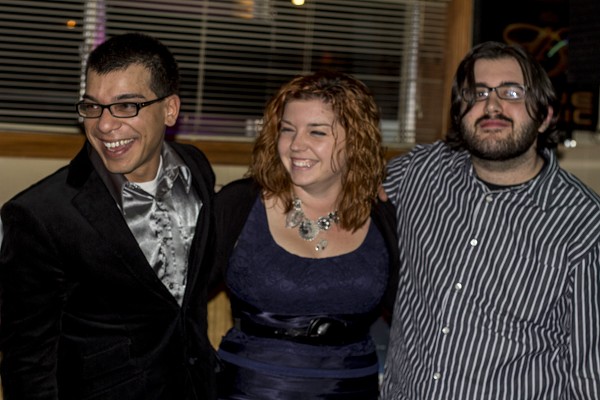 The 3 finalists embracing each other
Photo by Sean Connelly
© MyBayCity.com
The Willew Lounge in Bay City was packed for the final night of Karaoke for Ka$h, filled with fans and patrons alike. "It's great to see this place so full again!" said former K4K judge Heather Emmons. "The sing-off was so much fun!"
Out of a possible 180 points that each contestant could accumulate from the judges, three of them received a score of 177 points. Just three points off from a perfect score. "The other competitors were incredible!" said finalist Mandy Glashauser. "There was a lot of talent, and so much personality. All of the performances were so very different and wonderful. It definitely pushed me to try new things."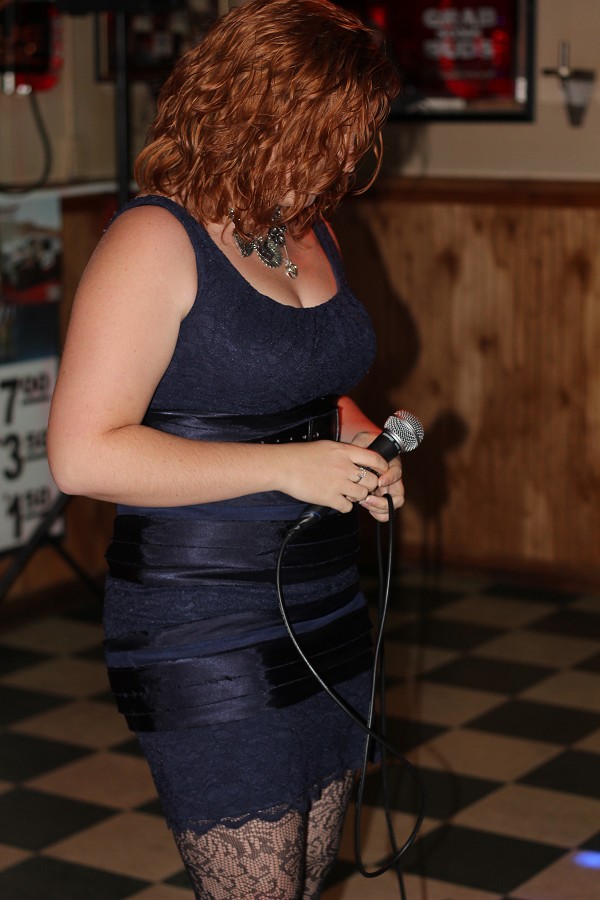 Mandy prepares for her final performance.
Photo by Sean Connelly
© MyBayCity.com
The three-way tie was between Roy Facundo and two former Michigan Idol top-3 finalists Jesse Fisher and Mandy Glashauser. The three embraced each other as the results came in from the initial competition, but once the sudden death sing-off began it was all business for the finalists.
Each one of them brought it to their final performance, with the crowd behind all three competitors. Former judge Heather Emmons found it hard to decipher the winner. "The judges sure have their work cut out for them! They're all (the contestants) so good tonight!"
This week also saw the first time the judges were absolutely silent for their scoring. "There's nothing left to say," said Judge Paten, "this is it for them."
Mandy Glashauser wasn't as much a fan of the silent judges. "It made things go a lot faster, but I liked hearing what they thought of the performances."
For the final performances the judges sat in separate areas of the bar to avoid seeing each others' scores. But the tallies were just as similar. When the results came in to host Josh Sharrow he simply exclaimed, "Oh boy."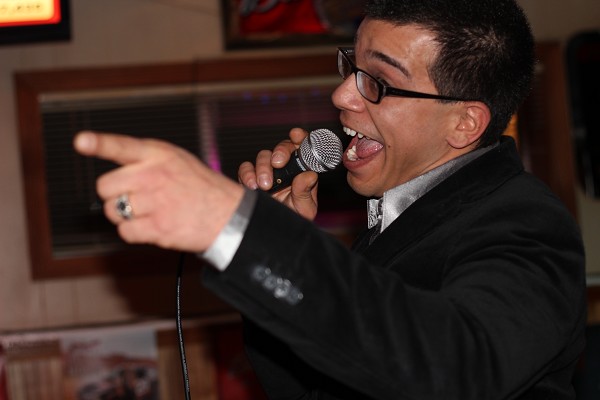 Roy Facundo in the sudden death round!
Photo by Sean Connelly
© MyBayCity.com
Finally, after a few minutes of adding everything up, Sharrow came back out in front of the crowd that was bursting with anticipation. Facundo, Glashauser, and Fisher were center stage, continuing to embrace each other for support, each of them hoping that they could add their names to the list of winners that includes names like Dani Vitany, Joey Atchinson, Travis Paten, and Matt Ryan. In the end it was Mandy's powerful final performance that put her over by a single point, reclaiming her original near perfect score of 177 and taking home the $500 grand prize!
"I was not expecting that (the sing-off) at all! It was nerve wracking because I didn't have another song prepared or anything. It kind of forced me to not over think it." Glashauser has been around the competition for a while now, and finally got her time in the spotlight at the end. "It feels great to win when you've been coming to a competition like that for a while!"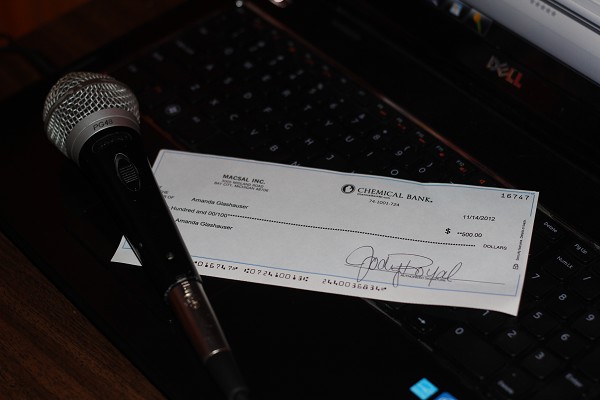 Mandy's check waits for the announcement of the winner!
Photo by Sean Connelly
© MyBayCity.com
According to host Sharrow, this will be the last competition for some time, with no set date for a return. For more information on upcoming vocal competitions keep your eyes on MyBayCity.com!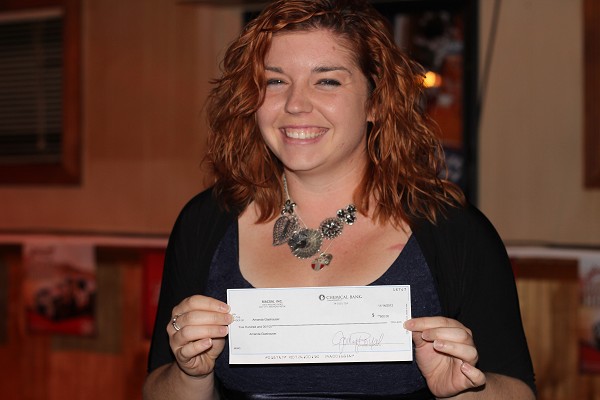 Mandy Glashauser with her $500 check!
Photo by Sean Connelly
© MyBayCity.com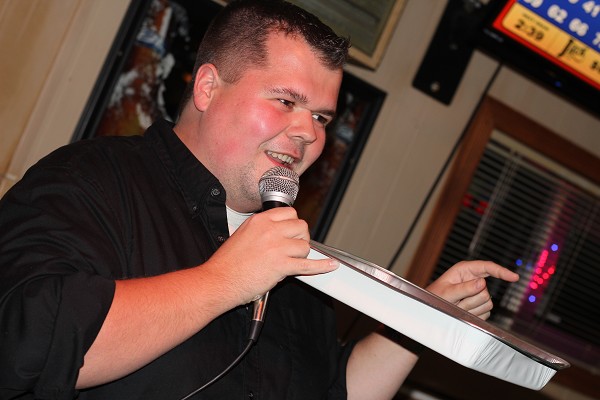 Host Josh Sharrow's sophisticated order selection system.
Photo by Sean Connelly
© MyBayCity.com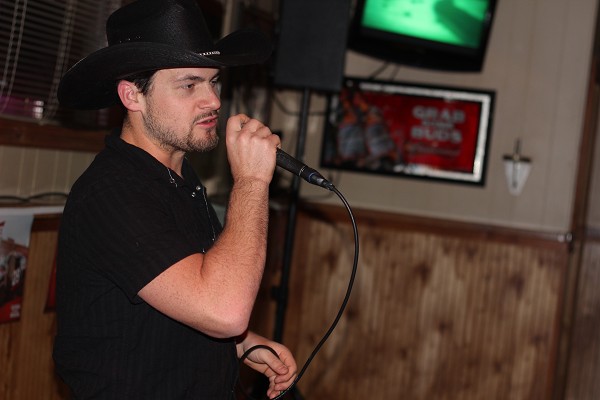 Judge and Michigan Idol Season 4
winner Travis Paten performs before the competition!
Photo by Sean Connelly
© MyBayCity.com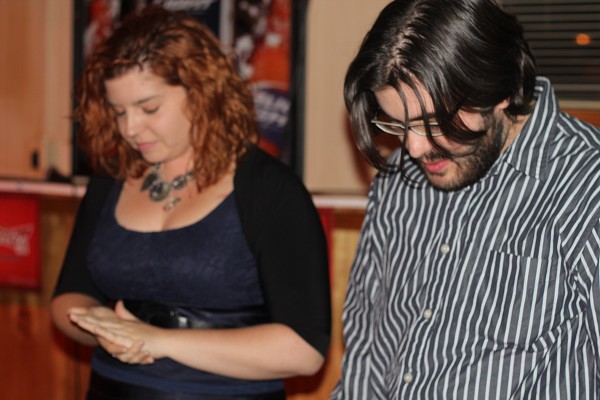 It was down to just Jesse Fisher and Mandy Glashauser!
Photo by Sean Connelly
© MyBayCity.com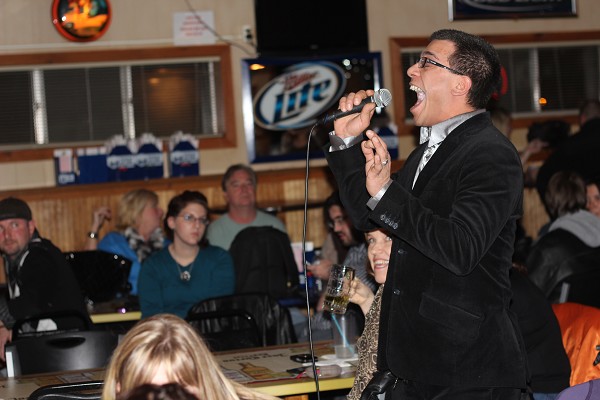 The contestants really got the crowd in to it!
Photo by Sean Connelly
© MyBayCity.com

(L/R) Roy Facundo, Josh Watts, Izzy Simone, Debi Schmeider, Danielle Kiersey, Lisa Lambert
Photo by Sean Connelly
© MyBayCity.com

(L/R) Mandy Glashauser, Jesse Fisher
Photo by Sean Connelly
© MyBayCity.com
---
---
---
Send This Story to a Friend!
Letter to the editor
Link to this Story
Printer-Friendly Story View
---
--- Advertisments ---