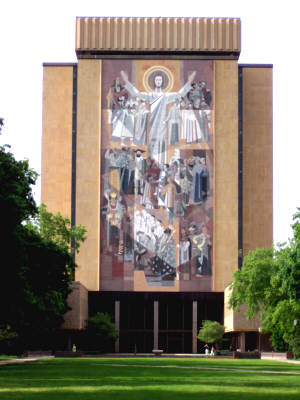 The Notre Dame Irish have TD Jesus on their side.
---
Touchdown Jesus Has It All Under Control
I kinda made a wish . . . OMG!! . . . It came true!
November 18, 2012 Leave a Comment
By: O. J. Cunningham
Saturday was a pretty interesting day for Notre Dame football fans and alums.
It was Senior Day in South Bend. Senior Day is always special on the Notre Dame campus. There's always talk about Notre Dame football graduation rates and what getting a degree from South Bend really means.
But generally . . . in terms of Week 11 of an undefeated football season . . . that's pretty much a "crock."
By Saturday at 3:30pm, all that was on anyone's Irish football plate was the one burning question . . . "How the hell can the Irish get past Oregon and/or Kansas State and into the BCS Championship Game?"
One thing for sure . . . (I distinctly remember thinking this at 3:45pm -- just before the ND-Wake Forest kick-off) . . .
"Oregon will open a can of Whoop Ass on Stanford . . . and that damn Heisman Wannabee from K-State is gonna have a record day against the worst defense (Baylor) on the planet."
And then, I kinda made a wish . . . about ND winning and other guys losing . . . It wasn't actually a wish like at a birthday party . . . But I imagine that maybe another 500,000 ND students, fans and alums all made the same "kinda" wish at exactly the same time that I did.
Remember that movie starring Jim Belushi --
Mr. Destiny??
It was kinda like that . . .
There might (maybe) have been a flash of light.
My neighbor said he thought he saw my Notre Dame flag -- the one with Leprechaun on it -- the one that pisses everyone off -- going up and down the flagpole by itself.
I remember it getting real quiet (just for a sec) in my house.
And then . . . then . . . well . . . it began . . . The Miracle . . .
Everything seemed to "change" like in the Mr. Destiny movie I just mentioned.
It was something like "Water into Wine."
It would be over-trivializing the moment to compare what happened in South Bend, Eugene, OR and Waco, TX to something as miraculous as the famous "Loaves and Fishes."
Seriously!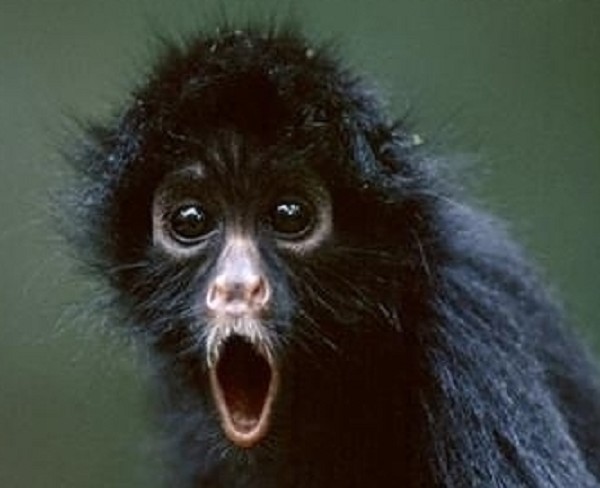 Were you watching?
Were you watching?
What the hell actually happened Saturday night between 8:00pm and midnight? Can anyone tell me?
I was there. I watched it all . . . Picture in Picture . . . On my phone . . . On my tablet . . . Internet Radio . . . NBC . . . ABC . . . Fox . . . ESPN . . . Ta Da Da . . . Da Da Da.
Holy Crap !!!
A freaking MIRACLE!
There's really no other explanation.
First and foremost, The Irish blew out Wake Forest (I know -- A 'miracle' in itself.) The Irish won exactly how they should have won against Pittsburgh and Boston College and how they wished they had won against Stanford.
The Wake Forest score was 21-0 at the end of the first quarter and the play-by-play commentators were talking more about graduation rates than they were talking about yards per carry.
Cierre Wood raced for 80 yards on the fourth play from scrimmage for the Irish.
Notre Dame's red-shirt, freshman QB (Golson) transubstantiated into some combination of John Huarte-Terry Hanratty-Joe Theisman and started completing passes will-nilly all over the field until someone actually remarked that Golson's Heisman credentials were rising.
While ND bludgeoned the Demon Deacons 38-0, receiving records (Eifert) were broken, defensive records (Te'o) were set, Coach Kelly got doused with Gatorade, sideline "HOTTIE" Alex Flanagan cried during her post-game interviews with seniors Manti Te'o and Tyler Eifert and by the time the Alma Mater ("And our hearts forever . . . Love thee Notre Dame") was playing . . . all I could think about was . . .
What time do the Oregon-Stanford and K-State-Baylor games start?
While I was trying to explain to my wife that none of this Notre Dame winning actually mattered because Oregon would score 70 points on the Stanford "D" and the Heisman Trophy QB from K-State would embarrass Baylor . . . And ND would still be #3 when the night ended.
Well . . . Baylor obviously didn't get the memo and started scoring and scoring and scoring and the K-State QB kept throwing to the Baylor defensive backs . . . When it was over Baylor had 52 which was way more than what K-State scored.
And . . . On the other channel . . . try as they might . . . the Oregon Ducks' offense fizzled again and again and the Stanford Cardinal (somehow) turned the game into a defensive struggle . . . which Stanford won in OT . . . 17-14 -- When the Oregon place-kicker's overtime try hit the goal post upright.
I think I might have seen "The Gipper" watching the Oregon game from behind a "burning bush" in the end zone.
I was still awake at 1:00am. I honestly didn't want to go to sleep. It was as if if I slept, it might turn into a dream. I kept thinking this whole night be some kind of Matrix episode. And this wasn't really my life but someone else's dream-scape.
But today (Sunday), the AP and Coaches' Poll have confirmed what I saw last night. Oregon and K-State have fallen from the top 5 and Notre Dame now leads Alabama (SEC), Georgia (SEC), Florida (SEC)and LSU (SEC) in the BCS Standings.
The last time Notre Dame was #1 and Alabama was #2 was back in 1967 -- the year of the "never to be forgotten" 10-10 tie between Michigan State and Notre Dame.
Now . . . The only thing standing in the way of a Notre Dame's BCS Championship Game is a November 24th trip to USC.
But wait . . . There's More MIRACLE!
Matt Barclay, the USC QB was (somehow) injured (wink, wink) during Saturday's game against UCLA and is listed as "questionable" for USC's last game of the season against the Irish.
IMAGINE THAT . . . (wink, wink) !!!!
I read (a few weeks ago) that the only thing that would get the United States sports community to "pull" for Notre Dame in the BCS Championship game would be if the opponent was Alabama.
Lou Saban is the only man that is disliked by more people than generally dislike Notre Dame. (It seems likely now that the U.S. will be cheering for the Irish during the January BCS Title Game in Miami.
Don't be surprised if you see Lazarus leading the Irish out onto the field against USC next week. There's no reason to think the miracle should end now.
It's good when TD Jesus is on your side.
---
---

O. J. Cunningham




O. J. Cunningham is the Publisher of MyBayCity.com. Cunningham previously published Sports Page & Bay City Enterprise. He is the President/CEO of OJ Advertising, Inc.

More from O. J. Cunningham
---
Send This Story to a Friend!
Letter to the editor
Link to this Story
Printer-Friendly Story View
---
--- Advertisments ---