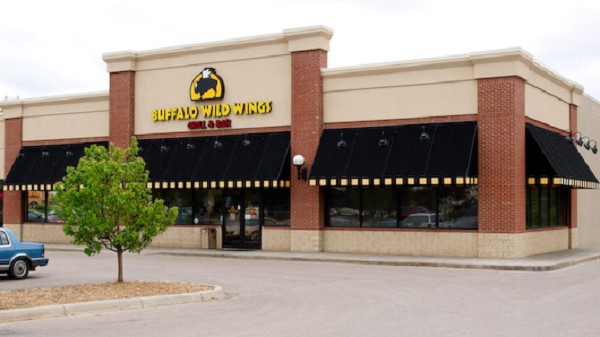 Restaurant Review: Buffalo Wild Wings
November 30, 2012 Leave a Comment
By: Sean Connelly
With every college football season I am presented with a new challenge: Finding the best location to experience the game. The location is one that is essential to my football watching experience and is graded under strict criteria that only a select few have received top marks in. What kind of atmosphere does the establishment provide? Can I watch every game available in my region of broadcast? What sorts of refreshments are available for consumption? How is the food? All of these are essential parts of my football experience and go in to the selection process at the start of every fall.
In the past this has been a combination of my own home, local bars, and friends' houses, but my regular places just weren't cutting it. I wanted this year to be set apart from the rest as my favorite collegiate team was poised for a run at the NCAA National Title game. My search for a wholly unique experience took me to many places, eventually bringing me to a local sports bar; Buffalo Wild Wings Bar and Grill in Bay City, MI.
Buffalo Wild Wings, or "B-Dubs" as many call it, offers one of the most atmospheric eating experiences in the area. The wait staff and bartenders all dress in their favorite team's jersey on game day, there are multiple big screen TVs on every wall, and no matter if alone or with friends, you're going to find someone there rooting for your team. In fact, it was an incredibly welcoming experience as the people in attendance were actually chanting and cheering in the same fashion as the crowds were at the game. Nothing has ever come as close to representing the college atmosphere as "B-dubs" does.
At Buffalo Wild Wings you'll find they have enough TVs to display your favorite team no matter where you're sitting. Local teams always get priority, as they should on the bigger projectors, but even the out of region games make it on the other plasma TVs that pepper the walls. If for some reason you can't see your desired team the staff is also very accommodating, as they will turn the channel upon request on sets that no one appears to be watching.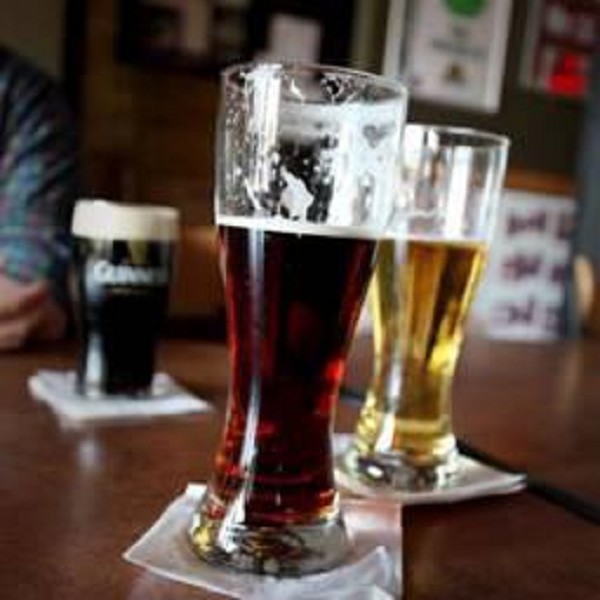 So many delicious beers!
Personally, no college experience is complete without a cold beer in my hand. With over 15 beers on tap, Buffalo Wild Wings has something for everyone. Whether you prefer American Pale Ale, a lager, or a heavier stout beer, "B-Dubs" has an ice-cold tap waiting for you. If beer from a tap isn't something that you prefer, you have quite the selection of mixed drinks, bottled beer (local, national, and imported), and plenty of options for non-alcoholic beverages.
Finally, I can't watch a football game without some sort of food. Be it finger food or some sort of meal, there's got to be something to do between downs. In my numerous visits to the location, Buffalo Wild Wings has demonstrated an acute sense of knowing just how to prepare a perfect blend of bar food presentation with restaurant flavor. Over the last couple of months I've had the pleasure of tasting their burgers, all of their various types of chicken, and many of their appetizers. Whether it was the savory grilled chicken dipped in one of their many signature sauces, or their salivation inducing appetizer platter, the food at "B-Dubs" only enhanced my football watching experience, and never detracted.

B-Dubs, your local Sauce Boss.
Overall, Buffalo Wild Wings is an incredible place to watch any sporting event. They provide an incredible atmosphere, friendly wait staff, delicious food, and with an ice-cold beverage waiting for you there's really no reason not to make this location your one-stop destination for food and sports.
As a side note, I'd like to add that any time you visit any location for a sporting event, please make sure you tip the waitstaff and bartenders accordingly. The staff at Buffalo Wild Wings was incredibly welcoming, and they really get in to the events with the guests. However, sitting at the same table or booth for the entirety of a game (2-3 hours on average) really cuts in to their tip totals. Keep that in mind sports fans!
---
---
---
Send This Story to a Friend!
Letter to the editor
Link to this Story
Printer-Friendly Story View
---
--- Advertisments ---